3000 Leagues in Search of Mother (母をたずねて三千里 , Haha o Tazunete Sanzenri) is a 52-episode animated television series directed by Isao Takahata, produced by Nippon Animation and aired in January 4 to December 26, 1976.
It is loosely based on the story From the Apennines to the Andes (Dagli Appennini alle Ande) within the Italian epistolary novel Cuore by Edmondo De Amicis.
The series was broadcast as part of World Masterpiece Theater, an animation staple that showcased each year an animated version of a different classic book or story. The story Marco, a young boy who lives in the port city of Genoa, Italy who goes on a journey in search of his mother Anna, who went to work in Argentina. He departs from Italy and travels across the Atlantic Ocean to South America, Brazil, and Argentina. The total journey is 12,000 kilometers or 3000 Leagues.
A compilation of several episodes was released on July 22, 1976, as part of the Toei Manga Festival, while a summarization movie directed by Hajime Okayasu was released on July 19, 1980, using edited footage from the TV run. Unfortunately, due to a sluggish box office, it was pulled from theaters after a week.
This series was seen as a turning point for Takahata and Hayao Miyazaki, who would go on to direct Future Boy Conan and eventually found Studio Ghibli.
Plot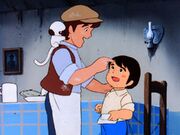 The plot of the series focuses on Marco, a boy who lives with his family in the harbor city of Genoa, Italy during a depression period in 1881. Marco's father, Pietro Rossi, is a manager of a hospital who dedicates his time to treating poor patients, and therefore the family has financial difficulties. His beloved mother, Anna Rossi, goes to Argentina to work as a Domestic worker|maid to earn money for Marco. When the letters from his mother stop coming after an indication that she is sick, Marco fears the worst for her fate. Since his father is too busy working in his clinic and his older brother Tonio was sent to train as a locomotive driver in Milano, he is the only one free to go search for her.
Marco takes his older brother's pet monkey Amedeo and they sneak aboard the Andrea Dora, a ship bound for Brazil. In Brazil Marco boards an immigrant ship and arrives in Buenos Aires, where he meets a puppeteer called Peppino and his family, whom he knew from Genoa. They accompany him to Bahía Blanca to try to locate his mother.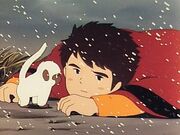 In Bahía Blanca, he discovers his uncle stole the letters which his mother had sent him. He returns to Buenos Aires and sails off on a ship to Rosario, Santa Fe|Rosario; there he tries to figure out how to get on a train to Córdoba, Argentina|Córdoba. Marco's Italian friends collect money and buy him a train ticket. Marco arrives in Córdoba, and successfully finds the agricultural engineer Mister Mequinez. He tells Marco that his mother works for his brother in San Miguel de Tucumán|Tucumán and gives him enough money for a train ticket. But Marco ends up giving the money to a doctor to save the life of a poor girl he meets. Marco sneaks on the train, but he gets caught and tossed off in the middle of nowhere. A group of traveling Romani people|Roma rescue him and give him an old donkey.
After a few days, the donkey dies and Marco continues to walk to Tucumán. He eventually arrives to his destination hungry and tired, and finds his mother. His mother is very sick and needs an operation, but she is too weak. As soon as she sees Marco, she regains her strength and manages to go through surgery successfully.
At the end of the series, Marco and his mother return to Genoa, where the family is reunited.
Characters
Marco Rossi (マルコ・ロッシ)

A little boy, he is the main character of the series.
Amedeo (アメデオ)

Tonio's pet monkey, that comes on the journey with Marco.
Anna Rossi (アンナ・ロッシ)

Marco's mother.o (Tonio) Rossi – Marco's older brother.
Pietro Rossi (ピエトロ・ロッシ)

Marco's father, a manager of a charity hospital in Genoa.
Fiorina (フィオリーナ)

Marco's friend in Italy and Peppino's second daughter; she assists her father in his puppet theater business.
Peppino (ペッピーノ)

A man who performs outdoor puppet shows for a living, with his daughters, Concetta, Fiorina and Giulietta.
Concetta (コンチエッタ)

Peppino's elder daughter, who controls the puppets in his puppet show.
Giulietta (ジュリエッタ)

Fiorina's baby sister.
Behind the Scenes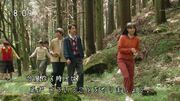 Originally titled From the Apennines to the Andes. Yôichi Kotabe was appointed the role of Animation Director, having worked previously worked on Heidi, Girl of the Alps (1974). At the same time, Hayao Miyazaki was in charge of scene setting and layout. They were assisted by Animation Director Reiko Okuyama, who became the subject of the 2019 NHK drama Natsuzora.
Much of the staff from Heidi, Girl of the Alps returned to work on Marco. Yôichi Kotabe recalled in a retrospective roundtable, "Since Marco travels endlessly in Argentina in search of his mother, it was hard to draw. I think Hayao Miyazaki had the same feeling."[1]
At one point, Isao Takahata handed Kotabe a European Actor Yearbook containing actor's photos to serve as a guide for the series' character designs. For example, Marco's father is based on Pietro Germi, the Genoan-born director, screenwriter and actor of the Italian film The Railroad Man (1956). Marco's mother is based on Maria Schell, the Austrian-Swiss leading actress of René Clément's Gervaise (1956). Uncle Peppino, the head of the Peppino troupe Marco encounters in his travels, shares some characteristics with Paolo Stoppa in the Italian movie Neapolitan Carousen (1954).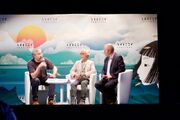 Kotabe said, "Seeing European people is rare among Japanese people at that time, so I tried hard to observe the Westerners I met. Italians ate and exclaimed "Bono! (delicious!)" while shrugging their shoulders. I tried to add shrugs to my gestures. I tried to incorporate all kinds of references into my work." This may be the reason why Marco easily translated to Western audiences.
Takahata also incorporated Italian Neorealism into the story, a narrative technique that flourished in Italy in the 1940s and 1950s, which showed the young Marco boy's suffering through the rigors of the real world.
Kotabe recalls, "Director Takahata and Hiroshi Ikeda (known for directing Ookami Shounen Ken, a popular 1965 anime) watched a lot of movies depicting Italian neorealism that came in after the war, so despite being an animated series, it depicted realism in a convincing way." "I had the intention of expressing the rigor properly. However, the direction wasn't too strict... I think that kind of calculation is done in the production."

In an era when overseas settings were rare in mainstream anime production, the planning team flew to Italy and Argentina for research. However, after a year of working on Heidi, Girl of the Alps, Kotabe got sick and could not accompany his fellow staff members. Isao Takahata, Miyazaki, Kazuo Fukazawa, the scriptwriter, and Takamura Mukuo, the art director, continued their trip to Argentina.
Looking back, Takahata mused, "We probably created the first animation with a person who lacked the qualification to be the main character..." Regarding the scene where Marco reunites with Fiorina, Miyazaki notes in an interview, "I don't like the scene where Marco and Fiorina run up to each other and don't hug... When I'm really happy to see someone, I hug that person. I think it's a good idea to express it in a realistic way." Miyazaki rectified this when he has Conan hugging Lana after the reunite in his next project, Future Boy Conan (1978). According to anime historian Toshio Okada, this is due to the contrast between Miyazaki and Takahata as directors, "Hayao Miyazaki is a person who believes in the power of painting. The explosion of the power of painting impresses people. Isao Takahata is a director and a theorist who begins with the montage theory developed by Russia. In a sense, acting Negative = Expressed by directing."[2]
The series was dubbed into several languages and became an instant success in some countries, such as Iran, Portugal, Brazil, Peru, Spain, Venezuela, Colombia, Germany, Chile, Turkey, Malaysia, the Arab world and Israel. In Hebrew, the series is called HaLev (הלב), meaning The Heart (the name of the novel that the series is based on, which was translated into Hebrew and was very popular in 1990s Israel). In some European and in Latin American countries the series is simply known as Marco. In Arabic the series was a huge success; it was called Wada'an Marco (وداعاً ماركو), meaning Goodbye Marco.
Supplementary material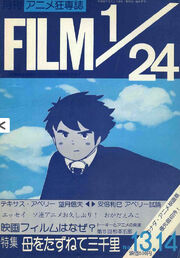 FILM 1/24 (formerly Anime Dayori) a special hobbies booklet published an issue in March 1977 featuring a cover story on Marco. According to anime historian Yoko Gomi, a contributor named Namiki struggled to get an interview with Takahata. At the time, Takahata tended to avoid talking about his works, believing that they speak for themselves. Unfortunately, anime magazines like Animage did not exist yet, and material regarding Takahata's work was scant. Doujinshis tried conducting interviews with other staff members at the time, but the industry as a whole was not used to that type of coverage.
"I never thought that the day would come when Takahata-san would write and give lectures on several books and series, such as Horus's Video Expression and Thinking While Making a Movie, Namiki remarked. After some time, he managed to get an interview with Takahata that consisted of five pages. Takahata's remark about the directing approach "Let's draw the whole environment by inflating the image of the character without falling into the so-called story principle".
Contents
"Summary of Marco" by Editor-in-Chief Yoko Tomizawa
"Interview/1 Youichi Kotabe and Reiko Okuyama"
"Interview/2 Isao Takahata"
"Interview/3 Hayao Miyazaki"
Theme song / Insert song
The theme songs were sold on LP by Nippon Columbia. The insert songs first appeared on the LP record TV Manga Idol Deluxe released in August 1976, which included the six songs from this show, along with songs from Piccolino no Bōken (NET → TV Asahi). Kumiko Ōsugi sings 10 of the 13 songs on the LP.
Opening theme
Sougen no Marco (大杉久美子)
Lyrics - Kazuo Fukazawa / Composition / Arrangement - Kôichi Sakata / Song- Kumiko Ōsugi
When planning began, the music production staff were still working under the original show's title From the Apennines to the Andes and noticed that they 'could not see the Andes at all', and they realized, this was the song, "No mountains, no valleys, nothing visible."
Kazuo Fukazawa, a producer at Nippon Animation wrote the lyrics. Kumiko Ōsugi, a popular musician known for singing the openings for Doraemon (1969), Aim for the Ace! (1973) and Dog of Flanders (1975), sung the melody. The first half uses the South American rhythm called milonga as it depicts Marco traveling to Argentina to find his mother and then transitions with a rhythm reminiscent of the Andean Carnevalito festival as Marco heads to the Andes. The opening also features the use of the charango and quena, both South American folk instruments.
Initially, the opening did not have lyrics and subtitles, but due to several requests from viewers, lyrics were later inserted.
Ending theme
Good Morning, Mother
Lyrics - Isao Takahata / Composition - Kôichi Sakata / Arrangement - Reijiro Koroku / Song - Kumiko Ōsugi
Director Isao Takahata wrote the ending theme. Composer Kôichi Sakata recalls, "After I didn't have enough songs to record for the first time, I did a few additional recordings, but we had a meeting at that time and decided on it. Director Isao Takahata's orders are very strict (laughs). I took script of several episodes and read them, but some were the size of a book, so I had to wing it a bit. I was a little worried about how to do this. I remember having a lot of discussions at the meeting."[3]
Movies
3000 Leagues in Search of Mother (

母をたずねて三千里

Haha o Tazunete Sanzenri

) is the movie edited by the staff of the anime television series. The theatrical release date was July 19, 1980. It was distributed by Toho Towa. It was screened at Toho Yoga group theater. The running time is 107 minutes.
Marco: 3000 Leagues in Search of Mother (

Marco 母をたずねて三千里

Maruko Haha o Tazunete Sanzenri

) is the 1999 remake movie based on the TV animation series which Nippon Animation produced. The original staff did not participate in the direction and the script applied to the TV series. Moreover, under the influence of group negotiations to demand improvement of the voice actors, the original cast did not participate.
Reception
It was ranked 81st in a Top 100 Anime list by TV Asahi in September 2005.[4] It was also ranked 20th in a TV Asahi list of the favorite television anime of 100 celebrities in 2006.[5]
Voice Cast
| Character | Voice Actor (Japanese) |
| --- | --- |
| Catalina | Miyoko Asō |
| Pablo | Mie Azuma |
| Bernardo, Julietta | Sachiko Chijimatsu |
| Manuel | Tōru Furuya (ep. 45–46) |
| Lunchio | Shigeyuki Hosoi |
| Leonardo | Takuzou Kamiyama |
| Pietro | Kiyoshi Kawakubo |
| Emilio | Kuriko Komamura |
| Lucia | Yoneko Matsukane |
| Marco | Yoshiko Matsuo |
| Frediand | Fumio Matsuoka |
| Federico | Eken Mine |
| Fernandez | Hikaru Miyata |
| Carlos | Kōhei Miyauchi |
| Peppino | Ichirō Nagai |
| Miguel | Ryusei Nakao |
| Anna | Yukiko Nikaido |
| Fiolina | Mieko Nobusawa |
| Narrator | Akiko Tsuboi |
Credits
| Credit | Staff |
| --- | --- |
| Director | Isao Takahata |
| Storyboard | Isao Takahata (2; 4; 5; 7; ep 1), Minoru Yokitani (21 episodes), Seiji Okuda (18 episodes), Yoshio Kuroda (16; 19; 22; 25; 28; 35; ep 13), Yoshiyuki Tomino (ep 3) |
| Scenario | Kazuo Fukazawa (eps 1-52) |
| Music | Kōichi Sakata |
| Animation Director, Character Design | Yôichi Kotabe |
| Art Director | Takamura Mukuo, Takashi Mukuo |
| Animation | Hayao Miyazaki (ep 2), Hidemi Maeda (5 episodes), Hideo Kawauchi (eps 20-52 even), Johji Manabe (28 episodes), Kazuo Ushikoshi (eps 7, 19), Ken'ichi Okamoto (OH Production; 11 episodes), Kōichi Murata (OH Production; 28 episodes), Koushin Yonekawa (OH Production; 10 episodes), Masako Shinohara (17 episodes), Noboru Akiyama (eps 17, 21), Shunichi Sakai (24 episodes), Shunji Saida (OH Production; 19 episodes), Toshiko Nakagawa (eps 10, 19), Toshiyasu Okada (eps 6-34 even), Tsukasa Tannai (OH Production; 17 episodes), Yôichi Kotabe (ep 2), Yukiyoshi Hane (eps 6-52 even) |
| Assistant Animation Director | Reiko Okuyama |
| Producer | Junzō Nakajima, Koji Bessho (Fuji TV), Takaji Matsudo |
| Music | Kōichi Sakata |
| Theme Song Lyrics | Isao Takahata, Kazuo Fukazawa |
References
External links
Official
Infomration
Online Shopping