A Sumo Wrestler's Tail (ねずみのすもう or ねずみの相撲 , Chû-zumô or Nezumi no Sumō) is a 13-minute short film written by Hayao Miyazaki and directed by Akihiko Yamashita. It was released on 2010 and is one of the twelve short films screened exclusively for the Ghibli Museum in Mitaka, Tokyo.
It is an adaption of a folktale called Nezumi no Sumō. Miyazaki, who understood this was a well-adapted tale, first asked, "Can you make a fun animated film from a traditional Japanese tale?" Director Yamashita declared, "For this film, I worked on the central theme of this work: to show characters showing their will, while remaining funny. I also wanted to express the idea that having a goal gives you strength." The film also pays tribute to Japanese culinary art, a running theme in many Ghibli films.
The music was composed by percussionist Manto Watanobe, member of the group Shan Shan Taifu, and had previously worked on Isao Takahata's feature film, Pom Poko (1994) and Ghiblies Episode 2 (2002).
Synopsis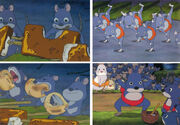 Once upon a time, an old man named Jil and his wife Baa lived on a mountain. One night, the old man found a bunch of mice heading off to somewhere. Thinking this is mysterious, the old man follows the chant through the thicket until he comes to the middle of the woods, where - in the middle of a clearing - a sumo ring has been set up. In this ring, a slender mouse and a much larger white mouse are locked in a sumo match.
The old man, fascinated, watches the match intently, and he suddenly realises that the slender mouse is one which lives in his house, while the fatter mouse lives in the house of a local rich man. He cheers the slender mouse on, but due to its weakness and small stature it is quickly flung out of the ring by the larger mouse, much to the man's dismay.
Returning home after the match, Jil tearfully tells his wife Baa of the sumo match, lamenting the fact that he has no delicious food to offer to the mouse in order to build its strength. His wife, touched by the story, decides that the two together would take the rice they had saved and make some rice cakes and miso dengaku for the mouse. They leave the rice cakes on a shelf for the mouse to find, and come morning find they have been taken. The old couple are satisfied by this, confident that the rice cakes and miso dengaku will have added to the mouse's power. Eventually, the slender mice win against the larger mouse in an exciting climatic fight.
Behind the Scenes
Inspiration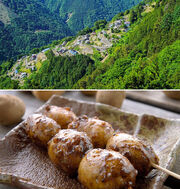 In 2008, following the completion of Ponyo on the Cliff by the Sea, producer Toshio Suzuki said that Hayao Miyazaki's next projects after the movie would be short films for the Ghibli Museum.
Miyazaki was inspired by Japanese folk tales, and desired to depict them so as to gain a deeper understanding of them. He lamented, "Koganei, where Studio Ghibli is located, and Tokorozawa, where I live, were wild lands of Musashino that developed during the Edo period. Even if I look at old photos and old houses of peasants still standing, I cannot find the landscapes of tales. There are no landscapes with houses with thatched roofs."
"I came across a book written by anthropologist Tsuneichi Miyamoto (1907-1981). Miyamoto carefully traveled and observed all over Japan. He thought a lot and listened to a lot of people. He left a number of good books.
In one of Miyamoto's writings, there is a passage about the eating habits of a mountain village without rice fields. Since there are no rice fields, the inhabitants of the village cannot make rice and make mochi. He wondered, "I wondered how could these people feed themselves?" Miyazaki goes on to describe what these villagers actually ate, "These locals make tofu from soybeans. They also make miso themselves. They add nuts to the miso which they crush with a pestle. They then add either dried persimmon or sugar, which is precious, and which they bought in small quantities in the village." He then describes that salted fish so as to avoid rotting, and then said that salt was a precious and rare commodity.
"So I thought to myself that making a short film based on the tale Sumo of the Mice and taking place in a small mountain village like Shimoguri would be very interesting. How can the salty sanma meatballs I have heard about taste? Maybe the mice will love its scent? And if they bite into it, maybe they'll be happy and gain strength? Perhaps their strength will be greater than with mochi (glutinous rice preparation) and maybe they will eventually win the sumo tournament? This is how our version of Sumo Mice was born."
Miyazaki and a small team of staff members went on a scouting trip to the remote village of Shimoguri to observe daily life and take inspiration from the area. They ate dumplings, which he described as "fragrant and delicious."
Production
Animation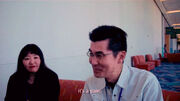 Hayao Miyazaki had already indicated at the time that making a story about sumo mice would be interesting to do. While Miyazaki would be handling the storyboards, he entrusted directing duties to Akihiko Yamashita, whose credits include Giant Robo, Howl's Moving Castle, The Secret World of Arrietty and When Marnie Was There.[1]
The name Chû-zumô (with chû" being in Japanese the onomatopoeia to describe the squealing of the mouse), is inspired by the traditional Japanese folktale Nezumi no Sumō. Director Yamashita said, "For this film, I worked on the central theme of this work: to show characters showing their will, while remaining funny. I also wanted to express the idea that having a goal gives you strength. Nonetheless, the purpose of this film was clearly to show all the mice, even the losers, laughing and declaring that it was a good tournament. I moved forward on this project thinking about all this. But it was not that simple."
Yamashita was given some advice in his direction, "At first, I worked out this scene with mice approaching haphazardly, attracted to food. But, director Hayao Miyazaki corrected me, telling me that I needed to change my perspective on mice. They should be seen as obedient soldiers. So I animated the mice like disciplined soldiers."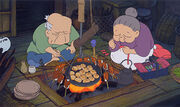 The research trip helped a lot in capturing the authenticity in the film, "I learned a lot of things with the making of this film, like the diversification of the lifestyles of the time thanks to the book by Tsuneichi Miyamoto. By spotting in the village of Shimoguri, I knew fields on the mountainside, and when I ate dumplings at the Sanma , I heard the sound "saku" (onomatopoeia describing a crunchy noise) and discovered their flavor."
He also learned a few things while taking the role of director, "What is important is the rhythm, to bring interest scene after scene. This is what I felt." When referring to the storyboards, "...there is no need to draw superfluous scenes." He spent three months finalizing the storyboards based on Miyazaki's initial work. He also mentions being more fluid when directing the animation of characters, "As for the animation of the characters, I am aware that I put my personal touch to it. I did not always draw the characters while respecting the model boards. The faces and bodies stretch and squash from one scene to another and give impossible movements. It is therefore a fun realization and specific to animation."
Background Design
Naoya Tanaka was in charge of the backgrounds and landscapes, and he too said the research trip helped, which was under the recommendation of Hayao Miyazaki. He said, "I also observed the old houses that were moved to Kodaira Furusato Mura (Tôkyô)."
He recounts his experience, "So I started by studying all of this. In Shimoguri, I was surprised by the fields on the mountainside, like Jii and Baa's that we see at the start of the film. I actually visited these fields and asked a couple who grow potatoes to tell me about their lives. They explained to me that since the side is very sharp, if you drop a potato, it immediately rolls down the mountain. It is an anecdote that marked me a lot."
Tanaka was in charge of drawing Jil and Baa's home, "For the kitchen scene, I detailed the preparation of a big meal, in which Jii and Baa put all their strength throughout the day, around a fire crackling in the fireplace in the dark room. main."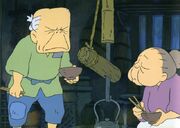 He was meticulous in the film's interiors, "For Jii and Baa's house, the important thing was to put authenticity, as if you could almost smell the smell of embers that you see in the decor. But arriving at this authenticity was not easy. For example, in these old houses there was always a toilet outside. And I imagine it smelled bad all the time. The house itself was not very clean. And for sleeping, the inhabitants used straw futons, filled with moths and lice. Describing all of this was not in our interest. Our interest is to give all this to be felt in our decorations thanks to our locations. In fact, it was trial and error all the time."
The film was completed and released on January 3, 2010.
Release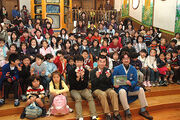 As part of the film's promotional activities, Akira Hisashi along with his fellow Arashio-beya Sumo wrestlers, were invited at Ghibli Museum to preside over a children's sumo tournament.[2]
Meanwhile, Asahi covered the premiere event at Ghibli Museum, describing the film in a humorous way. "The highlight is that when the (old man) saw his mice losing in a slapstick fashion in sumo, he stood up and silently made savory dumplings and miso dengaku." Miyazaki described it as, "I want you to think of these mice as samurai who know etiquette."
Elementary school students attended the museum event, and director Akihiko Yamashita held a question and answer portion for his small viewers. When describing the climactic fight, "I wanted to attempt a flashy comedic movie like Tom and Jerry."[3]
Credits
Gallery
References
↑

Dosukoi at the Ghibli Museum""Dosukoi at the Ghibli Museum: Tokyo 23 Wards: Region: YOMIURI ONLINE (Yomiuri Shimbun) Archived January 10, 2010
External links