Animage (アニメージュ , Animēju), abbreviated as AM, is a Japanese anime and entertainment magazine which Tokuma Shoten began publishing on May 26, 1978. Each issue is sold on the 10th of every month.
It is considered one of the oldest anime hobby magazines in the country. It has two sub-labels, Animage Comics and Animage Bunko. Animage Comics is an imprint that publishes separate volumes and anthology volumes of manga, while Animage Bunko publishes novelizations and other related publications of anime.
The novelization of My Neighbor Totoro and many of Ghibli's art books are published under this imprint. Other titles serialized include Ocean Waves (1990–1992), a novel by Saeko Himuro, and Baron: The Cat Returns by Aoi Hiiragi, both of which were later made into a movies by similar titles. Hayao Miyazaki's manga Nausicaä of the Valley of the Wind was serialized in Animage Comics from 1982 through 1994. A compilation of the magazine's covers were collected in Studio Ghibli's Trajectory as Seen on Animage (1984-2011) in 2011.
Anime Grand Prix (アニメグランプリ) is the annual prize decided by the votes of readers of Animage. The contest started in 1979, and the first prize was announced on the January 1980 issue, and were announced on every June issue.
Matsuya Ginza hosted the Animage & Ghibli Exhibition which ran from April 15 to May 5, 2021. The event paid homage to Nausicaä of the Valley of the Wind (manga) by showcasing a range of never-before-seen cell artwork, as well Mamoru Oshii's OVA art film Angel's Egg, and much more.[1]
History
On February 1, 1973, Toei Company and Kurosaki Publishing (黒崎出版) launched a television program magazine for young children called Terebi Land (テレビランド , TV Land).[2] The magazine was acquired by Tokuma Shoten in 1975, who was previously known as a publisher for adult readers,[3] giving them a foothold in the industry against competing publications such as Kodansha's TV Magazine, Akita Shonen's Adventure King and Shogakukan's Televi-kun.
Soon after, the Children's and Boys Editorial Department of TV Land began drafting plans to release a new animation-oriented magazine. On Oct. 1, 1974, TV Land published a special Roman Album Space Battleship Yamato that was a surprise hit, recording sales of 400,000 copies.[4] This proved to be the deciding factor to launch a monthly anime magazine. Hideo Ogata was hired as editor-in-chief, who decided on the name "Animage," which is a mixture of "animation" and "image." The publication first positioned itself as spinoff of TV Land but soon was marketed as its own entity. It was sold at a relatively high price of 580 yen to give it a "high-class feel", but despite this, the debut July 1978 issue sold out 70,000 copies and subsequent reprints helped sales to grow to 250,000 copies. Notably, Animage provided detailed coverage on Mobile Suit Gundam, which began broadcasting in April 1979, and eventually rode on its success.
Until the 1980s, one of the editorial policies of Animage was to spotlight anime creators. This was the first to develop a multi-media promotional approach, as they helped finance the production of Mamoru Oshii's OVA Angel's Egg (1985) and Yoshikazu Yasuhiko's Arion (1986).
The August 1981 issue, which had a Galaxy Express 999 cover, featured Hayao Miyazaki. Starting February 1982 issue, Hayao Miyazaki began serialization of the manga of Nausicaä of the Valley of the Wind. This would eventually lead to the establishment of Studio Ghibli. Studio Ghibli CEO Toshio Suzuki was the editor-in-chief of Animage at the time, after having replaced Hideo Ogata, after he was moved to the second editorial office of Tokuma Shoten.
Labels
Animage Comics (アニメージュコミックス , Animēju Komikkusu)

Animage's manga label launched in 1980. It publishes special editions and separate volumes of serialized manga, mostly under the (now defunct) Ryu magazine (リュウ (雑誌), began 1979 and ended May 1986). Anthology magazines were later published under this label. Although the number of manga works published has decreased due to the suspension of publication of Ryu, 'film comics' of Studio Ghibli works are still published from this label.
Animage Bunko (アニメージュ文庫 , Animēju Bunko)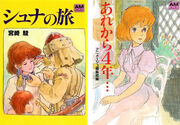 Animage's paperback book label which began operations in 1982. Its name is abbreviated as AM JuJu. The label is known for publishing novelizations of anime, and many of their writers are notable anime figures such as Yoshiyuki Tomino and Kouji Mori. They also publish autobiographical non-fiction works, such as Isao Takahata's film commentary books, or tie-ins such as Nausicaä of the Valley of the Wind storyboard books. They've also published Hayao Miyazaki's The Journey of Shuna[5] and

4 Years Since Then... Clarisse Recollection

(あれから4年…クラリス回想).[6]
The label gradually declined due to competition from rivals Kadokawa's Sneaker Bunko (角川スニーカー文庫) and Dengeki Bunko (電撃文庫), and temporarily ceased operations in 1998. In 2000, the label changed to Tokuma Dual Bunko (徳間デュアル文庫), which specialized in science fiction. The label was resurrected in July 2009, and mostly focuses on republishing old and new material.
Special Editions
Ryu (リュウ , Ryu)

A manga magazine first published by Animage on 1979. The following year, it was released bimonthly as a separate volume from Animage. It spun-off as an independent publication in 1985, but was suspended in 1986. According to Professor Eiji Ōtsuka, its original purpose was to create a magazine for "animators that draw manga,'"
Gallery
References
External Links
Official Sites
Information