Atsuko Tanaka (田中 敦子, Tanaka Atsuko, born November 3, 1954) is Japanese animator. She has been involved with Shin-Ei Animation, TMS Entertainment and many of Studio Ghibli's works. She has also worked freelance for Studio Chizu, Studio Ponoc and many more. She is a member of the Japanese Animation Creators Association (JAniCA).
She is best known for her work on Lupin the Third Part I, Little Nemo: Adventures in Slumberland, Animaniacs, Princess Mononoke, The New Batman Adventures, Spirited Away, Sonic X, Howl's Moving Castle, Ponyo and Mary and the Witch's Flower.
History
"I've been working alongside Miyazaki for a long, long time, even before Ghibli. And before that, I think he was much scarier to be around. After Ghibli, of course, he was very strict on the work we do. However, he wasn't really doing anything with us, so that was good."

—Atsuko Tanaka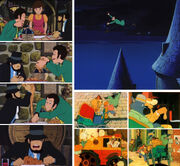 Tanaka graduated from the Animation Department at Tokyo Designer Gakuin College. She left college mid-term to join Shin-Ei Animation, a Japanese animation company owned by TV Asahi Corporation.[1] Later, she joined Telecom Animation Film (alongside Hayao Miyazaki, Yasuo Ōtsuka, Makiko Futaki and Masako Shinohara), and became known for creating some of the most memorable action sequences in anime in recent decades. A prime example of Atsuko Tanaka's unique genius for action can be seen in the famous car chase of Plot of the Fuma Clan, which, clocking in at more than 5 minutes, is surely of the most exhilarating and idea-packed chase sequences ever animated. She conceived, storyboarded and animated the sequence herself.
She also animated Lupin's famous leap and spaghetti eating in The Castle of Cagliostro and a large chunk of the chase at the end of Blue Carbuncle, among other things. She stayed on at Telecom, and was involved primarily in Telecom co-productions throughout the 80s, including a number of episodes of Batman. In the 90's, she finally became a regular in the Ghibli films, although she remains a Telecom animator. Recently she did storyboard and animation for the studio's Secret of Cerulean Sand, namely eps 12, 22 and 26.
Ghibli Works
"As long as he is not making movies, he is a very nice and gentle person. This is my personal opinion, but Miyazaki is very, very into his production, of course. He gets tough if somebody else is not thinking as deep as he is, but it is almost impossible because it's his creation. That is kind of how it is. Especially with understanding the movie, he always wants more.




Miyazaki has a lot of knowledge about different things. Let's say there is a car in a scene: he knows everything about this car. About how to cook? He knows everything about how to cook. When I worked on the scene in Howl's Moving Castle where they cook bacon and eggs, I didn't know at the time that you make the egg using the bacon's oil. I didn't know that, but of course he did. He knows a lot about airplanes and other things. Although he says, "Oh, I don't have much knowledge," he does have a lot of knowledge, even about daily life and cooking, so it's very hard to catch up to him."

—Atsuko Tanaka

In Princess Mononoke she animated the hair-raising portion of the climactic sequence where Eboshi's arm is torn off, and the scene with Eboshi and Jigo in Tataraba. In Spirited Away, Tanaka was the Yubaba specialist, animating an impressive 100+ shots of the character. She was largely responsible for giving her the fiery character and dynamic movement that makes her so memorable. In both of the more recent films Tanaka tops the list of animators, meaning she again delivered the same level of volume.
When describing her experience working with various directors, she explains, "I haven't seen much difference. However, I have seen the director's differences. For example, with Shinkai (director of Your Name), he doesn't want to put so much detail into the animation; however, he is very into the timing of the music, the story, and the background. So for the animation that I did with him and his studio, I had to focus on those things. However, Miyazaki is an animator, he wants to see all the details. He wants to fix all the details. That is a huge difference."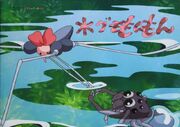 Tanaka is a true powerhouse of an animator. In Howl's Moving Castle, she animated the part where Howl is cooking eggs, the part where Howl is moping in his room, and the part at the end where Howl's house is being bombed and Howl comes to rescue Sophie. The latter section in particular shows Tanaka at her best in creating exciting, tricky, dynamic movement.
Tanaka occupies a special place at Ghibli even though she's not even an employee, testified by the fact that she was turned to for some of the Ghibli Museum-exclusive films. In 2001, she created the lush animation that graces the set of six one-minute shorts entitled Film Guru Guru. 2006 saw the release of a 15-minute short animated by Tanaka called, Water Spider Monmon. The animated scenes in Isao Takahata's 1987 documentary The Story of Yanagawa's Canals were also by Atsuko Tanaka and Makiko Futaki.[2]
Favorite Animators
When asked who her favorite animators are, she responded, "I love Yasuo Ōtsuka, but he is retired. As far as animators, I love Shinya Ohira, who worked on Spirited Away. If you see the credits, you'll see his name. He is amazing, like a genius. Miyazaki knows a lot about planes, right? Mr. Ohira doesn't know anything about planes, but when he drew an airplane, Miyazaki was like "Wow, this airplane is amazing!" That's how good he is."
References
External links