Border 1939 (国境 BORDER 1939, Kokkyō 1939) is an unproduced Studio Ghibli film that would have been Isao Takahata's second film with the studio. It was conceived as a follow-up to Grave of the Fireflies.
Plot
Based on the novel The Border by Shin Shikata (a children's writer who lived in Nagoya),[1] Border 1939 follows the story of Akio, a Japanese university student living in Japanese-occupied Seoul who goes to Manchuria to look for his friend Nobuhiko, alleged to have died in a military accident. Akio learns Nobuhiko had in fact joined the anti-Japanese resistance in Manchuria, and that he is actually of Mongol descent. Akio is arrested by the Japanese police and tortured, leading the resistance to free him despite distrust due to his Japanese blood. To prove his loyalty, Akio helps them out by escorting Akiko, another Mongol, through the Mongolian steppe to her homeland.
Takahata wished to use Border 1939 to address and critique Japanese imperialism, themes that were briefly touched upon in Grave of the Fireflies.
Production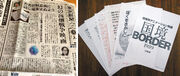 Border 1939 (had it been produced) stands out among Takahata's works due to its epic scale, as opposed to the smaller-scale human stories the director was known for. The original novel was set during the beginning and end of the Second World War, from 1939, 1943, and 1945.[3] The film itself would have taken place across Korea, China, and Mongolia, and its protagonist Akio seems a much more conventionally heroic protagonist than Takahata was known to depict. In his book Thoughts on Making Movies, Takahata describes three goals he wished to achieve with Border 1939:
Reclaim the real world as an exciting setting for adventure stories in anime, as opposed to fantasy settings.
Teach young audiences about Japanese militarism, an era that is often brushed aside, and explain why this sentiment cannot happen again.
Force viewers to think about how they construct their identity, personal and national.
Although Takahata finished a full outline by April 17, 1989, the film was cancelled before production could start following the crackdown on the Tiananmen Square Protests in the following June. Public sentiment in Japan had turned against China, and Ghibli's distributor felt a film partially set there was too risky. It is not known how much of the film had been worked on at this point, or if any concept art even exists. Takahata later published the full outline in his autobiography Thoughts While Making Movies. Ultimately, the cancellation of Border 1939 directly led to Takahata working on Only Yesterday, a project he had previously turned down.[4]
References
External links