Chie the Brat (じゃりン子チエ , Jarinko Chie), known in Japan as Jarinko Chie, is an animated film by Tokyo Movie Shinsha and Toho and directed by Isao Takahata that premiered in Japan on April 11, 1981. It was screened simultaneously with the animated film, "Furiten-kun".
The film is based on the Japanese manga series written and illustrated by Etsumi Haruki. The manga was serialized by Futabasha in Manga Action between 1978 and 1997 and collected in 67 bound volumes, making it the 45th longest manga released. As of 2007, the manga's cumulative circulation has exceeded 30 million units. At the same time, the television series is regularly rebroadcast in the Kansai region. Jarinko Chie receive an award for general manga in the 1981 Shogakukan Manga Award.
The manga was adapted twice, first as an anime theatrical movie, followed by a 64-episode anime television series also produced by Tokyo Movie Shinsha, which was broadcast in Japan between October 3, 1981 and March 25, 1983. A sequel anime television series with 39 episodes followed in October 19, 1991 to September 22, 1992.
Overview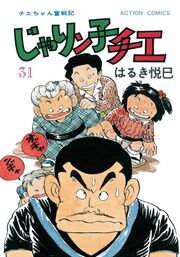 The story is set in Nishi-Hagi-cho, Nishinari-ku, Osaka (Kansai region) and follows the misadventures of Chie Takemoto, a cheerful girl who works at her father Tetsu's Yakitori and Kushiyaki shop. She also has a pet cat named Kotetsu. She has a habit of saying, "I'm the most unfortunate girl in Japan."
The story follows Chie as she navigates fifth grade of elementary school. Like most serialized series, stories are episode and time rarely moves forward. There is a running gag where the character Masaru, fed up with Chie's antics, remarks "Next year she will advance to 6th grade", but then the story reverts to the status quo and Chie jokes, "Is it okay to be in fifth grade again this year?".
The name "Jari" (じゃり) is a slang word that means a child, and when "Ko" (ン子) is added, it means a girl in particular.
The film was screened simultaneously with "Furiten-kun", an animated based on four-panel manga about salarymen.
Behind the Scenes
The film premiered in April 11, 1981. Japan's oldest film magazine, Kinema Junpo, commonly called Kinejun, ranked it as the 36th best film for that year. Rather than hiring regular voice actors, Director Isao Takahata chose actors from the Kansai region such as Chinatsu Nakayama (a known civil activist), Norio Nishikawa (famous Manzai comedic talent). Takahata also chose comedians for the main cast from the entertainment powerhouse Yoshimoto Kogyo. Yoshimoto currently employs 6,000 comedians, athletes, actors and other performers under contract.[1] Norio famously complained, "I was detained for two days (dubbing) and the guarantee was only 50,000 yen!"
The film includes several references to popular culture, such as Chie and Yoshie going to see another Toho property, Monster Island's Decisive Battle: Son of Godzilla (1967). One of the students in Chie's class resembles Peko-chan from the Milky chocolate snack.
Prior to the film's premiere, Toho released five special leaflets (with he dimensions of a B5 half-cut)  called Jarinko Chie Tsūshin (じゃりン子チエ通信) and sold them for 300 yen. The DVD was released in April 2004 under the Ghibli ga Ippai Collection label.
Anime DE Manzai Jarinko Chie
On April 12, 1981, six months before the television adaptation aired on Mainichi Broadcasting System (MBS), Kansai TV and its affiliate Fuji TV premiered the TV special Anime DE Manzai Jarinko Chie (アニメDEマンザイ じゃりン子チエ).
The special was to coincide with the release of the movie, and was a combination of animation and a live-action. It featured the popular double comedy act called Manzai and was done in the style of Kao Master Theater (花王名人劇場), a drama / comedy variety show produced by Fuji TV that aired in the Kansai region. The 1980's saw a boom in comedy acts in Japan and the Chie TV special capitalized on that.
Norio Nishikawa, who voiced Chie's father Tetsu in the film and the MBS animated series, hosted the program.
Television series
First phase
The first television series was produced by Mainichi Broadcasting System (MBS), and broadcast 65 episodes from October 3, 1981 to March 25, 1983. Isao Takahata, who had directed the film adaptation, returned as chief director for the series. As such, the role of Chie, her father Tetsu, and Mitsuru all share the same voice actors as their film counterparts. The voice actors speak the natural Osaka dialect, and many of the other cast are from the Kansai region. Additionally, the show's opening animation takes scenes from the movie version.
The first ten episodes are basically a re-animated and dubbed version of the film. After the 11th episode, the story then follows the plot lines found in the original manga. A single episode would often contain two chapters of the original manga, and the order of the manga is also rearranged depending on the circumstance.
The series was initially broadcast Saturday evenings from 17:00 on Mainichi Broadcasting System, TBS, Shin-etsu Broadcasting, and Sanyo Broadcasting (currently RSK Sanyo Broadcasting), but was delayed on China Broadcasting and failed to air on several other networks. In April 1982, the timeslot was shifted to Friday 19:00, excluding Iwate Broadcasting (currently IBC Iwate Broadcasting) and Nagasaki Broadcasting. The show's audience rating peaked at 29.1% in the Kansai region.
On April 2, 1982, the theatrical version was broadcast from 19:00 to 20:55 as part of the Spring Ichiban!! Popular Single-Point Anime Special Jarinko Chie segment. The HD remastered version later aired on Animax and TV Asahi Channel 2.
Second series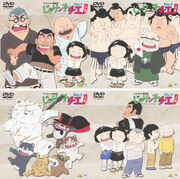 The second series, loosely translated as Jarinko Chie: Chie-chan's Strenuous Battle Record (チエちゃん奮戦記 じゃりン子チエ) aired from October 19, 1991 to September 22, 1992, and was produced by Toho and Mainichi Broadcasting System. It had a total of 39 episodes and had its highest audience rating of 12.6%, despite going against Sazae-san in the same timeslot.
It was initially planned for 1 cour (13 episodes), but due to its popularity, was extended to three cours (39 episodes). Unfortunately, none of the original cast returned to dub the series. However, many of the replacements still spoke in their natural Kansai / Osaka dialect. Several staff from the first series also did not return, although some of the new production team had previously worked under Isao Takahata such as screenwriter Sunao Katabuchi. Additionally, Shunji Saida, who was a regular Animation Director of the first series was promoted to a character designer and resumed his duties as animation director the newer series.
The series had a reputation for its production being quite sloppy, and staff meetings were mainly held at coffee shops and izakayas. Staff also recalled the Director Kazuyoshi Yokota being absent during meetings as he was often found drinking sake during the daytime.
Credits
| Credit | Staff |
| --- | --- |
| Director | Isao Takahata, Noboru Shiroyama |
| Animation Director | Yasuo Ōtsuka |
| Key Animation | Atsuko Tanaka, Kazuhide Tomonaga, Koichi Maruyama, Masako Shinohara, Nobuo Tomizawa, Noriko Goto, Reiko Okuyama, Shojuro Yamauchi, Shunji Saida, Tsukasa Niwauchi, Tsukasa Tannai, Yoshinobu Michihata |
| Background Artists | Akira Yamakawa, Hiromi Koono, Katsushi Aoki, Mitsuru Saotome, Takamura Mukuo, Yukihiro Yokoyama, Yuko Matsuura, Yuko Tahara, |
| Song Writers | Etsuko Kuama, Kazuo Okamoto, Takao Kuama |
| Ink & Paint | Kiyomi Yahiro, Masayo Ishikawa, Michiko Ikeuchi |
| In-between Animation | Akiko Shimada, Atsuko Tanabe, Chie Uratani, Hitoshi Nanba, Junko Shitazaki, Katsura Katayama, Kazuko Fujimura, Kazuyoshi Katayama, Keiko Oyamada, Kenji Hachizaki, Kumiko Hirama, Kyoko Kawanaka, Makiko Futaki, Masaaki Endou, Masami Michihata, Miki Kitagawa, Saburo Hashimoto, Shunsuke Harada, Toshisuke Harata, Yasunao Aoki, Yoko Sakurai, Yoko Tsukada, |
| Producer | Hidenori Taga, Tetsuo Katayama |
| Music | Masaru Hoshi |
| Editor | Kazuko Takahashi, Masatoshi Tsurubuchi |
References
External Links
Official
Information
Online Shopping
Community content is available under
CC-BY-SA
unless otherwise noted.