From Up on Poppy Hill (コクリコ坂から, Kokurikozaka kara, "From Coquelicot Hill") a Studio Ghibli film that was released in Japan on July 16, 2011. It was directed by Goro Miyazaki, the son of Hayao Miyazaki and the director of the 2006 film Tales from Earthsea.
Plot
The story is set in Yokohama, Japan in 1963. A 16-year-old girl, Umi, lives in the boarding house called a "Coquelicot Manor", which is located on the hill overlooking the harbour of the Port of Yohohama in Japan. Each morning, she raises a set of signal flags with message "I pray for safe voyages".
A 17-year-old boy, Shun, always sees this flag from the sea as he rides a tugboat to school. Meanwhile, in preparation for next year's Tokyo Summer Olympics, people are destroying the old things because they believe only in the magnificence of the new.
In that time, at a high school in Yokohama, a small struggle occurred. The building of the Culture Club, nicknamed Latin Quatier, old but full of history and memories. People were questioning if it should be deserted or preserved. In the middle of this, Umi and Shun meet. Shun appeals to the students who want to protect the building. Umi suggests a big clean up of the building to show its good parts.
Gradually the pair are drawn to each other but they are faced with a sudden trial: they might be brother-and-sister. Even so, they keep going without running from reality. In the end, it's revealed that Umi and Shun aren't related in any way (so they're free to be together) and learn the full true story of how their parents met, loved and lived.
Voice cast
→ See also English cast
Japanese Cast:
| Character | Original name (kana, roumaji) | Voice actor (seiyuu) |
| --- | --- | --- |
| Shun Kazama | 風間 俊, Kazama Shun | Junichi Okada |
| Umi Matsuzaki | 松崎 海, Matsuzaki Umi | Masami Nagasawa, Aoi Watanabe (young) |
| Hana Matsuzaki | 松崎 花, Matsuzaki Hana | Keiko Takeshita |
| Ryōko Matsuzaki | 松崎 良子, Matsuzaki Ryouko | Jun Fubuki |
| Miki Hokuto | 北斗 美樹, Hokuto Miki | Yuriko Ishida |
| Yoshio Onodera | 小野寺 善雄, Onodera Yoshio | Takashi Naito |
| Shirou Mizunuma | 水沼 史郎, Mizunuma Shirou | Shunsuke Kazama |
| Akio Kazama | 風間 明雄, Kazama Akio | Nao Omori |
| Tokumaru | 徳丸, Tokumaru | Teruyuki Kagawa |
| Sora Matsuzaki | 松崎 空, Matsuzaki Sora | Haruka Shiraishi |
| Riku Matsuzaki | 松崎 陸, Matsuzaki Riku | Tsubasa Kobayashi |
| Sachiko Hirokoji | 広小路 幸子, Hirokouji Sachiko | Rumi Hiiragi |
| Nobuko Yokoyama & Yuuko | 横山 信子, Yokoyama Noboku & 悠子, Yuuko | Aoi Teshima, Toshimi Kanno |
| History teacher | - | Goro Miyazaki |
| Yūichirō Sawamura | 澤村 雄一郎, Sawamura Yuuichirou | Junichi Okada |
| Yamazaki | 山崎, Yamazaki | Hiroki Tanaka |
Credit
Production
→ From Up on Poppy Hill#Production
Easter Eggs

Shun asks his father about his biological father. At that moment a ship, named Kogenai Line, drives past Akio's boat. Line means maru in Japanese. Kogenai Maru is the ship in the film Ponyo on the Cliff by the Sea.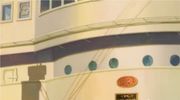 On Yoshio Onodera's ship Koyo Maru Yokohama, there is a cabine "Ghibli" is written on it.
Goofs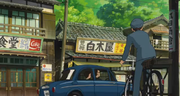 At the first minutes of the film, Shun drives to school and he stops at crossroads. Across from him there is a store with the Coke sign on it. Although the movie takes place in the early 1960s, the "Coke" sign over the store has a swoosh. That didn't become part of the Coca-Cola logo until 1969.[1]
Release
→ See From Up on Poppy Hill/Release
| Country | Release Date | Format | Publisher |
| --- | --- | --- | --- |
| Canada , USA | March 15, 2013 | theatre | GKIDS |
| UK | August 2, 2013 | theatre | StudioCanal |
| Australia , New Zealand | September 13, 2012 | theatre | Reel Anime |
| Japan | July 16, 2011 | theatre | Toho |
| Germany | November 21, 2013 | theatre | Universum |
Accolades
See also:
External links
Official sites
News
Reviews
Encyclopedia
Online Shopping
References
↑ Acht Buchstaben, ein Bindestrich (german), Journey Redaktion, retrieved November 1st, 2015
Community content is available under
CC-BY-SA
unless otherwise noted.