Gauche the Cellist (セロ弾きのゴーシュ , Sero Hiki no Gōshu), transliterated as Goshu the Cellist, is an animated film directed by Isao Takahata and produced by Oh! Production. It premiered on January 23, 1982.
Based on a short story by the Japanese author Kenji Miyazawa that was published in 1934, a year after he passed away. It is about Gauche, a struggling small-town cellist who is inspired by his interactions with anthropomorphized animals to gain insight into music. The story has been translated into English, Italian and Spanish, and had previously been adapted to the screen several times. It received the Award Noburo Ofuji Award for 1982, the top animation award given at the Mainichi Film Awards.
It was released on VHS by Taurus Video in 1985, followed by a DVD release on September 22, 2000, by Japan Pioneer LDC. It was subsequently released on DVD on December 21, 2003, and July 7, 2006. It was released on Blu-ray by Walt Disney Studios Japan on July 17, 2015.
An interactive Apple Book containing essays by Isao Takahata, scans of Cuckoo News, an independently published booklet by Opro, image boards and roundtable discussions was released on December 3, 2014, in Japan.
Miyazawa's work would go on to inspire several animated adaptations, including The Night of Taneyamagahara, directed by Kazuo Oga and produced by Studio Ghibli.
Plot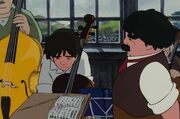 Set in rural 1920s Japan, Gauche is a diligent but mediocre cellist who plays for a small-town orchestra called, The Venus Orchestra (金星音楽団 , Kinsei Ongaku Dan). He struggles during rehearsals and is often berated by his conductor during preparations for an upcoming performance of Beethoven's Sixth Symphony (known as the Pastoral Symphony, due of its close associations with nature).
Over the course of four nights, Gauche is visited at his mill house home by talking animals as he is practicing. The first night, a calico cat came to Gauche and, giving him a tomato, asked him to play Schumann's [[Wikipedia:Kinderszenen|Träumerei]. Gauche was irritated, as the tomato was from his garden outside, so he berated the cat and instead played "Tiger Hunt in India" (Michio Mamiya). This startled the cat and made it leap up and down in astonishment. The cat ran away in fright.
The second night as he was practicing, a cuckoo came to him asking to practice scales to Gauche's cello accompaniment. Gauche repeatedly played "cuckoo, cuckoo", accompanied by the bird. Eventually, he felt that the cuckoo's song was better than his cello. Gauche chased the bird away, causing it to fly into his window, hitting its head.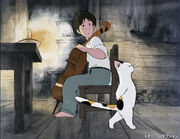 The third night as he was practicing, a Japanese raccoon dog came to him asking to practice the timpani to Gauche's cello accompaniment. As Gauche played The Merry Master of a Coach Station, the tanuki hit the cello with a drumstick. The tanuki pointed out to Gauche that he played slowly despite trying to play speedily. The two left on good terms as the day broke.
The fourth night as he was practicing, a mother mouse came in with her baby, asking him to heal her sick son. When Gauche told her that he wasn't a doctor, she replied that the sound of his music had already healed a number of animals. Gauche put the sick little mouse into a hole of his cello and played a rhapsody. When Gauche finished, the little mouse became fine and was able to run around. The mother mouse cried and thanked Gauche, and left.
The Sixth Symphony concert was a great success. In the dressing room, the conductor asked a surprised Gauche to play an encore. Upon hearing the applauding audience, Gauche thought he was being made a fool of and again played Tiger Hunt in India. Afterward, everybody in the dressing room congratulated him.
When he came back to his house, he opened the window where the cuckoo had hit its head and felt sorry for his actions. The ending scenes shows the animals and Gauche at peace, playing to the music of the Pastoral symphony.
Characters
Gauche (ゴーシュ)

The main character of the film. He plays the cello. There is a theory that his name comes from the French word for "clumsy" (the original meaning of "gauche" is "left") (there is also a theory that the French for "cuckoo" and "cello" is derived from an onomatopoeia). He belongs to the symphonic orchestra called Venus Music Group, but as his name suggests, Gauche is not good at playing cello and is constantly scolded by the conductor. He improves as he begins to interact with the various animals that visit his home in the middle of the night.
Conductor (楽長)

The Conductor of Venus Music Orchestra. He has a very keen ear and is very critical of Gauche.
Calico Cat (三毛猫)

The Calico Cat is the first animal to visit Gauche's home. He's offered a tomato to play Schumann's Träumerei. He has a cheeky attitude, which irritates Gauche at first.
Cuckoo (かっこう)

He enters Gauche's home to learn how to sing Doremifa (scales). Unfortunately, his attempts at singing scales proves to be a failure as he can only sing "Cuckoo". This distresses poor Gauche.
Appreciation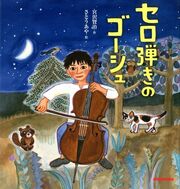 Gauche's personality is crude, subservient young man who oppresses the weak (a cheeky calico cat) as a means of dealing with being scolded by the conductor. However, his humility and compassion gradually grows as he interacts with these strange animals that visit his home, and as a result, he matures to a young man that can truly understand music.
The conductor often scolds Gauche saying, "the sound was delayed (the rhythm was bad)", "the thread ( pitch ) does not match", and that "the emotion did not come out". While Gauche learned nothing from the calico cat, he unknowingly sees the importance of song selection and rehearsals. Gauche became aware of his pitch deviation through repeated practice with the cuckoo, and learned the characteristics of his cello through his interactions with the raccoon dog. Gauche then gained the confidence to perform in front of a large crowd.
By improving his rhythm, pitch and emotion, Gauche's performance moved the audience. Gauche understood he had finally progresses after being praised by the conductor, and showed his gratitude towards his animal friends.
Despite apologizing to the Cuckoo, he does not do so for the calico cat. There is a theory that author Kenji Miyazawa hated cats and a belief that "If a person abuses a cat too much, it will never come back as it is a creature that is not satisfied with the apology."
Behind the Scenes
In 1982, the novel was adapted into animation by a Japanese animation studio, Oh! Production. It was directed and written for the screen by Studio Ghibli cofounder Isao Takahata. Kōichi Murata, who served as Key Animator for several World Masterpiece Theater series, along with Lupin the Third Part I and The Mystery of Mamo, was the executive producer.
Michio Mamiya composed the songs Indian Tiger Hunting and Fun Carriage Shop. Saida Shunji, who worked with Takahata on Anne of Green Gables and Chie the Brat served as Animation Director, and was also responsible for character design, key animation and layout. Meanwhile, Takamura Mukuo was hired as Art Director, while Kenji Matsumoto played an important role in conceiving the background art which is for both exteriors and interiors beautifully rendered in the style of watercolor paintings.[1]]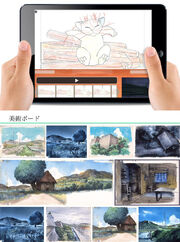 Isao Takahata said, "It is also a movie for the youth that is subjectively for us,". He also wrote in the film's pamphlet, "I would like junior and senior high school students and young people who are struggling for independence to watch it."
Gauche's voice actor was Hideki Sasaki and the cat's voice actor was Fuyumi Shiraishi. The lead key animator, Shunji Saida, took cello lessons so that he could accurately capture finger movements. The 63-minute film took five years to complete and was highly acclaimed as one of the best film adaptations of Miyazawa's works. The film premiered on January 23, 1982, and was nominated for the 1981 Noburo Ofuji Award in the same month.
Release
A Region 2 NTSC DVD was released in Japan in 2000 by Pioneer with English subtitles. Pioneer re-released for the Japanese market in 2003. A Region 2 PAL DVD was released in France by L.C.J. in 2001, containing a French audio track. Studio Ghibli and Buena Vista Home Entertainment re-released it as a double-disc DVD in 2006, the 110th anniversary of Miyazawa's birth (Ghibli released its adaptation of Kenji Miyazawa's The Night of Taneyamagahara on the same date). The 2006 release contained Dolby Digital audio and English subtitles.
The story had previously been adapted for the screen three times, in 1949, 1953 and 1963. The 1949 adaptation was animated and was directed by Yoshitsugu Tanaka and produced by Ichirou Ono of Nippon Eiga (日本映画). The 1953 adaptation was produced using puppets and dolls and was directed by Kenjiro Morinaja. The 1963 adaptation was animated and directed by Matsue Jinbo, and produced by Masatsugu Hara of Gakken Eiga Kyoku.
Cast
Masashi Amenomori - Conductor
Junji Chiba - First cellist
Kōichi Hashimoto - Mr. A
Kaneta Kimotsuki - Kakukou, Cuckoo
Atauko Mine - Orchestra musician
Youichi Mitsubashi - Orchestra musician
Ryūji Saikachi - Concertmaster
Hideki Sasaki - Gauche
Fuyumi Shiraishi - Cat
Kazue Takahashi - Child tanuki
Akiko Takamura - Mother mouse
Kouji Yada - Master of Ceremonies, Host
Saburou Yokoo - Orchestra musician
Keiko Yokozawa - Girl with Viola, Child mouse
Credits
| Credit | Staff |
| --- | --- |
| Director, Screenplay | Isao Takahata |
| Music | Michio Mamiya |
| Animation Director, Character Design, Key Animation, Layout | Shunji Saida |
| Art Director | Takamura Mukuo |
| In-between Animation | Azuma Numajiri, Emiko Tsukima, Hiroe Arakawa, Jouji Yanase, Junko Fukuda, Junko Saida, Junko Yonekawa, Kazuhide Tomonaga, Ken'ichi Okamoto, Kitaro Kousaka, Kumiko Tsukada, Mariko Nomura, Megumi Takeara, Noboru Takano, Nobuhiro Aihara, Noriko Goto, Ryoko Kishimoto, Shojuro Yamauchi, Sumie Nishido, Sumie Suzuki, Tadashi Fukuda, Taeko Otsuka, Takashi Namiki, Tomoko Kitaura, Yoko Tomizawa, Yuka Hoya, Yuzumi Enosawa |
| Paint | Fumie Itō (Studio Hibari), Kikue Hayashi (Studio Kuma), Kiyoshi Katakawa (Studio Targe), Kozue Niino (Studio Hibari), Mami Onogaki (Studio Hibari), Masao Yoshiyama (Tokyo Paint Lab), Mieko Shimamura (Studio Hibari), Norichika Iwakiri (Studio Killy), Noriko Shiotani (Studio Targe), Shie Hirase (Studio Targe), Shōji Sumibe (Studio Kuma), Takanori Kato (Studio Kuma), Yasuko Suzuki (Studio Targe), Yasutaka Kawashima (Studio Hibari), Yukie Aoyagi (Trace Studio M), Yukiko Nagahama (Trace Studio M), Yuko Nishikawa (Studio Kuma) |
| Planning | Kazuo Komatsubara, Kouma Yonekawa, Koushin Yonekawa |
| Background Art | Akira Yamakawa, Hiromi Koono, Masuo Nakayama, Shizuko Kawamura, Tadao Kubota, Takamura Mukuo, Yasushi Nakamura, Yoshiyuki Shikano, Yukihiro Yokoyama |
| Executive Producer | Kōichi Murata |
| Cellist | Mitsuo Yashima |
| Cooperation | Masaaki Otsuka, Mitsuo Aoki, Tsutomu Tsukada, Yuko Toda |
References
External Links
Official
Information
Online Shopping