Ghibli Museum Library (三鷹の森ジブリ美術館ライブラリー , Mitaka no Mori Jiburi Bijutsukan Raiburarī, lit. Three Hawks (Mitaka) Forest Ghibli (Art) Museum Library) is the collection of classic and non-Japanese animated films which have been dubbed or subtitled and released in Japan by Studio Ghibli under the Ghibli ga Ippai Collection label, in collaboration with Walt Disney Studios Home Entertainment and Cinema ANGELIKA.
Three of the current titles were previously released as part of the now mostly defunct Ghibli Cinema Library (ジブリCINEMAライブラリー , Jiburi CINEMA Raiburarī). The collection is named after the Ghibli Museum in Mitaka.
Overview
The Ghibli Museum of Art in Mitaka, where Hayao Miyazaki is the museum's owner, announced that it would launch a library project that would distribute the home release of the world's best animated films. On January 16, 2007, a press conference was held at Cinema ANGELIKA in Shibuya, Tokyo. Director Kiyofumi Nakajima and director Alexander Petrov attended the press conference.
Since the Ghibli Museum opened in 2001, it has widely introduced animation culture through permanent exhibitions and seasonal exhibitions introducing animation mechanisms and production processes. Kiyofumi Nakajima said, "Animation is meaningful because it is moving. I thought it was important to introduce the animation work itself." Additionally, when the French classic animation The King and the Mockingbird (Le Roi et l'Oiseau, 1953) was released last summer at Cinema ANGELIKA by Hayao Miyazaki and Isao Takahata, a film which greatly influenced their youth, the theater was packed every day. They were represented by Kimhiro Tsujinaka, casting director of Ghibli's recent works.
Their first release, Russian director Alexandre Petrov's film, The Spring Awakening (2007), which won the Academy Award for Best Animated Short film for The Old Man and the Sea, was released at Cinema ANGELIKA on March 17, 2007, and The King and the Mockingbird was released on DVD on April 4, 2007 (released by Buena Vista Home Entertainment). Director Petrov stated, "The so-called art film that I'm making can barely be delivered on DVD, and it's either screened once or never. I am very happy that Spring Awakening will be released in such a theater, and I would like to thank the people involved in the project." The Ghibli Museum held a special exhibition, managed by Pedrov, in conjunction with the release of Spring Awakening.
Subsequent releases were from Miyazaki and Takahata's back catalog, including Panda Kopanda (1972), Lupin the 3rd and a theatrical version of Anne of Green Gables (1979). Several Aardman films also saw release, including the Shaun of the Sheep franchise and Wallace and Gromit: a Matter of Loaf and Death (2009).
Press Release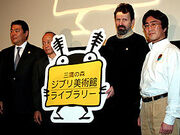 On Tuesday, January 16, 2007, the Ghibli Museum Library in Mitaka was officially established. In the future, the Ghibli Museum will introduce the world's best animated films in movie theaters and DVDs.
Cinemas will be released mainly at Cinema ANGELIKA in Shibuya, Tokyo.
The DVD is sold by Walt Disney Studios Home Entertainment.
http://www.disney.co.jp/studio/ghibli.html
We plan to introduce recommended animation works one after another in accordance with summer vacation and winter vacation. The Ghibli Museum has been one of its objectives to contribute to the development of culture through the spread and enlightenment of animation culture.
In the past, we have featured Pixar exhibitions, Norstein exhibitions, Aardman exhibitions, and animation studios around the world, but this time we decided to step out of the museum and introduce the works of animated films themselves.
Releases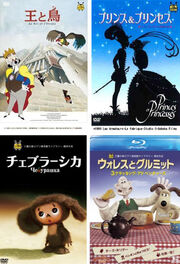 Movie
Cinema
Home Release
Animals United (1986)
June 7, 2005
July 27, 2006

The King and the Mockingbird

(1980)
July 29, 2006
April 4, 2007
Kirikou et la Sorcière (1998)
N/A
July 18, 2007
Princes et Princesses (2000)
N/A
July 18, 2007
Les Triplettes de Belleville (2003)
N/A
July 18, 2007
Moya lyubov (2006)
March 17, 2007
July 18, 2007
Przygody Myszki (1985)
N/A
December 19, 2007
Snezhnaya Koroleva (1957)
December 15, 2007
December 15, 2007

Panda Kopanda

(1972–73)
March 15, 2008
July 2, 2008

Cheburashka

(1969–83)
July 19, 2007
November 21, 2008
Animal Farm (1954)
December 20, 2008
June 10, 2009
Lupin the 3rd 1st. TV series (1971–72)
March 14, 2009
N/A
A Matter of Loaf and Death (2008)
July 18, 2009
November 27, 2009
Mr. Bug Goes to Town (1941)
December 19, 2009
April 21, 2010
Konk-Gorbunok (1947) and Seraya Sheyka (1948)
N/A
July 14, 2010
Akage no Anne ~Green Gables no Michi~
July 17, 2010
November 17, 2010
Shaun the Sheep Series 1 (2007)
N/A
October 20, 2010
Akage no Anne ~Green Gables no Michi~ (1979)
July 17, 2010
November 17, 2010
A Grand Day Out (1989), The Wrong Trousers (1993) and A Close Shave (1995)
N/A
October 20, 2010
Shaun the Sheep Series 2 (2009–2010)
N/A
January 19, 2011 and February 16, 2011
L'Illusionniste (2010)
N/A
October 8, 2011
Tout-rien (1978), Crac! (1981), L'Homme qui plantait des arbres (1987) and Le Fleuve aux grandes eaux (1993)
July 2, 2011
July 20, 2011
Les Contes de la nuit (2011)
June 30, 2012
December 5, 2012
Yoru no Tobari no Monogatari: Samenai Yume (夜のとばりの物語 -醒めない夢) (2013)
January 19, 2013
April 17, 2013
Arrugas (2011)
June 22, 2013
November 6, 2013
Shaun the Sheep Series 3
N/A
August 21, 2013
Dilili à Paris
N/A
January 22, 2020
Long Way North (Tout en haut du monde) (2015)
N/A
December 2, 2020
External Links