Ghibli et le mystère Miyazaki, known internationally as Ghibli: The Miyazaki Temple is a French documentary directed by Yves Montmayeur for Arte France and Point du Jour production, in cooperation with Studio Ghibli. It was released in France on January 7, 2005, and available internationally later that year.
The film profiles Studio Ghibli and its cofounder, Hayao Miyazaki and Isao Takahata, from their early days to becoming the powerhouse film making studio it was at the time. Interviews with various industry professionals and critics such as Toshio Suzuki, Yasuo Ōtsuka, Takashi Namiki, Goro Miyazaki, Takashi Murakami and the late French comic artist Jean "Moebius" Giraud are seen explaining the influences and philosophy of Miyazaki and his films.
It was released to coincide with the release of Howl's Moving Castle, which was set to premiere in France on January 12, 2005, and the then-ongoing Exposition Miyazaki-Moebius held from December 1, 2004, to March 13, 2005, at the Monnaie de Paris.
Overview
The Birth of Studio Ghibli
I expected Studio Ghibli to be a community. Yes, I have this feeling or should I say hope... but do I have a specific image of Ghibli? Not really. Then again, I have to admit I want to make it a good environment to make films where many different talents contribute in their own way. That's my dream... Miyzaki wants to show something people have never seen, while Takahata depicts something familiar, to let us gain new insight in how we live our lives.

—Toshio Suzuki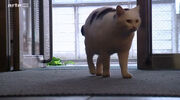 Ghibli et le mystère Miyazaki is a French documentary produced by Arte France, in cooperation with Studio Ghibli, Point du Jour production, SBS-TV (Australia) and CNC. The film is summarized thusly, "Studio Ghibli is the temple of Japanese animation. It was born from the meeting of two directors in love with a great freedom of creation: Hayao Miyazaki and Isao Takahata. In the early 1980s, the two friends abandoned the animation series on which they were working to found their independent studio. Ghibli has since "given birth to some of the greatest masterpieces of world cinema of the past twenty years."
The film opens to Toshio Suzuki and Isao Takahata explaining what makes Studio Ghibli different from other animation studios, and the contrasting visions of its two main cofounders. Takahata himself elaborates on his philosophy and how animation depicts "realism" in a more symbolic way. Veteran animator and illustrator Yasuo Ōtsuka, one of Miyazaki's early collaborators, remarks at Miyazaki's industriousness and willingness to learn. Takahata returns and describes the earliest for of manga, the Scroll of Frolicking Animals and People, and likens it to early animation, not dissimilar to his film, Pom Poko.
Early Influences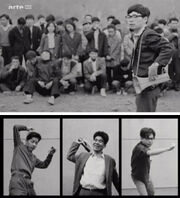 It then covers Miyazaki and Takahata early days working at Toei Studio, along with their role forming labor unions and participating in student protests occurring across the country in the 1960s. It was here that Takahata and Miyazaki met Ōtsuka, who was ten years their senior at the time. "We shared many similar views. For example, we loved Russia, but we didn't like communism." Ōtsuka recalls. "While they couldn't be involved politically, Miyazaki and Takahata strove to create animation for children with a political agenda. It stunned me. It made me realize the potential of animation films." Suzuki explains. Their early work, Horus: Prince of the Sun, reflected this as it shows one could have "a rich life even in poverty, and that if united, the weak can achieve something." It even reflected themes of the Vietnam War, which was ongoing at the time. It was one of the major influences that showed young animators uniting with a common purpose.
They eventually broke away from the TV animation system and started working on feature films. The documentary focuses mostly on the impact Studio Ghibli and Miyazaki has had in the industry and the field of animation.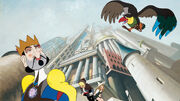 The film then moves to Japan and follows film critic and Ghibli otaku, Takashi Namiki to his home. There they find it filled with valuable sketches, animation cels, rare photobooks and film reels of early Toei and French animation works. Namiki explains that Takahata and Miyazaki are primarily film makers making film for Japan, and that making them appeal internationally is not their priority. He then brings up Paul Grimault's The King and the Mockingbird, a 1953 French animated film that deeply influenced Ōtsuka, Miyazaki and Takahata (so much so that the film was officially distributed by the Ghibli Museum Library). Namiki explains that few animators influenced the trio at the time, besides Disney, and Grimault's work was a landmark for them.
Takahata eventually met Grimault, and explained how he was the one that influenced him to be an animator but that he was afraid he wouldn't be able to expand beyond what he had made. Grimault assured him to try something different and not to follow his footsteps.
The Ghibli Museum
I'll talk about his films in relation to architecture. His films are tactile, if you know what I mean. He designs his films to arouse the viewer sort of a bodily or physiological pleasure.

—Goro Miyazaki
From there, the film finds itself in the Ghibli Museum in Mitaka, which was overseen then by Hayao's son, Goro Miyazaki. Goro explains how the museum is an extension of his father and Takahata's philosophy in creating fantasy films that transport its viewers to another world. It was built to be kind of like a maze, reflecting how Ghibli's films make you expect the unexpected. Goro explains the importance architecture plays in his father and Takahata's films, not only as a setting, but often as a character in itself. He elaborates that camera pans and shot compositions are discussed thoroughly during production. Places like the Edo-Tokyo Open Air Architectural Museum are seen as great influences for films like Spirited Away.
Spiritual Aspect
Following that, an interview with Animation Psychologist Masao Yokota explains that the "gods" and "monsters" that inhabit Miyazaki's films are a reflection of Miyazaki's ego. "He transmogrifies himself into different monsters to express himself. The monster fancies a girl's attention and they form a rapport. His storylines develop from there." These themes present themselves in Totoro, No Face and the Ohmu. A communion of sorts takes places between the protagonist and the beast. He hypothesizes Miyazaki wants to reflect an "ideal of innocence" in his characters. On the other hand, Yumi Tamai, the actress that plays Lin in Spirited Away, explains that the world in the film is merely the inner self of Chihiro.
Suzuki intervenes and says Nausicaä of the Valley of the Wind was inspired by Miyazaki's trip to Yakushima Island. During the planning session for Princess Mononoke, Miyazaki said, "let's base the film on that island once again". The filmmakers then visit Yakushima Island and its dense forests, to see why the place had such an impact on Miyazaki. Junichi Hidaka, a resident of the island, explains that the cedar trees are considered divine and sacred. Even the mountain streams were considered sacred. "The film (Princess Mononoke) convinced me in how we interact with nature. No life on earth is considered worthless."
An interview with Takashi Murakami reveals how Miyazaki influenced him as well, showing backgrounds from My Neighbor Totoro on his desk. He explains his studio is located in a polluted part of Tokyo, and despite these conditions, humans, animals and plants continue to live and thrive there. Murakami's work of deformed characters and flowers reflects this philosophy. "We work on the same themes, but approach them differently".
Moebius / Miyazaki
When I saw Princess Mononoke, and even more so, Spirited Away, that I couldn't see any producer in the world going along with that script. And that's the genius of Hayao Miyazaki.

—Jean "Moebius" Giraud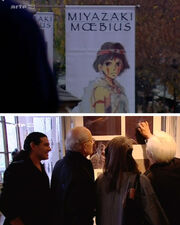 Miyazaki himself only appears towards the end of the film, as he travels to France to attend a joint exhibition with French artist Jean "Moebius" Giraud, the Exposition Miyazaki-Moebius. The exhibit featured over 300 original drawings from both artists. Miyazaki explains that he had encountered Moebius' Arzach comic work in the 1980s and that it had a great impact on him, but that by then, his style had already been fairly well established. He then admits that Nausicaä had been influenced by characters from Moebius' work. Moebius was amused by that remark, and explains that he noted Miyazaki's work is has heavy European influences, despite the remoteness of the location, but that his work for Spirited Away and Princess Mononoke are some sort of "homecoming", which is "what makes them moving".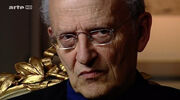 Miyazaki, seemingly on the defensive, explains that much of Ghibli's technique came from European influences. For films like Spirited Away, he wasn't sure the European style of painting light and dimension would work in a uniquely Japanese setting, but surprised that his staff pulled it off. "Some pictures were unlike anything we've done before." Moebius recounts Suzuki saying that Miyazaki enjoyed breaking convention, and that sense of adventure is well balanced in wanting to please the viewer. Miyazaki goes on to explain that while he is aware they are a business, their work would only matter if it entertains the audience.
"In fact, I have a lot of hopelessness and pessimism. But I don't like expressing it in film, for children to see. I'm more interested in seeing what drives me to make a happy film... or what makes me feel happy. The film ends as we see Mei, Satsuki and their father giving thanks to Totoro and nature.
Reception
The documentary met a mixed reception from critics. The Sydney Morning Herald expressed disappointment that this was a Miyazaki documentary only by proxy. "We see snippets from his films and talk to studio producers, animators, composers and even his son, who runs the remarkable Miyazaki museum. They all talk about Miyazaki, discuss his influences and motivations, his creativity and goals. Even a highly regarded fellow filmmaker from the Ghibli studio seems to talk more about Miyazaki than his own work."
"It is hard not to feel increasingly let down as the program continues: you're missing the one, essential voice. So when Miyazaki and a French comic artist are interviewed at the end - captured together at a joint exhibition in Paris - your initial feeling is one of relief. Ultimately, however, it's unsatisfying to have this block of chatter shoved in at the tail of the program almost like an afterthought."[1] Several other reviews cited the lack of Miyazaki's presence as well, with one stating, "All interviews are illuminating, but Miyazaki is teasingly confined to pic's tete-a-tete finale with esteemed French comic artist Jean "Moebius" Giraud."[2]
Le Monde praised Studio Ghibli's vision, but came out saying the film only offered "a superficial overview".[3]
References
External Links