Ghibli ga Ippai Collection (ジブリがいっぱい COLLECTION, lit. "A Lot of Ghibli" COLLECTION) is a brand created and owned by Walt Disney Studios Home Entertainment Japan (formally known as Buena Vista Home Entertainment Japan)/Pony Canyon which is used for Studio Ghibli releases and other related products in the country.
Background
Before 1996, Studio Ghibli films were released on Home Media by their then-owner Tokuma Shoten under the "Tokuma Video" label.
In 1996, when Studio Ghibli signed a business alliance with The Walt Disney Company to distribute and market their films worldwide, Buena Vista Home Entertainment Japan created the "Ghibli ga Ippai Collection" as a label for Studio Ghibli-produced movies. Along with this, all the Studio Ghibli films were re-released on VHS under the label starting with My Neighbor Totoro on June 27, 1997. The only exception at the time was Princess Mononoke's' Laserdisc release, which was released and sold through Tokuma Shoten.
In 2001, the label expanded to DVDs, and Blu-Rays in 2009. Rental versions of these releases were distributed through Pony Canyon, in partnership with Disney.
Even though the label has "Ghibli" in its name, other Miyazaki and Takahata-made Anime like The Castle of Cagliostro and Downtown Story are released under the label, alongside material acquired by Disney through Studio Ghibli for distribution, like the Aardman series Shawn the Sheep, which are released under the Ghibli Museum Library label.
Release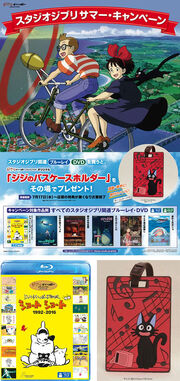 On July 17, 2019, Studio Ghibli released Ghibli ga Ippai SPECIAL Short Short 1992-2016 (ジブリがいっぱいSPECIAL ショートショート 1992–2016) on DVD and Blu-ray. This collection contained 32 animated shorts by Hayao Miyazaki, Yoshifumi Kondō, Yoshiyuki Momose, Takeshi Inamura, Osamu Tanabe, Shinji Hashimoto, and Shinji Otsuka, Katsuya Kondō and Goro Miyazaki.[1]
The Blu-ray cost 4,700 yen while the DVD release was worth 3,800 yen. A promotional event called "Studio Ghibli Summer Campaign" (スタジオジブリ サマー・キャンペーン) was held during its release where fans would receive a "Ghibli Pass Case Holder" for every order. An older DVD collection was released in 2005.
Shorts
The 2005 DVD release included these works:
Sora Iro no Tane / Nandarō / On Your Mark / "Studio Ghibli Original Painting Exhibition" TV spot
"Spirited Away" Friday Road Show Broadcast Announcement Spot / "Friday Road Show" Opening
Online shopping mall "SHOP-ONE" announcement spot / Asahi Beverage "Yoshicha" CM
"Mitaka no Mori Ghibli Museum" ticket sale announcement spot / LAWSON "Spirited Away" ticket sale announcement spot
LAWSON "Spirited Away" "Spirited Away" DVD sales announcement spot / House food "The Cat Returns" campaign CM
Resona Bank company CM / House food "Let's eat at home" series CM Summer version
House food "Let's eat at home" series CM Winter Version / KNB Yumedigi PR Spot
Yomiuri Shimbun Company CM Tile Edition / Yomiuri Shimbun Company CM Which Which Moving Edition / Which Which Song
The 2019 Blu-ray / DVD release included these additional works:
LAWSON "Ponyo on the Cliff by the Sea" Ticket Sales Announcement Spot / Yomiuri Shimbun Company CM Fuusen Gumsuke Edition
Nisshin Flour Milling Group Company CM "Konyara" / MS & AD Holdings "The Borrower Arrietty" Thailand Up CM
Whistle-blowing doctor / Kyukyu no Daibouken / Marubeni New Electric Power Company CM "Bird and Beast Caricature"
Bandai Namco Entertainment "Taiko no Tatsujin" 15th Anniversary Animation
ITO EN Web Animation "My Neighbors Onigiri-kun" / House food "Let's eat at home." Series CM "Garden Chigusa" ver.
Other Features
Sub-Labels
ジブリがいっぱいCOLLECTION (Ghibli ga Ippai Collection) - Used for Studio Ghibli movies and related works done by Hayao Miyazaki and Isao Takahata.
三鷹の森ジブリ美術館ライブラリー (Ghibli Museum Library) - Used for Ghibli-endorsed movies produced by other companies.
ジブリがいっぱいCOLLECTIONスペシャル (Ghibli ga Ippai Collection Special) - Used for Ghibli-related documentaries.
ジブリ学術ライブラリー (Ghibli Academic Library) - Used for Ghibli-endorced Documentaries.
ジブリCINEMAライブラリー (Ghibli Cinema Library) - Used for movies produced by other companies. Replaced with Ghibli Museum Library
References
External links