Haru Yoshioka is the main protagonist of The Cat Returns directed by Hiroyuki Morita of Studio Ghibli.
Personality
Haru was a stubborn, lazy, somewhat ditsy, and awkward at the beginning of the movie. But by the end of the movie she is bold, mature and confident. It's easy to tell she changed a lot after her return from the Cat Kingdom.
Story
Right at the beginning of the movie, she came late to school that the teacher points out. Then the whole classes start laughing at her, even her crush Machida. She likes goofing around with her best friend Hiromi. Additionally, she is messy, which can be seen by observing her room.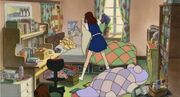 She is wishy-washy about many things that cause misunderstandings with the simple-hearted Natoru. Which gets her right into trouble. She gets more confidence and resolve as the story progresses. Yuki and the baron encourage her to do so.
Even though she is clumsy, humans and cats like her for her honesty and cooperative attitude. Due to this attitude many cats become her allies and aid her escape from the Cat Kingdom.
Gallery