Hideo Ogata (尾形英夫, Ogata Hideo, (c. 1934 – 25 January 2007) was a producer, executive director and editor-in-chief in Japan. He was the founding editor of Animage magazine, the second largest anime and manga magazine in Japan, and the editor of the Nausicaä of the Valley of the Wind manga series. Ogata assisted in the founding of Studio Ghibli. He launched the first "Roman Album" and was a major figure in Japanese animation.
Ogata died of stomach cancer on January 25, 2007, at the age of 73. Hayao Miyazaki read the eulogy at his funeral, describing him as "a Don Quixote who came from Kesennuma City."
Okura Publishing published his memoirs, Shoot that flag! Animage Blood Wind Record on November 1, 2004.
History
Early career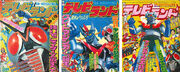 After graduating from the University of Political Economics Department in Meiji University in 1961, Hideo Ogata was hired to work at the Asahi Entertainment Publishing (a division of Tokuma Shoten) and subsequently took over as the editor-in-chief of the entertainment gossip magazine Weekly Asahi Enno (Weekly アサヒ芸能). He later worked as editor-in-chief of the monthly Terebi Land [TV Land] ( (テレビランド , Terebirando) magazine (1973-1997), but was frustrated by its many editorial restrictions. On top of that, the spinoff volumes that were based on that magazine failed to cultivate new readers. Ogata dreamed of creating a magazine that catered to young enthusiasts that would also be financially successful.
The Yamato Factor
In 1976, Ogata recounts a turning point in the animation field, when Yamato was about to be adapted into a an animated film, "It was at the end of this year that the information that came to the Terebi Land editorial office that Space Battleship Yamato was going to be made into a movie."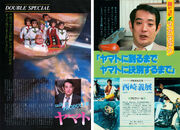 "It was said that Yamato was becoming a big movement. The anime first appeared as a TV series in October 1974. This story goes back a bit, but I had encountered Yamato that June during the annoying rainy season. There was a visitor in the editorial office. He was a well-dressed man who gave me a stylish impression. He said, "We are going to air an animation called Space Battleship Yamato on Yomiuri TV. I would like you to do a feature on it in your magazine."
"The business card he presented to me read, "Office Academy Producer Yoshinobu Nishizaki." I took the thick proposal book from him and said, "Let me think about it." At that point, I could not have predicted that this encounter with Yamato would turn out to be fateful.
"This was news enough to ignite my passion. I decided immediately, "Okay, let's do a Yamato movie Complete Works book!" I wasn't 100% sure about it. But I wanted to take action first and then we could think about it after we started running. Otherwise, nothing would move forward. On the other hand, there had always been a certain indifference to this kind of magazine at the company. Most of us had no idea about animation. Even the sales staff, who were supposed to be the most sensitive to market trends, did not show much interest. Therefore, I was afraid that this book might be crushed if I didn't do a good job with it. I couldn't shake off such anxiety."[3]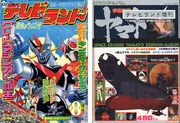 Ogata applied a "guerilla strategy" to get the artbook approved by his superiors. He spun-off the Terebi Land magazine into a special publication called Terebi Land Extra Edition, to avoid complaints from the sales people and distributor. Yamato Complete Works was then sold as the first "Roman Album".
The Roman Album sold out instantly. "Although it was not released in time for the movie premiere on August 6, 1977, the first 100,000 copies of the Yamato Roman Album appeared in bookstores on August 27 and were almost sold out by the 10th day. On September 6, the second printing of the book sold 100,000 copies, and it went on to a further eight printings. By September 1978, the total number of copies sold was 400,000, making it a hit product."
Animage
Inception
"With the huge success of the Space Battleship Yamato Roman Album, I became convinced that the animation category was definitely a big market, and I discovered that it was possible to have a magazine that uses animation as its theme."

—Hideo Ogata
The year of 1978 proved to be a critical year for Ogata. "Fortunately, there was a "special demand for Yamato" in the previous year, and the editorial department for children and boys made 810 million yen in sales, a growth of 102.5% over the previous year (1976). However, Terebi Land magazine was still treated as the king of deficits. It was still referred to by the derogatory term "pistol magazine." I was in a panic. I was desperate. I had to transform myself into the "king of surplus."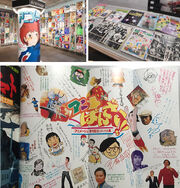 Ogata expressed his plans to start a new magazine. His colleague Toshio Suzuki, expressed concern with his decision. "But you've got your hands full with Terebi Land, and now you want to work on a new magazine…" Ogata explains himself in his memoirs, "His anxiety was justified. That's why I was thinking of outsourcing this new magazine. But we had so many differences of opinion that we decided against it. I decided to edit it internally, even if I had to give it to someone from the editorial department of Terebi Land. Suzuki also raised a question about the sales aspect."
"If it becomes a regular monthly magazine, the sales department might get noisy…", Suzuki responds.
"Then I'll put a mosaic over the real intention of the new magazine. For now, we'll call it a Terebi Land Separate Volume. I don't think sales would get wise to it, and the agency won't complain." After elaborating on his plan, Suzuki finally sees his way, "In this way, Suzuki eventually agreed to the proposal, and we began to work on the format. I had already seen Suzuki's thoughts. We've known each other for a long time, and we're on the same page, and he likes new things. He is also a technocrat who knows a lot about layout and printing. If he didn't say yes, Animage would end up being a mere figment of my imagination. I always thought of him as "my fellow rebel," and the two of us wanted to upend the world of strangers to anime."
Animage's Launch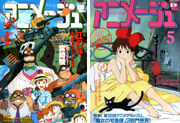 In May 1978, spurred by the success of the Yamato Roman Album, Ogata established a magazine dedicated to popular animation and comics aimed at a general public and not professionals. He named it Animage[4] and invited his colleague Toshio Suzuki to be the publication's first reporter, while Ogata served as its first editor-in-chief. Popular science fiction series such as Mobile Suit Gundam, Captain Future, Space Battleship Yamato and works by Shotaro Ishinomori, Osamu Tezuka and many other creators helped propel the magazine's profile among aficionados.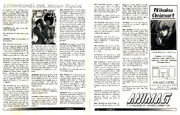 When coming up with a memorable name like Animage, Ogata had several theories, "It is better to limit the number of characters to five to make it clearer. The more crisp it sounds, the more powerful it is. Even if it's not related to the content, an eccentric name is much more interesting."
"There are many theories, and if some have already been tried, you can't use them. It's a continuous struggle to decide on a title and a catchphrase. The rationale for the name Animage was the same as mentioned above, and I decided on that at once. There were several other ideas, but I didn't have to think about them."
"Later, [Director] Isao Takahata said to me, "It's a really good title." He is one of the most intellectual people in the industry, and I was very happy to have his endorsement."
Animage's Editorial Policy
At the planning meeting in front of the officers in the company, Ogata explained the following four points as the editorial policy of Animage:
As the first dedicated animation magazine, it should cover all relevant information. The target audience should be young people.
It should be a new kind of visual town magazine with a smart atmosphere.
Emphasize the idol nature of the voice actors.
Readers are welcome to participate in the magazine. Expand the contribution page.
Animage's Reception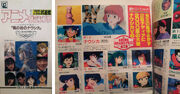 According to Ogata, the planning started in October of the previous year (1977), and the full-scale production launch was in March 1978. "It was a rush job, so there was some inexperience. I was worried. Magazine sales surveys are usually divided into three rounds to collect data. The final return rate [of unsold copies] would be determined a month after publication."
When asked how did Animage do? Ogata provided these figures, "58% on day 4, 82.3% on day 11, and 95.6% on day 25. It was a near perfect game. The return rate was less than 5%. The sales team had expected 21.6% before the launch, so it must have been an unexpected miscalculation on their part. Honestly, I was just happy. I felt like I was standing at the top of the clouds rising in the summer sky after the rainy season had ended."
Ogata explained two factors to the magazine's success: its avant-garde nature in the animation genre, and that there were no strong rivals at the time.[6]
Media Production
Shortly after, Ogata began co-producing several animated projects, many affiliated with Studio Ghibli. The manga of Nausicaä of the Valley of the Wind was serialized from 1982 to 1994 under an imprint of Animage. Before leaving the Tokuma Group on March 31, 1994, Ogata held the top position of executive director.
Memorial
On January 25, 2007, Ogata passed away from stomach cancer. In his speech, animation director Hayao Miyazaki described Ogata Hideo as "a Don Quixote who came from Kesennuma City and always had a courageous personality."[8]
Two entries at the Studio Ghibli production blog comment on Ogata's death and memorial service, which was limited to friends and family. According to the blog, Mr. Suzuki gave condolences to the family immediately upon hearing of Mr. Ogata's passing, and Hayao Miyazaki read a eulogy at the memorial service. The blog honors Mr. Ogata as "a mentor [to Mr. Suzuki] unlike any other in his lifetime," and thanks Mr. Ogata for his contributions "not only to Mr. Takahata, Mr. Miyazaki and Mr. Suzuki but to Studio Ghibli."[9]
Works
Ajin Tenshi (planning)
Angel's Egg (planning)
Arion (producer)
Battle Royal High School (planning)
Big Wars (original creator)
Castle in the Sky (planning)
The Cockpit (development)
Daimajū Gekitō: Kurogane no Oni (planning)
Digital Devil Story: Megami Tensei (executive producer)
Grey: Digital Target (cel checker)
Kiki's Delivery Service (planning)
Legend of the Galactic Heroes: My Conquest is the Sea of Stars (planning)
Legend of the Galactic Heroes: Overture to a New War (planning)
Majū Sensen (planning)
My Neighbor Totoro (planning supervisor)
Nausicaä of the Valley of the Wind (executive editor (manga), planning (anime))
Ocean Waves (executive producer)
Only Yesterday (planning)
Pom Poko (associate executive producer)
Porco Rosso (planning)
Sengoku Majin Gōshōgun: Toki no Ihōjin (producer)
Terebi Land (staff)
Wild 7 (planning)
References
External links