The Great Adventure of Horus, Prince of the Sun (太陽の王子 ホルスの大冒険 , Taiyō no ōji Horusu no dai Bōken), also known Hols: Prince of the Sun or Little Norse Prince Valiant, is an animated film produced by Toei Animation. It was Isao Takahata's directorial debut and released on July 21, 1968, distributed by Cinesco (Toei Scope). It was screened as part of the Toei Manga Parade (later Toei Manga Festival).
The film was selected by the Ministry of Education. The advertising catchphrase on its promotional material is "Horus is very strong!" "When the sword of the sun shines brightly, the giant Moog appears! Lots of cute animals and scary monsters!"
Overview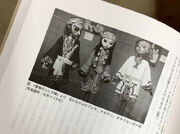 Horus is based on Kazuo Fukazawa's puppet play The Sun Above Chikisani (チキサニの太陽 , Chikisani no Taiyō), which in turn is a reinterpretation of an epic from Yukar, the oral tradition of the Ainu people, the indigenous people of the island of Hokkaido. The Japanese language title of the originally Ainu epic is オキクルミと悪魔の子 (Okikurumi to Akuma no Ko).
For Horus, the setting was changed to Scandinavia to avoid any controversy due to depiction of the Ainu people. The story was also inspired by the intention to address an adult audience, to reflect societal changes in contemporary Japan and to portray the socialist ideals in the portrayed village community, where the protagonists not only improve their own lot in a coming of age story but where their personal growth benefits society at large as well. The film shows a place where the people are able to shake off oppressive forces and derive pleasure from their communal efforts such as subsistence fishing.
This was Isao Takahata's directorial debut film; however, he was only credited as head of production. (Toei Animation did not use the title "director" at that time). Although it was far from a box office success, it provided a foothold for Takahata to advance from televised dramas into feature-length animated films. This was also Hayao Miyazaki first anime work where he was involved in earnest.
The film was released under Cinesco (Toei Scope), as it was common for Toho films to be called Toho Scope.
The DVD was released on July 21, 2012, and contained screenings during its first public release titled, Reprint! Toei Manga Festival Summer 1968.
Plot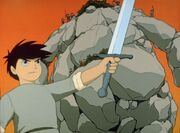 Set in Iron Age Scandinavia, the film opens with young Hols (Horus) attempting to fight off a pack of ¨silver wolves¨ and accidentally waking up an ancient stone giant named Moog (or Rockoar in some editions of the film).
Hols succeeds in pulling a 'thorn' from the giant's shoulder' which transpires to be a rusty and ancient sword. The Giant proclaims this to be the 'Sword of the Sun', promising also that when the sword has been re-forged, he will come to Hols, who will then be called ¨Prince of the Sun¨.
Characters
Horus

Hisako Ogata (Voice), Yasuo Ōtsuka
14-years old boy. He grew up with a deep connection to nature. He has a straightforward personality and trusts others easily. He has a tendency to take action ahead of his fellow villagers and attempts to solve problem alone.
Hilda

Etsuko Ichihara (Voice), Yasuji Mori (Character Design)
15-years old girl. Grunwald's younger sister. She has eternal life due to possessing the "pearl of life" which was given to her by Grunwald. Her singing has the ability to capture people's hearts. She is an unwilling minion of Grunwald as her mind is in constant conflict between her human and devil side.
Grunwald

Mikijiro Hira (Voice), Hayao Miyazaki, Reiko Okuyama, Seiichi Hayashi (Character Design)
A devil who who can manipulate snow and ice and resides in an icy castle. He has an army of silver wolves, eagle, sphyraenidae. He manipulates his sister Hilda to do his bidding.
Hols' father

Hisashi Yokomori (Voice), Hayao Miyazaki (Character Design)
55-years old. One of the few survivors after his village is razed by Grunwald's forces. He flees the destruction with Horus by boat. He raises Horus alone in a makeshift hut fashioned out of an old ship. In his deathbed, he gives Horus his ax and tells him to seek people he can trust.
Moog the Rock Giant

Tadashi Yokouchi (Voice), Hayao Miyazaki (Character Design)
A giant made of rock. He has trees for hair. He was under a deep sleep buried underground. He offers the 'Sword of the Sun' to Horus. He muses, "The one who reforges the 'sword of the sun' and masters it will be called the "Prince of the Sun',". During the final battle with Grunwald, he sides with humans and defeats Grunwald's ice mammoth minion. He is also responsible for the destruction of Grunwald's icy fortress.
Behind the Scenes
Planning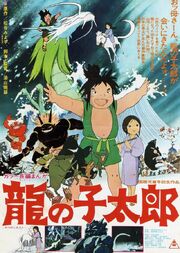 Beginning with Panda and the Magic Serpent (白蛇伝, Hakujaden) in 1958, Toei Animation has produced and released one animated feature film a year. However, with the advent of television animation in 1963 with Mushi Production's Astro Boy, Toei had no choice but to follow suit. Toei's Animation division was already in the process of reformatting itself to deal with the sudden demand for television anime series, but the competition was stiff. To make matters worse, many of the animators Toei had spent years training were being poached away to startup studios that were popping up in large numbers due to the new television market.
In the same year as Astro Boy's debut, production for Gulliver's Travels Beyond the Moon was temporarily suspended due to the shift to television animation (It was later released in 1965). In September 1964, the president of Toei Animation formally informed the staff that the production of feature-length animation would be halted for the time being.
However, in March 1965, animation director Masajirô Seki approached Yasuo Ōtsuka to create a proposal for a new film project. Ōtsuka responded in writing that he would accept under the condition that the film be based on Taro the Dragon Boy, a Japanese folk tale, and that the director (or what was equivalent to a director at Toei Animation) be Isao Takahata. In April 1965, Ōtsuka's request was accepted, and he and Takahata began working on their film proposal.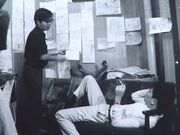 Many memoirs and interviews from the Tōei animators have described the working environment within the studio during the early '60s as a democratic wonderland. Anyone, regardless of their role or seniority, could suggest ideas or changes, and individual animators apparently had a lot of freedom in the style and details of their scenes. The studio was well-equipped, and the workload was relatively low (in fact, Toei's original workflow model left many animators with nothing to do during certain phases of a project, so they were allowed to freely work on miscellaneous shorts during those periods).
There had been some issues with pay, recognition, and nepotism that lead to union strikes and disputes during the early-to-mid-60s, but by the time Prince of the Sun began development this was already resolved. In their eyes, Tōei had recognized the value of its staff, was at an all-time highpoint of success, and should be more than willing to spend a bit of extra time and money on a high-minded new project that would expand the company's reputation beyond just family-friendly fare while also being a spectacular, action-packed story of its own.
The message of reconciliation to China from Toei's own first film, Panda and the White Serpent, could be repeated again for the Ainu peoples and launch the next era of Toei.[2]
Unfortunately, the pitch for Taro the Dragon Boy was rejected due to production issues, and was changed to Kazuo Fukazawa's The Sun Above Chikisani. However, the Toei side were unsure about adapting a story about the Ainu people after the disappointing box office results of Whistle in My Heart (コタンの口笛 , Kotan no Kuchibu) in 1959, so they agreed to have the setting changed to Scandinavia. The entire process took seven months.
Production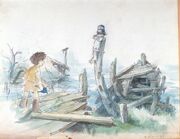 Production on Horus started in Autumn, 1965 but, due to the perfectionism of the creators, was not completed until March, 1968, at a time when other feature-length animated films at Toei were made in approximately 8–10 months and focus at the company was shifting towards production of television animation. Director Takahata and animation director Ōtsuka approached the process in an egalitarian manner and invited input from the entire team for story board and planning meetings, a method which opened the door for Miyazaki to contribute significantly to the development of the story and animation.
The first draft of the screenplay was presented by Kazuo Fukazawa in mid-December 1965, and was endorsed by Takahata and Hayao Miyazaki (The latter two gave invaluable input). Miyazaki said in retrospect in 1983, "I can't talk about Horus. Really. It's a disgusting story, but it's youth itself. It contains all the embarrassment. I did this with Paku-san (Takahata's nickname) and we were both very young. He said that he is too embarrassed to say anything now. I was trying to draw a human being... I was burning with ambition." In his eulogy to Takahata, who passed away in 2018, he was in tears when recalling how the production of "Horus" was a large influence in his life. "Thank you, Paku-san. Fifty five years ago, Paku-san spoke to me at the bus stop after the rain. I will never forget it," he said tearfully.[3]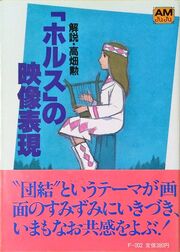 The fifth and final draft of the script and the proposed character designs (Ōtsuka cleaned up the proposals solicited from all the key animators) were completed in the latter half of March 1966, which was more than two months behind schedule. Storyboard work began, followed by animation production.
However, due to scheduling conflicts, production was suspended for eight months and staff were notified in October 1966. Only the storyboard work of Takahata and Ōtsuka resumed. When Takahata requested to lengthen the runtime of the film in order to fully realize his vision, he was soundly rejected.
When the suspension was decided, Ōtsuka was told off by Seki, the planning manager, "The company is asking you to make a prefab, but what you are trying to do is sturdy reinforced concrete,". He was furious at the constant delays and the lack of budget and looming delivery date. Ōtsuka noted that the staff were particular about maintaining quality because they believed that it might be their last full-scale feature film. Arguments strained morale for the animation team. Animator Yōichi Kotabe recalls, "It was a good experience for everyone, especially the union, to have suffered and completed it,". Animator Reiko Okuyama also remembers the difficulties they faced during production, "It didn't go smoothly from the beginning, but I think it was completed because of various conflicts,".
In January 1967, production finally resumed and was completed in a year. Previews were made in March 1968. During production, Takahata was forced to compromise and cut several scenes while negotiating with the business side of Toei Animation. Production cost ballooned to 130 million yen against the original proposed budget of 70 million yen. During Takahata's funeral, Hayao Miyazaki discussed the deletion of a crucial scene set in a "Forest of Illusion" between Takahata and the company, and said that Takahata had been forced to promise from the number of cuts to the number of drawings for each cut, and that he had to promise up to the required number of production days, and that "Paku-san wrote a clean-up letter each time" for exceeding delivery times and budgets.
Box Office
According to Yasuo Ōtsuka, the film was the "the lowest recorded for a feature-length anime ever". He pointed out that the film "targeted kids the age of high school and college students", and that Toei did not carry out sufficient promotional activities catering to that demographic. The film has a reputation as being a "box office failure" including several testimonies by Ōtsuka. Tomoya Kimura wrote in 2016 that the box office of Toei Manga Parade, which included this work playing at eight movie theaters nationwide, were not as bad as Ōtsuka presumed.
Due to going overbudget and a delayed release, the staff under Takahata were sanctioned (Otsuka's contract fee was halved), and Seki, the planning manager, and Toru Hara left Toei Animation.
Reception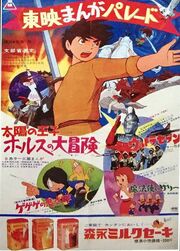 Upon release, Yasuo Ôtsuka's animation of Moog the Rock Hiant rising and of Horus' battle with the monstrous pike was said to have stunned audiences, as did the unexpectedly vicious opening wolf battle. Yasuji Mori's expressive character animation of Hilda is still legendary today, as is Takahata's carefully composed scenes, a startling triumph for his directorial debut. Another thing animation enthusiasts noted was Ôtsuka's use of frame modulation from twos to threes in the cuts of Moog the rock giant and the ice mammoth to reflect their massiveness.
As quoted in The Encyclopedia of Japanese Pop Culture by Mark Schilling, a reviewer for Hakubunkan's monthly magazine Taiyō (太陽, lit. Sun) commented, in 1968, "In one corner of the world there now exists a commercial animation that has surpassed Disney and started to make rapid advances", after seeing Horus and The Jungle Book.
Helen McCarthy, in her book Hayao Miyazaki; Master of Japanese Animation, notes that the film had only a brief theatrical release despite its critical and popular success. McCarthy notes that Yasuji Mori's "clean and simple character design" for Hilda "allowed for considerable emotional depth and flexibility" and she observed that this style remained a powerful influence on the works of Takahata and Miyazaki throughout their animation careers.
In 2001, the Japanese magazine Animage elected Horus, Prince of the Sun the third best anime production of all time.
In his Anime Explosion, Patrick Drazen mentions the film as a pivotal work in the evolution of animation and writes that the 10-day theatrical showing was either a sign that Toei studio executives were unable to recognize quality or a ploy to get back at Union organizers like Miyazaki and Takahata, who didn't direct for the company again. Drazen notes that the ending scenes in the film were thinly disguised rallying cries for the union and student movements of the time, by whom the film was well received.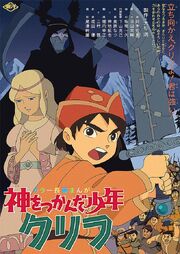 Drazen is among the analysts who makes note of the conflicted heroine Hilda, and writes that the character comes across as complex, working sometimes for good and sometimes for evil, and can be seen as the first in a long line of multidimensional heroines in the oeuvre of Takahata and Miyazaki.
The influence on Japanese cel animation of Ōtsuka's approach for Horus has been singled out. Thomas LaMarre writes, in The Anime Machine, that understanding Yasuo Ōtsuka's style is especially important for an understanding of Hayao Miyazaki's work. The sequence in which Horus fights the giant fish in particular has been referenced as a pivotal moment in the evolution of the medium and as a scene which had a profound impact on the animation works later produced at Studio Ghibli.
Justin Sevakis, writing a retrospective review for Anime News Network, in March 2014, noted that the film was a financial flop but almost immediately gained a following among young people. Sevakis states that despite its flaws Horus is one of the few animated stories from the period that can still be recommended to an adult audience.
In 2017, Mike Toole of Anime News Network, placed the film first on his 100 Best Anime Movies of All Time list.
Release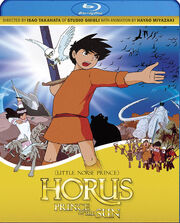 In 2005, Optimum Releasing released The Little Norse Prince on DVD for the UK (region 2), under its Optimum Asia label. It includes English language subtitles, the 1968 trailer, but no extra features. The subtitles were criticized for being incomplete, often skipping dialog and completely omitting the songs. This release is currently out-of-print.
In 2013, Horus, Prince of the Sun was released in Japan on the Blu-ray format. This version, however, was discovered to be an upscale of the existing Toei DVD (which was itself an upscale of the CAV LaserDisc release). No English language subtitles are present in this version.
On December 23, 2014, Discotek Media released Horus, Prince of the Sun on DVD for North America (region 1). This release features a new English language subtitle translation, two audio commentaries, video interviews with Isao Takahata and Yoichi Kotabe, four written essays, production galleries, and the 1968 trailer with new subtitles. This is the first U.S. release of the movie in its original Japanese version.
On January 21, 2015, the Blu-ray edition of the movie was included in Walt Disney Studios Japan's The Complete Works of Isao Takahata boxset, which contains ten of the director's films. This version of Horus is identical to Toei's standalone Blu-ray release.
On March 28, 2017, Discotek Media released Horus, Prince of the Sun on Blu-ray for North America (Region A). The blu-ray includes the original Japanese audio and an English dub as well as commentaries, interviews and trailers.
The AIP library was eventually purchased by Metro-Goldwyn-Mayer, which aired The Little Norse Prince on US television. The uncut English dub made for Little Norse Prince was used as an audio option on the Discotek Media Blu-ray/DVD release, and the AIP version has been available on many video streaming websites including Hulu, Netflix, and Amazon Video as of 2015.
Voice Cast
Character
Original
English
Grunwald
Mikijiro Hira
Gilbert Mack
Hilda
Etsuko Ichihara
Corinne Orr
Ganko
Eijirou Touno
Gilbert Mack
Village Chief
Masao Mishima
Ray Owens
Drago
Yasushi Nagata
Gilbert Mack
Hols
Hisako Okata
Billie Lou Watt
Hols' Father
Hisashi Yokomori
Gilbert Mack
Toto the White Owl
Ray Owens
Villager B
Hiroshi Kamiyama
Unknown
Chaharu
Tokuko Sugiyama
Corinne Orr
Boldo
Tadashi Yokouchi
Gilbert Mack
Moug the Rock Giant/Rockor (The Rock Giant)
Ray Owens
Piria
Asako Akazawa
Unknown
Young Girl
Yuriko Abe
Villager A
Kazuo Tachibana
Rusan
Masaaki Tsuzaka
Village Women
Yoshie Hinoki
Corinne Orr
Mauni
Yoko Mizugaki
Chiro the Squirrel
Noriko Ohara
Koro the Bear Cub
Yukari Asai
Freppu/Flip
Junko Hori
Potomu/Potom
Billie Lou Watt
Additional English Voices
Gilbert Mack (Village Men)
Ray Owens (Village Men)
Corinne Orr (Little Girl)
References
External links
Information
Online Shopping