Hoshi wo Katta Hi (星をかった日 , Hoshi wo Katta Hi), otherwise known as The Day I Harvested a Star or The Day I Bought a Star, is a 16-minute animated short film directed by Hayao Miyazaki and released on January 3, 2006. It was produced by Toshio Suzuki for Studio Ghibli for their exclusive use in the Saturn Theatre at the Ghibli Museum in Mitaka, Tokyo.
The film is based on an original story by Naohisa Inoue, the creator of the "Upward Draft" mural in the central hall of the Ghibli Museum. Set in the mysterious world of Iblard, the story features a young boy named Nona living alone in a farm owned by a mysterious witch named Ninia. One day, Nona picks up a magical seed that grows stars.
Plot
Nona, a disaffected young boy, flees the city to escape working at the "Time Bureau", a place that oversees how people spend their time. He then wanders the desert until he meets a mysterious woman named Ninia, who offers him a new life working at her farm.
One day, two peddlers named Scopello and Makinso approach Nona and offer him a gem known as the "seed of stars" in exchange for his turnips. Nona accepts the trade, and takes the little gem home and plants it inside a small pot. In time, a tiny planet emerges, which fascinates Nona. He continues to tend to the planet, and soon after, three moons begin circling the miniature planet. As harvest season arrives, Nono heads to the market to sells his produce. There, he encounters the two peddlers once again, where they make a final request for him.
Behind the Scenes
Early Concept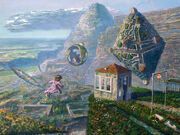 In the early 90's, Hayao Miyazaki met Naohisa Inoue after seeing his paintings regarding the fantastical world of Iblard. Miyazaki liked his work so much that in 1994, Inoue was invited to work on "Whisper of the Heart". The film featured a number of imaginary sequences set in Iblard, starring the Baron and Shizuku.
In 2002, Inoue was invited to the Ghibli Museum's to paint a mural dedicated to Iblard called "Upward II". [1] While Inoue was working on the mural, Miyazaki happened to pass by and overheard a customer talking to Inoue about his process. Miyazaki then praised his work despite Inoue's modesty in not being experienced at painting on a wall. "I don't care. It's good. I paint more like 'pashan, pashan' (onomatopoeia of Miyazaki's painting style) like I always paint on the wall. Please do so." Miyazaki said.
That's when the two began talking about a short story Inoue had been working on called "The Day I Harvested a Planet". "Actually, there is a picture book I'm about to draw. A girl grows stars, grows vegetable fields there, and lives..." Inoue said. Intrigued, Miyazaki leaned forward and said, "What does that mean? Tell us in detail." A week later, when Inoue visited the museum, he was told, "Mr. Inoue, you can make that the story for a film. Please write the original story."
Inoue sent an original draft, and stated that he wanted the main protagonist to be a girl, but Miyazaki argued that he wanted a boy. At the time, Miyazaki felt many of his films featured women as protagonists already, and wanted to try something different.
Production
Years would pass, and both Inoue and Miyazaki became busy with their careers. Inoue had nearly given up, when shortly after "Howl's Moving Castle" completed production, Miyazaki gave him a call. Miyazaki explained there was a gap in Ghibli's production schedule, and that he had been planning to create a new short film for the Ghibli Museum.[2] What Miyazaki failed to mention was that he had been already begun working on the storyboard for the short and decided that a boy would be the main protagonist. According to Miyazaki:
"About two years later, as soon as the work of "Howl's Moving Castle" was over, there was a gap in the studio. This is my chance to make a movie for the museum. I was a big kid, and it took a long time, but I secretly made Mr. Inoue a storyboard. Of course, with the boy as the main character.
Then I had the producer of (Toshio) Suzuki bring the storyboard to Mr. Inoue. Fortunately, Mr. Inoue was happy, so it seems like a good thing, even though there may be a slight violation of the rules.
However, I think that Mr. Inoue's conception of his personal manga and picture books sprouted on their own and became seeds and overgrown the leaves that I could not do anything about. This is how the "The Day I Harvested a Star" began."
Production began, and the film was completed and released on January 3, 2006.
An unrelated, independent work set also in Iblard, entitled "Iblard Jikan" was released in 2007.
Connection to Howl's Moving Castle
While the film has nothing to do with "Howl's Moving Castle", several similarities were noted by its producer, Toshio Suzuki and famed director Mamoru Oshii during the 2012 live broadcast on Nico Nico called "Mamoru Oshii's Live Broadcast That Makes Half the World Angry".
Suzuki: Did you see that? "The Day I Harvested a Star".
Oshii: "The Day I Harvested a Star?"
Suzuki: Have you seen it? The one at the museum.
Oshii: Yeah.
Suzuki: Then I'll show you next time. We did a side story unusually which featured Howl in his youth. So, in a nutshell, a young, beautiful Witch of the Waste also appeared there.
Oshii: Oh, that's interesting.
Suzuki: So, in short, she took away Howl's virginity... and it was a good story.
Oshii: Miya-san (Miyazaki), you're absolutely good at short stories.
Naohisa Inoue, who wrote the original draft, took to Twitter to clarify his thoughts on the matter. "I heard directly from Hayao Miyazaki that Suzuki-san said that Niña and Nona were witches and are related to Howl in the later wastelands. I laughed and said, the witch (in "The Day I Harvested a Star") wasn't that big, so I at least I wanted it to be Suliman (the antagonist from Howl's Moving Castle).[3]
Trivia
The film was first screened at the Saturn Theatre, located in the basement of the Ghibli Museum.
A subtitled version is available for hearing impaired viewers.
Voice Cast
| Character | Voice Actor (Japanese) |
| --- | --- |
| Nona | Ryunosuke Kamiki (神木 隆之介) |
| Ninia | Kyoka Suzuki (鈴木 京香) |
| Scopello | Genzō Wakayama (若山 弦蔵) |
| Makinso | Hiroshi Oizumi (大泉洋) |
Credits
References
External Links
Community content is available under
CC-BY-SA
unless otherwise noted.