The Day I Bought a Star (星をかった日 , Hoshi wo Katta Hi) is a 16-minute animated short film directed by Hayao Miyazaki, produced by Studio Ghibli and released on January 3, 2006. It can only be seen in the Saturn Theatre at Ghibli Museum in Mitaka, Tokyo.
The film is based on an original story by Naohisa Inoue, creator of Upward Draft, a mural located in the central hall of the Ghibli Museum. Set in the fantasy world of Iblard, a young boy named Nona, who lives alone in a farm owned by a mysterious witch named Niinya, buys a magical seed that grows a planet. Ryûnosuke Kamiki was cast as Nona, having previously worked on previous Ghibli films such as Spirited Away and Howl's Moving Castle.
The soundtrack was composed and performed by Yuriko Nakamura and Norihiro Tsuru.[1] A children's book based on this film was published on April 1, 2006, by Fictitious Company.[2]
An unrelated work set also in Iblard, Iblard Jikan was released on July 4, 2007, by Studio Ghibli.
Plot
The Windy Day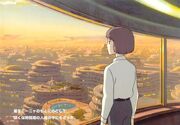 Nona, a disaffected young boy, flees the city to escape working at the "Time Bureau", a place that oversees time. He then wanders the desert until he meets Niinya, a witch, who offers him a new life working at her farm.
One blustery Autumn day, on the way to the market to sell some vegetables he has grown, a boy named Nona meets two strange men, Scopello and Makinso, traveling together. They are next to a train that seems to have suddenly stopped in the middle of nowhere (there are no tracks). The men open some cases they are carrying and announce that they are selling planets. The cases contain a few pieces of what look like samples of clods of earth or rocks.
The boy exchanges some vegetables for a seed of the smallest planet takes it home, and begins to raise it by the window in a shed. He puts some soil in a pot, plants the seed in it, and sprays some water on it with a spray bottle.
Nona's Star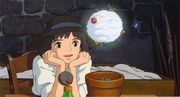 The boy lives in a house in the middle of where that belongs to Niinya. Niinya usually leaves her house at dusk and returns in the morning, and never bothers Nona. He gets up early in the morning goes to his garden, and spends most of the day there. Nona may have parents and go to school, but we are never given any information on this. We can only assume that, on order to be able to return home, Nona has to uncover some sort of personal secret.
When the light of the moon shines through the window, the planet starts to float out of the pot and to revolve. It is growing. And it reveals a type of genesis. The water vapor from Nona's spray bottle eventually generates clouds, and rain starts to fall on the little planet. Lightning flashes in the clouds, and the rain that falls eventually covers half the planets in the clouds. We see the birth of primitive seas on Earth recreated.
The planet absorbs the soil in the pot and gradually gets bigger and bigger. Grass seeds in the soil in the pot and gradually gets bigger and bigger. Grass seeds in the soil put down roots on the continents, and a single pill bug starts crawling about, like the ancestor of all living things. The boy takes a blanket into the shed and watches the planet develop, almost like the Creator, watching over the world He has created.
Eventually, things around the boy become too chaotic. Niinya intervenes and Nona has to say goodbye to the planet.[3]
Behind the Scenes
Development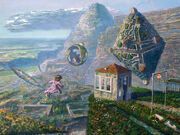 In the early 90's, Hayao Miyazaki met Naohisa Inoue after seeing his paintings of the fantasy world called Iblard. Miyazaki liked his work so much that in 1994, Inoue was invited to work on Whisper of the Heart. "The film featured a number of imaginary sequences set in Iblard, starring Baron and Shizuku. "Iblard has highly original light, color, and stories behind it; it's a sparkling and glowing world where what appear to be clouds and rocks and plants are all vaguely mixed together, where even planets and time meld together. It's rather like the mantel Alice finds in Lewis Carroll's Through the Looking Glass. There are all sorts of unusual things, and when you look at any number of them to try to ascertain their shape and color, they become blurred, and you find yourself looking outo f hte corner ofyour eye at other things that seem even prettier."[4]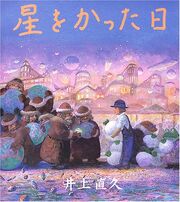 In 2002, Inoue was invited to the Ghibli Museum's to paint a mural dedicated to Iblard called Upward II.[5] While Inoue was working on the mural, Miyazaki happened to pass by and overheard a customer talking to Inoue about his process. Miyazaki then praised his work despite Inoue's modesty in not being experienced at painting on a wall. "I don't care. It's good. I paint more like 'pashan, pashan' (onomatopoeia of Miyazaki's painting style) like I always paint on the wall. Please do so." Miyazaki said.
"Inoue-san has created both a children's illustrated book and a manga set in the world of Iblard. Quite a while ago, I received a copy of the manga and read it over and over, and occasionally wondering to myself if it also could be made into a film. It was probably when Inoue-san was doing a mural for the Ghibli Museum hall that, in the course of a conversation, he told me his plan to create an illustrated children's book. That's when he first happily told me the story for "The Day I Bought a Star."
The hero has harvested a lot of turnips and goes to the market to sell them, but along the way he encounters some dwarfs selling planets. With only turnips, he doesn't really have enough money to buy a planet, but one of the dwarfs agrees to sell him one, if he raises the planet properly, and a year later invites them to a party on it. And with that the hero raises the planet, and when it becomes big, he takes off for a variety of adventures on it.
When Inoue told Miyazaki this, he was excited as a small child. In his original draft, he stated that he wanted the main protagonist to be a girl, but Miyazaki argued that he wanted a boy. At the time, Miyazaki felt many of his films featured women as protagonists and wanted to try something different. "With this, it occurred to me, "we can pull it off. We can make a film about Iblard." The more we talked, the more we decided we wanted to make a film. But Inoue-san wanted the protagonist to be a girl, and the moment he told me his story I had already decided that it was about a boy. And neither of us would yield."
Production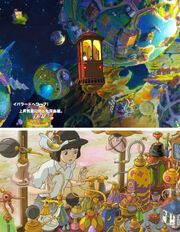 Years would pass, and both Inoue and Miyazaki became busy with their careers. "We both became busy, and with one thing or another, time just kept slipping by. Inoue-san kept on, not drawing his children's book, and I kept on, only occasionally recalling what we had talked about," said Miyazaki. Inoue had nearly given up, when shortly after Howl's Moving Castle completed production, Miyazaki gave him a call. Miyazaki explained there was a gap in Ghibli's production schedule, and that he had been planning to create a new short film for the Ghibli Museum.[6] What Miyazaki failed to mention was that he had been already begun working on the storyboard for the short and decided that a boy would be the main protagonist. According to Miyazaki:
"About two years later, the moment I finished Howl's Moving Castle, we had an opening in the studio's schedule. It was a real chance for us to make a short film for the Ghibli Museum. As quickly as possible - which means, nonetheless, that quite a bit of time went by - I went ahead and created some continuity sketches for the story, without telling Inoue-san. And of course I made the hero of the story a boy.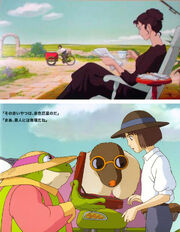 After that, I had Toshio Suzuki, the producer of our films, take the sketches to Inoue-san. And I was lucky, because Inoue-san was delighted with them - even though I had violated the basic rules we were operating under a bit. Inoue-san's own idea for his manga and illustrated children's book took seed and, as time went by, sprouted and on its own sent forth more leaves than I could ever have dealt with. And this is how "The Day I Bought a Star" came to be."
Production began, and the film was completed and released on January 3, 2006. "In this film, Iblard is another world, but we don't know where it is, and we don't know if it exists right next to the real world, or whether it is only in our own minds. If Nona were to always remain in Niinya's garden, I think that he would eventually fade away and disappear. But I also think that Nona wouldn't be interested in forsaking the world of Iblard and living only in our world."
"To quote American author Raymond Chandler from his novel Playback, "If I wasn't hard, I wouldn't be alive. If I couldn't ever be gentle, I wouldn't deserve to be alive. To me, that is Iblard."
Connection to Howl's Moving Castle
While the film has nothing to do with Howl's Moving Castle, several similarities were noted by its producer, Toshio Suzuki and famed director Mamoru Oshii during the 2012 live broadcast on Nico Nico called Mamoru Oshii's Live Broadcast That Makes Half the World Angry.
Suzuki: Did you see that? The Day I Bought a Star.
Oshii: "The Day I Bought a Star?"
Suzuki: Have you seen it? The one at the museum.
Oshii: Yeah.
Suzuki: Then I'll show you next time. We did a side story unusually which featured Howl in his youth. So, in a nutshell, a young, beautiful Witch of the Waste also appeared there.
Oshii: Oh, that's interesting.
Suzuki: So, in short, she took away Howl's virginity... and it was a good story.
Oshii: Miya-san (Miyazaki), you're absolutely good at short stories.
Naohisa Inoue, who wrote the original draft, took to Twitter to clarify his thoughts on the matter. "I heard directly from Hayao Miyazaki that Suzuki-san said that Niinya and Nona were witches and are related to Howl in the later wastelands. I laughed and said, the witch (in The Day I Harvested a Star) wasn't that big, so I at least I wanted it to be Suliman (the antagonist from Howl's Moving Castle)."[7]
Trivia
The film was first screened at the

Saturn Theatre

, located in the basement of the Ghibli Museum.
A subtitled version is available for hearing impaired viewers.
Voice Cast
| Character | Voice Actor (Japanese) |
| --- | --- |
| Nona | Ryunosuke Kamiki (神木 隆之介) |
| Ninia | Kyoka Suzuki (鈴木 京香) |
| Scopello | Genzō Wakayama (若山 弦蔵) |
| Makinso | Hiroshi Oizumi (大泉洋) |
Credits
| Credit | Staff |
| --- | --- |
| Director, Screenplay | Hayao Miyazaki |
| Original Creator | Naohisa Inoue |
| Animation Cooperation | Anime Torotoro |
| Art Director | Yohei Takamatsu |
| Animation Director | Megumi Kagawa |
| Director of Photography | Atsushi Okui |
| Key Animation | Fumie Konno, Katsutoshi Nakamura, Kenichi Yamada, Masako Sato, Moyo Takahashi, Sachiko Sugino, Shinichiro Yamada, Shunsuke Hirota, Takeshi Inamura |
| In-Between Animation | Akiko Teshima, Alexandra Weihrauch, Asami Ishikado, Kaori Fujii, Kiyoko Makita, Mai Nakazato, Masakiyo Koyama, Masako Sakano, Masami Nakanishi, Masaya Saito, Maya Fujimori, Mayumi Ohmura, Megumi Higaki, Minoru Ohashi, Rie Fukui, Rie Nakagome, Ritsuko Shiina, Seiko Higashi, Shuko Sasagawa, Sumie Nishido, Takahito Sugawara, Tomoko Miura, Yasuko Ohtomo, Yasuo Muroi, Yayoi Toki, Yukie Kaneko |
| Digital Animation | Miki Satō, Naoko Ishizuka, Norihiko Miyoshi, Susumu Masuuchi, Yū Karube |
| Background Artists | Kikuyo Yano, Masako Nagata, Mitsuo Yoshino, Naohisa Inoue, Noboru Yoshida, Sayaka Hirahara, Takashi Omori, Yoshikazu Fukutome, Youichi Nishikawa, Youji Takeshige |
| DigitalPaint | Akane Kumakura, Fumiko Numahata, Hiroaki Ishii, Hiromi Takahashi, Kanako Takayanagi, Kazuko Yamada, Naomi Mori, Rie Furushiro, Youko Fujioka, |
| Editor | Megumi Uchida, Takeshi Seyama |
| Producer | Toshio Suzuki |
| Music | Ayako Karasawa, Norihiro Tsuru, Yasuhisa Yamamoto, Yuriko Nakamura |
| Music Production | Noriko Tsushi, Tamaki Kojo |
References
External Links