How Do You Live? (きみたちはどういきるか , Kimitachi wa Dō Ikiru ka) is an upcoming animated film written and directed by Hayao Miyazaki and produced by Studio Ghibli. It was intended to be released to coincide with the 2020 Tokyo Olympics, but was postponed. No official release date has since been announced, although the film is targeted for a 2023 or 2024 release.[citation needed]
The film is based on the 1937 novel of the same name written by Genzaburo Yoshino, and centers around a 15-year-old boy named Junichi Honda, nicknamed Koperu, and his uncle as the youth deals with spiritual growth, poverty, and the overall experience as human beings. It will not be a direct adaptation of the original and will instead by an adventure drama with fantasy elements. In 2021, the novel became available in English.[1]
Cast and characters
Behind the Scenes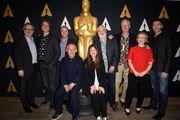 In 2013, Studio Ghibli president Koji Hoshino announced during the premiere of "The Wind Rises" that Hayao Miyazaki would retire from the producing feature films.[2] Miyazaki commenced animation work in July 2016, later confirmed by studio executive Toshio Suzuki.
By February 24, 2017, Toshio Suzuki made a statement during "Oscar Week 2017" (an event held a week before the Academy Awards), that Miyazaki is withdrawing from his retirement to produce a new feature-length animated film. Once Suzuki began working on "The Red Turtle" (2016), Miyazaki returned to the producer with a new idea for a feature.[3] When a reporter asked about Hayao Miyazaki's next movie, Suzuki smiled and prefaced, "It didn't take a year to say that (Miyazaki) wanted to return to active duty (after announcing his retirement). I will never forget, July 1st (2016). (Miyazaki) brought a proposal to me. A feature film proposal. He said, "I'll draft the e-conte (storyboard) for the first 20 minutes, so Mr. Suzuki, please judge whether this is interesting." At the end of last year, I read it. I was really worried. I was worried. The content was really interesting..."
By May 19, 2017, Ghibli's production department was reopened and began rehiring many of its past collaborators.
In October 2017, during a commemorative event at Waseda University for the author Natsume Sōseki, Hayao Miyazaki revealed to the thousand attendees that his the new film will be an adaptation of the novel, "How Do You Live?".[4] The film is expected to take three to four years to complete. Suzuki revealed that Miyazaki is working with his grandson in mind after he (Hayao Miyazaki) passes on.
Suzuki revealed that Miyazaki still needs "about three or four years" to finish the film in August 2018. In December 2019, Suzuki, in an NHK interview with actor Takeru Satoh, said, "The film is 15% finished at the end of October 2019 after 3.5 years of production. There was a schedule for directing 5 minutes per month but that was not followed in favor of 1 minute per month. There were plans to finish in 2019, but that schedule was not followed anymore. At this rate, the film would be completed by 2037 at the earliest."
In May 14, 2020, as the world was affected by the Coronavirus pandemic, the film's production schedule was largely immune to its effects. Suzuki explains in an interview, "We still draw everything by hand. It takes more time to complete a single film because we have to draw more frames and more pictures. At the time of production of "My Neighbor Totoro" (1988), there were only eight animators, and it took eight months to finish with that number of people. The work of director Miyazaki currently working on is sixty."
"A human animator is involved, but I can only make 1 minute in a month, which means that I can only make 12 minutes a year. Actually, I have already spent three years making this work, so now however, it means that it is completed only in 36 minutes. I hope to complete it in three years."[5]
In March 25, 2021, Suzuki revealed to Sight & Sound Magazine that half of the film's animation had been completed. "Around half the film's 125 minutes are now animated", and he doesn't expect a release for another three years. He described the film as a "big, fantastical" work. When Miyazaki told Suzuki he wanted to come out of retirement, the producer insisted that he justify his comeback by trying something new. The result is that, exceptionally, the director is working at his own pace, exempt from the usual constraints of deadlines and budgets.[6]
In November 23, 2021, an interview with the New York Times revealed scant details of the upcoming film. "Neither Miyazaki nor Suzuki will share much about the forthcoming film, beyond the fact that it is based on a 1937 novel by Genzaburo Yoshino... The actual content of the film could be anything — Suzuki has described it as "fantasy on a grand scale" — since Miyazaki doesn't so much borrow stories as liberate them from their origins... All Suzuki will share is that he recognizes himself in one of the characters, who is not human." Towards the end of the interview, the author of the article, Ligaya Mishan, was allowed to ask Miyazaki one more question, "The title of your next film is 'How Do You Live?,'" "Will you give us the answer?"
(Miyazaki's) smile comes only after he speaks: "I am making this movie because I do not have the answer."[7]
Source Material
Yūzō Yamamoto originally wrote the novel as one of the final publications in the serial Nihon Shosan Bunko Bunko. However, he was unable to complete it due to an illness. Genzaburō Yoshino took over and completed How Do You Live?' in a book form and published the book in 1937. Following Miyazaki's announcement, the novel immediately sold out.
The story is about Junichi Honda, an intellectually curious boy 2nd year (15 years old) junior high school student who is known by his nickname Koperu (Koper-kun), which was named after the astronomer Nicholas Copernicus. Despite his academic and athletic achievements, his sense of mischief led him to not becoming class president. Meanwhile, his father is a bank executive until his death, and his mother is a maid.
After his father's death, Koperu moves to his uncle's house. There are many children of businessmen, university professors, and doctors in classmates, and topics of classes extend to ski areas, cinemas, Ginza, and summer resorts. Koperu experiences and observes various events in school life with friends. Following each chapter, the uncle who told the story of the day talked about themes such as "view of things", "structure of society", "relation", etc. Koperu is shown his journal under the heading "How to see things", "Think of your Earth as one of the celestial bodies in the vast universe, like Copernicus, or think that your Earth is sitting in the center of the universe. In fact, these two ideas are not just about astronomy. When I think about the world and life, I have to follow along."
Manga
The novel was adapted into a manga by illustrator Shoichi Haga and published by Magazine House on August 24, 2018. The manga became a best-seller, selling over 2 million copies upon release.[8]
Like the original, it is tailored as a book that lets readers think about profound themes such as "how to see things", "experiences of truth", and "human troubles, mistakes, and greatness". Hisashi Maeda, the Editor-in-Charge of the Weekly Bunshun commented regarding the relevance of the adaptation, "I knew that the original novel was a favorite among young people and was loved by the older generation as well, including journalist Akira Ikegami and Hayao Miyazaki. The reason I took this project is because it was beloved by young editors in their generations. I thought that if a good book that had been read for generations was made into a manga, it would reach a wider audience. The original theme is Koperu's growth, but in the manga, we added an element that would allow the uncle to grow together while guiding Koperu."[9]
Drama
It was adapted as a 30-minute live-action drama for TBS / MBS and was broadcast on May 1, 2018. Koperu was played by Seishiro Kato, the uncle was played by Tomoharu Hasegawa, and mother was played by Hiroko Nakajima.
However, they did not have the permission of the author's bereaved family, and the eldest son of Genzaburo Yoshino filed a protest against the production company.
References