Iblard Jikan (イバラード時間 , Ibarādo Jikan), literally Iblard Time, is an experimental 30-minute anime OVA directed by Naohisa Inoue and produced by Studio Ghibli, released in Japan on DVD and Blu-ray disc on July 4, 2007, as part of the Ghibli ga Ippai Collection.[1]
The story is set in the imaginary world of Iblard, originally depicted in paintings by Inoue. The film consists of a partially animated montage of Inoue's paintings. The paintings of Iblard also inspired the fantasy sequences of Ghibli's Whisper of the Heart, directed by Yoshifumi Kondō.[2]
Inoue's work has spawned numerous paintings, comics, picture books, CD-ROMs, a video game and exhibits. It previously inspired the Ghibli Museum exclusive animated film, The Day I Bought a Star (2006), directed by Hayao Miyazaki.
Production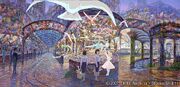 The OVA is 30 minutes long and consists primarily of Inoue's fantasy paintings of the Iblard world. Studio Ghibli digitally animated portions of the paintings and integrated original elements into the scenery. There are eight separate segments, each featuring a different painting or landscape and instrumental musical piece.
The OVA focuses mostly on static shots of "moving" scenery: Inoue's paintings digitally altered, so that grass moves in the wind, people walk, etc. There is no dialogue.
Music
The original soundtrack for the OVA was composed by Kiyonori Matsuo. The release of Iblard Jikan includes a bonus soundtrack CD with eight tracks performed by Matsuo.
Inspiration
World of Iblard
"Fragments of forgotten memories...

Nostalgic days that are sure to come again...

IBLARD is made of such elements.

Welcome to IBLARD."

—Naohisa Inoue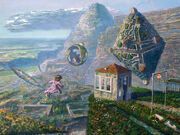 What exactly is "Iblard"? According to its creator, Naohisa Inoue, the world of Iblard is subtly linked to the real world, and this relationship is described as "a piece of a distant day that I can't remember. I'm sure it will be a nostalgic day to come." On the official site for Iblard, "The term Iblard represents the various worldviews expressed by the painter Naohisa Inoue. It is said to be a fantasy country modeled after Ibaraki City, Osaka Prefecture, where Mr. Inoue lives. It is a beautiful country with abundant greenery, with many asteroids floating in the sky, mountains, grasslands, and the ocean. It borders a country called Suiteria in the west and a country called Takatsun in the east. By the way, both countries are said to be modeled on Suita City and Takatsuki City, Osaka Prefecture.
There are also inhabitants in the world of Iblard, who have more or less magical powers. Iblard is also a country where magic is widely used. In the world of Iblard, expressing what you think of in shape is called Solma. Many inhabitants use a magic stone called a synthesizer, which is used as a solma to show others what they have in mind as a visual image. However, this concept of solma is by no means special only in the world of Iblard, and it is said that it is common in our daily lives. For example, Mr. Inoue uses a solma called "picture" to express the world view of Iblard.
Iblard Eyes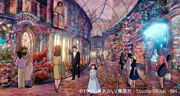 Hayao Miyazaki describes viewing from an Iblard perspective as "Iblard eyes." From this Iblard perspective, it seems that even a normal landscape looks different. For example, if you think of a convenience store at night as "the convenience store lights up so much", it's not interesting, but from an Iblard perspective, it's "Oh, beautiful!". It looks like a strange and mysterious world where fantastic lights shine. No matter how featureless the landscape or how murky the landscape is, does it mean that a unique taste is created when viewed from an Iblard perspective? The world of Iblard is said to be "a landscape that makes you feel nostalgic, a landscape that makes you feel nostalgic even though you have never seen it", but it is not a fictional world, but our everyday world. It may be because it is connected somewhere.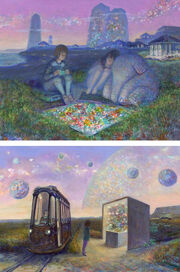 Thinking in this way, we can see that Iblard does not mean a mere fantasy world, much less a concept that is not limited to the world view expressed in the picture. In other words, Iblard in the narrow sense is "a world expressed through Inoue's point of view", but Iblard in the broad sense can be thought of as "discovery of a new viewpoint" and "a new way of looking at things."
Inoue usually states, "If I can explain the phenomenon of Iblard more rationally than I do, I will adopt it." This is because the world of Iblard extends beyond the framework that Inoue expresses. Tells the story. It may be said that Iblard-like things also exist in ourselves."[3]
Magic
There is magic in the world of Iblard, but there are public and transportation facilities as in the real world. There are colorful and colorful plants all over the world, and many buildings are covered with plants. There are many airships (airships are said to grow from plants) and Laputa, an island that floats in the sky.
According to Albatro Design, the world of Iblard is always beautiful and there is some melancholy. This seems to be strongly linked to the memories of Naohisa Inoue's childhood, and although it is very peaceful and soothing to watch, it exquisitely creates a sad atmosphere somewhere.[4]
Related Products
1981 Picture book "Iblard"
1983 Picture book "Iblard's Journey" Kodansha Picture book rookie award
1985 Comic "Iblard Story", published by Seishinsha
1994 Picture book "Iblard Museum" Fictitious company
1995 "Whisper of the Heart" (Studio Ghibli, directed by Yoshifumi Kondō)
1997 Illustration collection "Sky Garden, Hoshi no Umi Iblard Museum Vol. II" Fictitious Company
1999 Illustration collection "Zipangu no Kishibe Iblard Museum Magazine Vol. III" Fictitious Company
2001 Junior High School Japanese 1-3 years Textbook cover design Educational publication
2001 Picture collection "The world is your collection" Fictitious company
2001 Ghibli Museum Main Hall Mural "Upward Draft" painting production
2003 Picture collection "Here is the city Iblard Museum magazine IV collection" Fictitious company
2004 Junior high school art In the first year of the textbook, the work "Airship Tree" and a commentary were published. Nihon Bunka Shuppan
2005 "Drawing something that cannot be said yet" in a junior high school Japanese language textbook
2005 "Hoshi o Katta Hi" (Studio Ghibli, directed by Hayao Miyazaki) Original work and art production
2006 Picture book "Hoshi o Katta Hi"
2007 "Iblard Jikan" (Studio Ghibli)
2008 Picture collection "Mizuwakuoka Ibarado Museum Magazine Vol. V"
Others
Jikan Journey (Kodansha, 1983) ISBN 4-06-127299-3 Picture book, Kodansha Picture Book Rookie Award
Museum magazine (Fictitious company, 1994) ISBN 4-906268-58-7 Iblard
Story Laputa landscape (blue) Shinsha, 1995) ISBN 4-906268-58-7 Manga
Sky Garden, Sea of ​​Stars Iblard Museum 2 (Fictitious Company, 1997) ISBN 9784877522001
Zipangu Kishibe Iblard Museum 3 (Fictitious Company, 1999) ISBN 4-87752-120-8 This
The city Iblard Museum 4 (Fictitious company, 2003) ISBN 4-87752-205-0 The day when the
Stars were struck (Fictitious company, 2006) ISBN 4-87752-139- 9
Mizuwakuoka Iblard Museum 5 (Fictitious Company, 2008) ISBN 4-87752-208-5
References
External Links
Official
Information
Online Shopping