Katsuya Kondō (近藤 勝也 Kondō Katsuya, born June 2, 1963, in Niihama City, Ehime Prefecture, Japan) is a Japanese manga artist, character designer, animator and animation director. 1992 He left Studio Ghibli and became freelance in 1992.
He is best known for his character design work on the Studio Ghibli films Kiki's Delivery Service, Ponyo, Ronja, the Robber's Daughter and Ocean Waves, as well as the Jade Cocoon game series PlayStation. on His character designs are considered the epitome of the Studio Ghibli style.
In 2012, a commemorative exhibit called Ghibli Painter Katsuya Kondo Exhibition (ジブリの動画家 近藤勝也展) at the Nihama City Native Museum. It was re-exhibited in July 2018.[1] He was named Niihama City Furusato Tourism Ambassador and resides in Nagano Prefecture.
History
Early career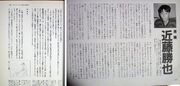 In 1982, Kondō graduated from Ehime Prefectural Niihama Minami High School. He aspired to become an animator after seeing Future Boy Conan,[2] so he tried to apply for a job at Tokyo Movie Shinsha (currently known as TMS Entertainment, a studio where Hayao Miyazaki and Isao Takahata famously worked) but despite passing the first exam, he failed the second and was not accepted.[3] He then joined Osamu Dezaki and Akio Sugino at their Annapurna Studios. Under the direction of Shinji Ōtsuka, Kondō worked as a key animator of the TV anime series Cat's Eye.
He then worked as a free agent on such shows as The Mighty Orbots, Rainbow Brite and Disney's Adventures of the Gummi Bears. In a 2009, Kondō recalls little of this period of his career, "At that time I was not yet a member of Ghibli, but worked for a different company. My involvement to these projects was not my decision, but the company's! But those days there weren't any restrictions on the number of pages to draw, so I had a lot of fun doing what I wanted to do."
Post-Ghibli Years
"I think I am lucky to have the same orientation as Ghibli's. My philosophy of "What I would like the animation to be" is the same as Ghibli's. With the same vision, I was able to be involved until now. But you know, the Studio is a collection of individuals; I guess I gave them a lot of influences… both good and bad. I am not sure that should be counted as an evolvement of the Studio, though."

—Katsuya Kondō, 2009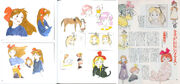 Kondō first joined Studio Ghibli in 1985 and in 1986, was as a key animator on Castle in the Sky.[4] By 1987, he began working on the Gainax film Royal Space Force: The Wings of Honnêamise and the OVAs Devilman and Twilight Q, Kondō began to be known for the high quality of his work.
He was placed in-charge of pre-production design and animation director for Kiki's Delivery Service in 1989. He explains his process, "Initially, I followed the original story illustrations and drew Kiki with long hair, but this would have been difficult in terms of animation. Still wanting to be faithful to the original story, I had her hair bundled with ribbons to be removed when she was alone in order to convey her dual nature. But this didn't really fit with her character so she ended up having short hair. I wanted her cheeks to reddish from the start."[5]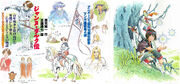 Popular author Saeko Himuro was a big fan of Kondō 's work, and decided to collaborate with him on the novel that would later be adapted as Ocean Waves. Animage magazine serialized the novels, and many of Kondō's illustrations were heavily promoted throughout the early 90's. In 1992, Kondō left Studio Ghibli to work freelance. He continued working for Ghibli however as key animator on Porco Rosso, Pom Poko, Princess Mononoke, My Neighbors the Yamadas and Howl's Moving Castle. He also animated the Nisshin Seifun TVCM for Ghibli.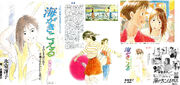 Kondō collaborated with Ken'ichi Sakemi on a manga retelling of the Joan of Arc story, as well as doing the character designs for the Jade Cocoon video game series. He also collaborated with Sakemi by creating the character designs for the 1990 Nippon Television Network TV movie Like the Clouds, Like the Wind (based on Sakemi's novel Kōkyū Monogatari), which tells the story of a young country girl who is chosen to become one of the Emperor's concubines.
He also worked with Tomomi Mochizuki on the NHK Minna no Uta music video titled Kaze no Tōri Michi, produced by Ajia-do Animation Works for Sayuri Horishita. In 2007, he was announced as the supervising animator of the Studio Ghibli film Ponyo. He also wrote the lyrics for the film's theme song.
Ponyo and Beyond
In an August 2009 interview, Kondō described his experience working with Miyazaki on this film, "It has been a long time since I worked with Mr. Miyazaki as a supervising animator, so I enjoyed it very well. The hard times on creating Ponyo, I don't seem to have any particular. Not just Ponyo, but it can be said for all the films, because creating a feature film itself is a matter of hard work. If you look at it objectively, each film may have a different atmosphere, but I am just doing the same work as before. If I were to say one thing about Ponyo that is different from the past titles, I would say that this one is aimed for young children."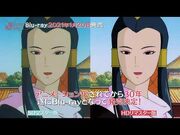 Despite the film being squarely aimed at children, he explained how it reinvigorated Miyazaki, "There is no doubt that Mr. Miyazaki was energized by making this movie! He was much more emotional than usual. I guess that is because of his strong will that says "I want to show this movie to the children!" He sure had so many things on his mind. He couldn't stop thinking about many ideas and he would joke about himself going over the top with so many different ideas of the film."
On his biggest challenges in animation, "My tough ones are always "showing something that looks as if it is there." It doesn't just apply to Ponyo, but to the entire animation world. To show someone's presence, you have to make him/her move a lot. It may be a slight movement, or it can be bold. It can be both, or different variations."[6]
He later worked as an animator on The Secret World of Arrietty and collaborated with Goro Miyazaki on From Up on Poppy Hill and Ronja, the Robber's Daughter.
In 2012, a special commemorative event was held called Ghibli Painter Katsuya Kondō Exhibition in Nihama City Native Museum, part of the 75th anniversary celebration in Niihama City, Ehime Prefecture. The exhibit featured works from his youth such as The Sea on the Red Flower Sakaka (コクリコ) and his Ghibli image boards and character sketches. More than 200 original illustrations were on display. The cost for entry was ¥500 for high school students and older (though advance tickets were available for ¥400 each), those with disabilities gained entrance for ¥200, and junior high students and younger gained entrance at no cost.
The exhibit was sponsored by Niihama City and the Niihama City Board of Education, with additional sponsorship support from the Niihama Civic Society, the Niihama Foundation for the Promotion of Cultural Sports and the Ehime Shimbun. The exhibit was also supported by Ehime Prefecture, the Ehime Board of Education, Nankai Broadcasting, TV Ehime, Ai TV, Ehime Asahi TV, Heart Network, and FM Ehime.[7]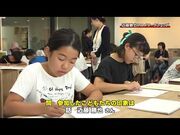 From July 7, 2018 to September 24, 2018, another exhibit dedicated to Kondō was held in the same venue. However, this exhibition displayed roughly 500 illustrations from Kiki's Delivery Service, Ocean Waves, Ponyo and Ronja, the Robber's Daughter, along with his numerous commercial and cover illustrations.
In February 25, 2021, publisher Kadokawa's Da Vinci Store (ダ‧ヴィンチストア) located in Tokorozawa City, Saitama Prefecture (known as Japan's large cultural entertainment city) celebrated the launch of the Kadokawa Manga Learning Series (まんが学シリーズ) with the "The History of the World". This was a set of twenty classic historical literature featuring new illustrated covers by Kondō. A mini-exhibit accompanied the launch, featuring the original versions of Kondō's illustrations.[8]
Works
Animation
Mighty Orbots (Character design)
Cat's Eye (Key Animator)
Disney's Adventures of the Gummi Bears (Key Animator)
Castle in the Sky (Key Animator)
Twilight Q (Key Animator)
The Wings of Honneamise (Key Animator)
Devilman (Key Animator)
My Neighbor Totoro (Original Design)
Kiki's Delivery Service (Animation Director, Character Design)
Like the Clouds, Like the Wind (Animation Director, Character Design)
Rainbow Brite (Key Animator)
Only Yesterday (Animation Director)
Porco Rosso (Key Animator)
Ocean Waves (Animation Director, Character Design)
Pom Poko (Key Animator)
Princess Mononoke (Key Animator)
My Neighbors the Yamadas (Key Animator)
The Aurora (Character Design)
Howl's Moving Castle (Animation Supervisor, Key Animator)
Kaze no Tōri Michi (Key Animator)
Dennō Coil (Key Animator)
Ponyo (Character Design, Animation Director, Theme Song Lyrics, Key Animator, Animation Supervisor)
The Secret World of Arrietty (Key Animator)
From Up on Poppy Hill (Animation Director, Character Design)
Ronja, the Robber's Daughter (Character Design)
Games
Kondō Katsuya Art Works, featuring artwork from both Jade Cocoon games.
Jade Cocoon: Story of the Tamamayu (PlayStation) (1998, character design, key animation, animation director)
Jade Cocoon 2 (PlayStation 2) (2001, character design, key animation, animation director)
Books and Manga
Boku ga Suki na Hito e: Umi ga Kikoeru yori (ISBN 4195551714, 1993-05-31, ¥1200)
D'arc: Histoire de Jeanne D'arc, by Kenichi Sakemi and Kondō, Tokuma Shoten

Volume 1: ISBN 4-19-770037-7, 1995-09-30, ¥950
Volume 2: ISBN 4-19-770048-2, 1996-09-30, ¥950

"Kondō Katsuya Art Works: Tamamayu Monogatari & Tamamayu Monogatari 2 (ISBN 4758010064, March 2002, ¥3990)
References
External links