Kujiratori (くじらとり, Kujira-tori), or Whale Hunt, is a 16-minute animated film written and directed by Hayao Miyazaki, shown only in the Ghibli Museum in Mitaka, Japan. It premiered in October 2001.
It is based on the second volume of No-No Nursery School (いやいやえん , Iyaiyaen), a 1962 children's fairy tale written by Rieko Nakagawa, with illustrations by Yuriko Yamawaki and published by Fukuinkan Shoten. The film adaptation tells the story of school children pretending they are building a boat. It is drawn in a different, simpler style compared to other Studio Ghibli films and uses bright pastel colors.[1] Takeshi Inamura served as the film's animation director.
The film was shown at the 2002 New York International Children's Film Festival. It has won the Ōfuji Noburō Award at the Mainichi Film Award in 2001.
Plot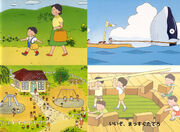 Kujiratori tells the story of children at Tulip Nursery School pretending they are building a boat with blocks, calling it "Elephant and Lion". As imagination replaces reality, and a young boy named Shigeru and his schoolmates load fishing rods and ropes onto the Elephant and Lion, and set out on a whale hunt. The children struggle manning the ship as it floods, and they soon brave a big storm. Suddenly, a gentle whale appears, accompanies them back to land and plays with them.
They land on the beach and the children, along with the whale, take pictures to commemorate the event. The whales return to the ocean as the children wave goodbye. Then the fantasy ends and the children are back in their class room.
Behind the Scenes
Inspiration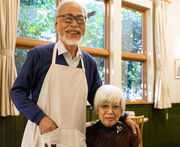 Hayao Miyazaki has been a fan of Rieko Nakagawa ever since he read her story No-No Nursery School (1962) as a student, and ever since has dreamed of adapting her work in animation. In a 2018 NHK interview between Miyazaki and Nakagawa, he recounted, "When I was a student in the early 1960s, No-No Nursery School came out. I thought it was a wonderland, or "a really wonderful thing came out."
When asked what impressed him about the story, he described how seamless the fantasy was integrated when the nursery transforms into the literal sea, stating, "Hmm ... it's difficult. Because there is a sea in the nursery ... It's not a sea, it's a sea. And the whale is swimming. It connects quite smoothly. When I think about it in theory, I have to think about the mechanism, such as "a different world was connected there," but when Nakagawa takes it, it suddenly becomes the sea."[2]
Collaboration
In 1988, Miyazaki befriended and hired Nakagawa, also a known lyricist, to work on his film, My Neighbor Totoro. She worked alongside Joe Hisaishi and wrote the opening theme, Sanpo -Ōpuningu Shudaika (さんぽ -オープニング主題歌- , Stroll (Opening Theme))". They would also collaborate to create a book to coincide with the opening of "My Neighbor Totoro." It contained artwork from Miyazaki and poetry by Nakagawa, all inspired by the film.
Production
Following the success of Princess Mononoke and prior to the opening of the Ghibli Museum, Miyazaki decided to adapt Reiko Nakagawa's work. He tried his best to faithfully reproduce the atmosphere of her story, adopting a simpler, brighter pastel color-style compared to prior Studio Ghibli films. In the 2018 NHK interview, Miyazaki stated, "I was really worried about how to make Kujiratori into a video."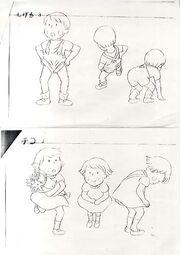 During a retrospective talk of Reiko Nakagawa's 1967 work Guri and Gura in 2014, Miyazaki admitted, "It's a wild work, this Kujiratori. I wanted to animate this story when I was trying to make a movie to be screened at the Ghibli Museum. But this was really difficult. The classroom becomes the sea. Finally, the original book does not say that he returned to the classroom from the sea. After thinking about how to end it, we left it as it was. Then Nakagawa (who worked as a Nursery teacher herself) watched the movie and said, "Well, my mothers will come to pick me up and be surprised." It's a book I wrote (laughs). But it's boring to return the sea to the nursery. Even if it's a dream to wake up someday, you don't have to rush to wake up. You don't have to write anything useful or lessons to grow. It was Nakagawa's work that taught me that it was okay."[3]
During the film, the children's imaginary boat, which is made of blocks, starts to leak. Miyazaki explains, "In the movie, I don't explain "why it becomes the sea" so much. When a child plays and a ship made of building blocks shifts a little, he says, "Water leaks from there." Then, it really leaks."
When remarking on the success of his adaptation, Miyazaki said, "I was really happy. I think I can do better, but I think that's the limit. However, if this is the case, I think that even if the children read it and then watch the movie, it wouldn't hit in their heads without damaging Nakagawa's original work."
Source Material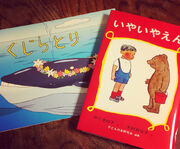 It was the late 1950s during the postwar years, and Reiko Nakagawa, a Nursery teacher in Komazawa Park, felt there weren't many good children's books to read aloud to charges. Her first published work, No-No Nursery School ("Iyaiyaen," 1962), roughly based on her experiences as a teacher and illustrated by her sister, Yuriko Yamawaki, became a runaway success.
It received the Minister of Health and Welfare Award, NHK Children's Literature Encouragement Award, Sankei Children's Book Culture Award / Noma Children's Literature Award Recommended Work Award Awards, Must-read books selected by the National School Library Association.
Credits
Credit
Staff
Director, Screenplay
Hayao Miyazaki
Animation Director
Takeshi Inamura
Key Animation
Akiko Yamaguchi, Atsushi Tamura, Victory Nakamura, Mariko Matsuo, Kenichi Konishi, Kenichi Konishi, Shinji Hashimoto, Etsu Tomita, Nagisa Miyazaki, Atsushi Yamagata,

Masaaki Yuasa

In-between Animation
Masaya Saito, Alexandra Waerauf, Shuko Sasakawa, Mitsuru Noguchi, Mayuko Murota, Mizue Sashihara, Katsura Hoshino, Suzuko Mano, Mayumi Omura, Seiko Nishito, Sumie Toki, Yayoi Toki, Kiyoko Makita, Yukari Yamaura, Kumiko Tanihira, Kumiko Hara
Background Artists
Yoji Takeshige, Hiroaki Sasaki, Kikuyo Yano
Color Design
Michiyo Yasuda
Art Director

Yoji Takeshige

, Noboru Yoshida
Animation Cooperation
Studio Cockpit, Anime Toro Toro, Group Acorn
Producer
Toshio Suzuki
Music

Yuji Nomi
References
↑

Radio Midnight Flight "Mama ☆ Midnight Flight Returns! Special Dialogue: Hayao Miyazaki x Rieko Nakagawa". December 1, 2018.
External Links
Official
Information