Lasseter-san, Arigato! (ラセターさん、ありがとう , Rasetā-san, Arigatō) is a feature-length documentary depicting the September 2002 trip of the co-founders of Studio Ghibli to promote Spirited Away in North America.
It was originally made as a private "thank-you note" from Ghibli to John Lasseter for his role in having Spirited Away released theatrically by Disney. The film appears similar to a private documentary told through first-person, possibly written from Toshio Suzuki's perspective. The film opens to a private screening of Mei and the Kittenbus being held for the Pixar staff, then moves to a tour of the Pixar animation studio and later, even Lasseter's home.
Following its release, between May 2004 and May 2005, the Ghibli Museum hosted a temporary exhibition dedicated to Pixar, featuring films such as Toy Story, A Bug's Life, Monsters Inc. and Finding Nemo.
Synopsis
Lasseter-San, Arigato! is a video documentation of a trip by Hayao Miyazaki, Toshio Suzuki and several Studio Ghibli employees to promote the movie Sen to Chihiro no Kamikakushi or Spirited Away and its theatrical release in North America. The film opens to a private screening of Mei and the Kittenbus at Pixar animation studios, with John Lasseter in attendance. It then cuts to Miyazaki and Suzuki attending a press junket at the Toronto Film Festival, whether they discuss with Lasseter how they would go about promoting Spirited Away in theaters. Lasseter suggests a limited theatrical run in hopes that the film would spread through word-of-mouth, rather than a huge media blitz whose buzz would disappear after the first week.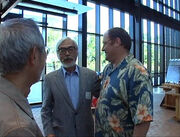 They then discuss their various philosophies in creating film. Miyazaki says that while he relates a developing story, he realizes the gaps as he goes along. Lasseter contrasts this with the more collaborative, co-operative style of working style at Pixar, noting that a story segment can be re-worked up to 30 times before it is ever animated. Miyazaki says that once production has begun, everyone is so busy that they have no time to consider any new ideas that he discovers, and then he feels lonely and frustrated. He feels there must be a "best" method, but whether that would produce the perfect movie is another question.[1]
A day later, Suzuki notes that Miyazaki was asked by Disney to sit through sixty-five interviews, however, Miyazaki was able to negotiate it down to forty. After the scheduled interviews, one with Lasseter himself, Miyazaki feels pleased with himself; saying he still has the stamina to do such things. Miyazaki then attends the film's premiere in El Capitan theatre in Los Angeles, and conducts a Q&A with the audience. Here, Miyazaki jokes that the animators at Studio Ghibli have six arms, just like Kamaji.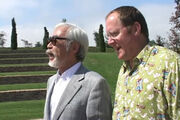 A welcome lunch is held at Walt Disney Studios, where Suzuki is asked, "Why did you decide to team up with Disney?". He notes that Disney was the only studio that not only wanted to distribute Ghibli's entire output (rather than just certain titles), but also did not want to cut the films' length. Suzuki also felt that Disney's tradition (of traditional cel-animation) was still alive. The lunch was notably low-key due to the meal taking place a day after the attacks at the World Trade Center.
The film highlights John Lasseter's admiration of Miyazaki, who first encountered his work in 1982 when Miyazaki and Isao Takahata were on a roadshow tour promoting the release of The Castle of Cagliostro and were set to work on the adaptation of Little Nemo: Adventures in Slumberland. Lasseter was still working as an animator for Disney at the time, and mentions the tremendous influence Miyazaki has had on his work. Lasseter recounts how he traveled to Japan to attend the 1987 Hiroshima Animation Festival and visited Miyazaki's office, bringing along his two animated shorts Luxo Jr. and Red's Dream.
A day or so later, Miyazaki and company travel to Pixar Animation Studios for a tour. They walk through the various offices and meeting rooms until reaching the open-air amphitheater where Lasseter and Miyazaki suddenly begin to sing the opening theme to My Neighbor Totoro, one of Lasseter's personal favorites. Later that day, Miyazaki surprises the Pixar team with a special screening of Mei and the Kittenbus.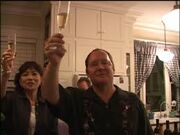 The following day, they drive to Lasseter's home in Sonoma. When they arrive, Miyazaki presents Lasseter with a special gift, a model reaction of the bathhouse in Spirited Away. Suzuki then unboxes another gift, a limited-edition wooden Ghibli-themed DVD player, which elicits a strong reaction from Lasseter's family. A toast is held after that. A day after that, Miyazaki test drives a sports car to wine country, and then they are treated to a aerial tour on a scarlet biplane. The final entertainment of the day sees Miyazaki and company test driving vintage cars in a race course.
The trip ends with Miyazaki and Suzuki attending an event hosted by the Charity Benefit for the Juvenile Diabetes Research Foundation. A panel is held, and Miyazaki amusingly introduces the man whose daughter became the basis for Chihiro in Spirited Away. Following another screening of Mei and the Kittenbus, Miyazaki autographs some merchandise for the children attending and bids them and everyone farewell. Suzuki narrates the trepidation with which Miyazaki approached the event. In Japan, such events are not the domain of a director; but Miyazaki not only felt good about the charitable cause. As they are about to leave, Lasseter assures Suzuki that the upcoming premiere will be a hit.
The film ends in Studio Ghibli's office in Japan, where we see the autographed Pixar poster that was presented to Miyazaki as a gift.
Trivia
Disney assigned Lasseter to executively produced the English dubbed release under the title of Spirited Away.
References
External Links