Looking for a Home (やどさがし , Yadosagashi), also known as House-Hunting, is a 12-minute animated short film written and directed by Hayao Miyazaki and produced by Studio Ghibli. It was released on January 3, 2006, and premiered alongside with Water Spider Monmon, and shown only in the Saturn Theater, located at the basement of the Ghibli Museum in Mitaka.
The story is about a young girl looking for a new home. Miyazaki expressed interest in creating a film with no music and dialogue and that the story be conveyed purely through art, animated Katakana writing and the human voice. Singer Akiko Yano and popular television talent Tamori provided the voice performance. According to an NHK interview, Miyazaki stated that one of the themes of this work was to express awe for nature.
This technique would be used in later Ghibli films such as, [[Ponyo]] (2008) and The Wind Rises (2013).
Story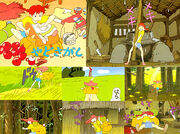 Fuki sets out with a big rucksack in high spirits on a journey to look for a new house. Along her way, Fuki encounters and befriends numerous manifestations of the natural world, from fish to insects to a kami who resembled Totoro. Rain suddenly begins to pour and she rushes to find shelter. She stays the night at a seemingly abandoned home in an old forest populated by various kami. The following morning, she awakens and sees the god that owns the home.
She leaves in haste, but not before offering an apple at the foot of the entrance of the home. As she strolls down a hill, a basket of mushrooms appear before her, a sign of gratitude from the gods for her respect.
Behind the Scenes
Production
All the sound effects in this film were done by human voice. This short film contains little to no spoken dialogue, and the story is conveyed almost entirely through art and onomatopoeia. Sound is also depicted on screen as animated Katakana writing. Miyazaki stated, "I wanted two people saying "Munyumunyu" or "Za" at once to give a 'live' feeling. I was surprised at their talents in doing so."[1] Singer Akiko Yano (who also starred in Water Spider Monmon) and popular television talent Tamori both recorded their lines together, with Miyazaki giving voice direction.
Later films such as The Wind Rises (2013) also used human voices as sound effects during several key scenes. Cinema Today pointed this out, "In (The Wind Rises), various sounds effects can be heard, such as the sound of an airplane propeller, the sound of a steam locomotive, the sound of a car engine, and the sound of the Great Kanto Earthquake, are reproduced by human voice." However, "...this isn't the first Studio Ghibli feature film to adopt such a sound effect, but in fact, Miyazaki's first attempt was a short animation that began screening at the Ghibli Museum in Mitaka in 2006 called "Looking for a Home"."[2]
The film also features ancient Japanese idea of ​​Shinto that gods dwells in everything in the natural world, as seen when Fuki offers apples and gives thanks. Miyazaki wanted to show the ideal that people and nature can coexist. This is a common theme in past Ghibli films such as Nausicaä of the Valley of the Wind (1984) and Princess Mononoke (1997).
Reception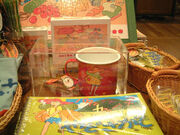 The film has been well received by fans, with many praising the whimsical performance of Tamori and the playful use of Japanese onomatopoeia.[3] People noted Tamori's voice can be heard throughout, from the sound of speeding traffic to the sound of the yokais / kami and fishes in the river. Audiences also praise the film's message in respecting nature and living alongside it in harmony. Some Japanese fans noted foreigners families enjoying and laughing out loud during the film as well.
Akiko Yano, who plays Fuki, hums throughout as well, and when she declares "Thank you" in the final scene, her pronunciation cannot be heard clearly but it's been described as "cute and invites laughter."[4]
According to the official Ghibli Museum blog, on October 12, 2007, the staff noted the film's popularity and saw a family buy three "Fuki-chan's mug" after seeing it in the Mamma Auito shop. The grandmother exclaimed, "I want to go camping with this cup!" and said she bought three for her grandchildren who had been with her. Mr. Kimishima, a staff member who was watching this situation, wished in his heart, "I hope it will be a fun camp."[5]
Release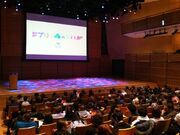 On March 26, 2010, it was shown outside the Ghibli Museum at the Zankel Hall in Carnegie Hall (881 7th Avenue, New York) in New York during JapanNYC, alongside another Ghibli short, Water Spider Monmon. It was screened twice from 18:30 and 20:30, but the advance tickets ($15) were nearly sold out. "It was great to see Miyazaki anime in New York, which can only be seen in Japan," according to an attendee.[6]
Credits
| Credit | Staff |
| --- | --- |
| Director, Screenplay | Hayao Miyazaki |
| Animation Check | Hitomi Tateno |
| Animation Director | Katsuya Kondo |
| Art Director | Youichi Watanabe |
| Color Design | Michiyo Yasuda |
| Key Animation | Eiji Yamamori, Kazuyoshi Onoda, Makiko Suzuki, Mariko Matsuo, Atsushi Tamura, Hiromasa Yonebayashi, Masashi Yokota, Shinichiro Yamada, Hideaki Yoshio, Takeshi Inamura |
| In-between Animation | Akiko Teshima, Rie Nakagome, Mayumi Omura, Masaya Saito, Kaori Fujii, Alexandra Waerauf, Minoru Ohashi, Shuko Sasakawa, Yasumi Ishizuka, Megumi Higaki, Yasuo Muroi, Tomoko Miura, Seiko Nishito, Sumie Makida, Kiyoko Toki, Yasuko Otani, Takato Yukie, Kaneko Masami, Nakanishi Masakiyo, Koyama Rie, Fukui Yohei, Nakano Ayumu |
| Background Artist | Noboru Yoshida, Kikuyo Yano, Takashi Omori |
| Animation Cooperation | Anime Toro Toro, Nakamura Production |
| Producer | Toshio Suzuki |
| Production | Studio Ghibli |
References
External links