Lupin The Third Part I (ルパン三世 (TV第1シリーズ) , Rupansansei (TV Dai 1 Shirīzu)) is a 23-episode anime television series produced by Yomiuri Television and TMS Entertainment (formerly known as Tokyo Movie). It was originally broadcast as simply Lupin III (ルパン三世, Rupan Sansei) between October 24, 1971 and March 26, 1972.
It is the first television anime series adaptation of the "Lupin III" manga created by Monkey Punch. It follows the adventures of Arsène Lupin III, grandson of the gentleman thief Arsène Lupin, is an internationally wanted thief and his right-hand man is Daisuke Jigen, an expert marksman who can shoot a target within 0.3 seconds. They are joined by Fujiko Mine, Lupin's primary love interest who often manipulates situations to her advantage. After several encounters with the samurai and expert swordsmen Goemon Ishikawa XIII, he becomes part of the group. They are constantly pursued by Inspector Heiji Zenigata VII, an expert on Lupin from the Tokyo MPD, who has made the capture and arrest of Lupin and his collaborators his life goal.
In July 2004, WOWOW broadcast the high-definition remastered version in Japan. The remaster edition sourced its transfer from the original 35mm negative film, whereas the previously released DVD used a 16mm telecine only.
Director Hayao Miyazaki and Animation Director Yasuo Ōtsuka would later return to the franchise with the theatrical film, "Lupin III: The Castle of Cagliostro" released on December 1979.
Vehicle
During the first half of the series, Lupin III drove a yellow Mercedes-Benz SSK (W06).
A powerful 1930's roadster that boasts 200 horsepower, Lupin's customized version is fitted with a 500 horsepower Ferrari 312B engine. The Ferrari replaces the original with a V-type 12 cylinder of 180° bank. In addition, the front emblem has been changed to a cross (similar to the Shimazu family crest) instead of the original Mercedes-Benz logo (the emblem itself is not used even in the setting material).
Lupin also uses a similar vehicle to the SSK in "Part II" SSK, the Alfa Romeo Gran Sport Quattroruote.
After the series' direction changed midway, Lupin III ended up driving a Fiat 500, similar to what he drove in "Lupin III: The Castle of Cagliostro" .
The difference with the Fiat 500 found in "Cagliostro" and "Part I" is its body color is pale sky blue.
It is Yasuo Ōtsuka's favorite car.
When Hayao Miyazaki took charge of production, he ordered the change as it was simpler to draw and animated than the detailed and complicated Mercedes-Benz SSK.
Behind the Scenes
Pilot Film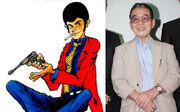 Adapting Monkey Punch's manga into animation was first suggested by animator Gisaburō Sugii to Yutaka Fujioka, the founder of Tokyo Movie Shinsha (then known as Tokyo Movie). Although Fujioka was interested in the idea, Tokyo Movie lacked the financial resources to produce such a project on its own. This led to the creation of a CinemaScope Pilot Film, which was intended to generate interest in the project and secure funding from potential producers.
The "Pilot Film", consisting of narrated introductions to the five lead characters of the manga, was scripted and animated by Sugii, Yasuo Ōtsuka, Tsutomu Shibayama and Osamu Kobayashi, with supervision by Masaaki Ōsumi and background art by Reiji Koyama. The music soundtrack was composed by Norio Meida, while the narration dialogue was written by Jiro Saito and Toshiaki Imaizumi.
Yasuo Ōtsuka had left Toei Animation to join Tokyo Movie, as working on Lupin would allow him to use his knowledge and lifelong interest in guns and transport in his animation. The team studied Monkey Punch's style in detail, including the influence of American cartoonist Mort Drucker on the manga, and analysed the characters from all angles; they were initially assisted by Monkey Punch himself until he felt the project was too much for him. Scripts and treatments were also written for a feature film adaptation, one of which depicted Lupin before the start of his thieving career as a hippie in Shinjuku, and explained how he came to be pursued by the police and other criminals.
Although the animation quality of the Pilot Film was high for the time in which it was made, few financial backers were interested in the project due to its adult themes of violence and sexuality. After a year, the project was still unsold, and the Pilot Film was adapted for television. The animation of the TV version was mostly identical to the CinemaScope version, but featured a largely different voice cast - the only voices who were retained for both versions were those of Kiyoshi Kobayashi (as Jigen) and Eiko Masuyama (as Fujiko).
In 1971, Yomiuri Television agreed to produce a TV adaptation of the manga. By this time, only Otsuka and Ōsumi were still at Tokyo Movie. Ōsumi was assigned as director, and Otsuka became the character designer; Kobayashi provided key animation on several episodes. The series was originally planned for 26 episodes, with synopsis created for each one. Kiyoshi Kobayashi was retained as Jigen for the TV series (and continues to voice the role as of 2019), while Gorō Naya and Chikao Ōtsuka, who voiced Goemon in the CinemaScope version of the Pilot Film and Zenigata in the TV version respectively, were assigned the opposite of each other's roles for the series.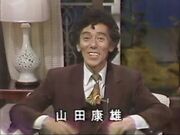 Yasuo Yamada and Yukiko Nikaido, neither of whom were involved in the "Pilot Film", were cast as Lupin and Fujiko. Yamada, known for his dubbing of Clint Eastwood, continues to be widely acclaimed for his serious and humorous portrayals of Lupin, and became synonymous with the role even after his death in 1995. Masuyama played the one-time character of Catherine in an episode of the series, and eventually replaced Nikaido as Fujiko from the second series onward until her retirement in 2010. Although not officially released until the Lupin III Secret Files (シークレットファイル, Rupan Sansei — Shīkuretto Fairu) collection in 1995, animation from the TV version of the Pilot Film was recycled for several of the series' opening credits sequences, despite Lupin wearing a red jacket in these sequences (it was changed to green for the series at Otsuka's insistence).
Production
The series was broadcast on Yomiuri Television between October 24, 1971 and March 26, 1972. Early ratings for the series were poor; after the broadcast of the second episode, Ōsumi was asked to make changes to the series in the hopes of broadening its appeal; after refusing to do so, he was fired from his directorial duties.
Hayao Miyazaki and Isao Takahata had recently moved from Toei to Tokyo Movie in order to begin pre-production on an adaptation of "Pippi Longstocking". When that work was cancelled, they were chosen as replacements for Ōsumi by Ōtsuka, who had previously worked with them at Toei. Episodes produced following Ōsumi's departure either did not provide a directorial credit, or were credited to "A Production's Team of Directors" in place of Miyazaki and Takahata. At the same time, Miyazaki and Takahata were also working on "Panda! Go, Panda!" (1972).
Due to the production schedule of the series, many episodes are a mix of influences between Ōsumi, Takahata and Miyazaki. Episode 9 was the final episode that Ōsumi had full creative control. Unlike Ōsumi, Miyazaki and Takahata agreed to make several changes to the series, many of which were based on their own perspectives regarding the source material. They immediately set out to remove what they perceived as a sense of "apathy" from the series, which they felt was also evident in society. To achieve this, they gave the characters a more positive outlook: Lupin would become "happy-go-lucky" and "upbeat", Jigen would be "a friendly, cheery fellow", while Fujiko's "cheap eroticism" was removed and Goemon's anachronistic nature was used for occasional comic relief. These changes lead to a lack of unity in the visuals and a "duality". The music for the series was composed by Takeo Yamashita, with many songs being performed by Charlie Kosei.
Influence
"Lupin the Third Part I" is noted to be the first animated series created in Japan to target an adult audience with an emphasis on mature, complex characters and storylines. It also frequently placed an emphasis on realism, with attention to details of vehicles, weapons and consumer items (which were only approximated in the manga) being a cornerstone of Otsuka's animation style.
Previously, all Japanese animated series were family-friendly. The first episode of the series ("Is Lupin Burning...?!") is also noted for being the first animated work in the Lupin canon to execute what Reed Nelson describes as the "Lupin-Formula", a series of plot elements that would frequently be revisited through future instalments in the franchise.
Reception
According to Anthony Gramuglia of Comic Book Resources, "the 1971 anime, Lupin the Third: Part I, is far less fun and more intense than later installments. Initially, Part I was directed by Masaaki Ōsumi, but he was replaced by Hayao Miyazaki and Isao Takahata midway through the 23 episode series. Under its new directors, second half of the series moved more towards adventure-driven episodes, but the Green Suit era of Part I is generally edgier than later Lupin affairs. The earlier episodes are a poor introduction to Lupin as it exists today, but if you want to see the progression of Lupin's character over time, this is a good place to start."[1]
Credits
| Credit | Staff |
| --- | --- |
| Director | Hayao Miyazaki (14 episodes), Isao Takahata (14 episodes), Masaaki Osumi (eps 1-7, 9, 12) |
| Character Design, Animation Director | Yasuo Ōtsuka |
| Screenplay | Atsushi Yamatoya (eps 2, 7), Kazuichi Tsurumi (ep 12), Kiyoshi Miyata (5 episodes), Mon Shichijō (eps 16-17, 20), Seiji Matsuoka (5 episodes), Shunichiroo Koyama (ep 19), Tadaaki Yamazaki (eps 1, 5), Tatsuo Tamura (ep 23), Tooru Sawaki (eps 4, 9-10) |
| Storyboard | Haruo Takahashi (ep 21), Kazuhiro Sai (eps 3, 7, 13), Kazumi Takahashi (ep 1), Kazunori Tanahashi (ep 19), Kenzo Koizumi (ep 6), Masahiro Sasaki (ep 4), Minoru Okazaki (ep 14), Norio Yazawa (ep 10), Osamu Dezaki (4 episodes), Satoshi Dezaki (ep 16), Seiji Okuda (eps 2, 8-9), Sōji Yoshikawa (eps 1, 23), Tameo Kohanawa (8 episodes) |
| Background | Akinori Shimizu (eps 14-22 even), Akira Yamaguchi (8 episodes), Goichi Kudo (11 episodes), Keiko Tsuge (eps 5-7, 9, 11), Ken Kawai (eps 1-4), Masahiro Ioka (eps 1-4), Michiko Ichinose (eps 1-3), Misao Kudō (10 episodes), Naoko Kamekawa (10 episodes), Nobuo Numai (eps 1-3), Shōhei Kawamoto (11 episodes), Shōzō Ōno (8 episodes), Tadao Kubota (8 episodes), Taizaburō Abe (eps 1-3) |
| Key Animation | Akiko Hoshino (5 episodes), Akio Yoshihara (ep 6), Azuma Numajiri (ep 19), Hideo Kawauchi (7 episodes), Hiroshi Kanezawa (4 episodes), Hisatoshi Motoki (ep 11), Johji Manabe (5 episodes), Kakuko Hatano (ep 22), Keiichiro Kimura (6 episodes), Kenzo Koizumi (7 episodes), Kiyoshi Tsukada (eps 2, 4, 12), Kōichi Murata (9 episodes), Masako Chiba (ep 22), Minoru Kibata (ep 3), Munehiro Minowa (eps 7-8), Nobue Toyokawa (ep 9), Nobuhiro Okasako (eps 1, 8), Noriko Kusayanagi (ep 22), Norio Yazawa (6 episodes), Osamu Kobayashi (eps 1, 5), Shunichi Sakai (ep 10), Shunji Saida (ep 19), Takashi Asakura (ep 22), Tetsuo Imazawa (8 episodes), Toshiyuki Honda (ep 9), Tsutomu Tanaka (ep 5), Yasuhiro Yamaguchi (4 episodes), Yoshifumi Kondō (eps 5, 21), Yoshitaka Gojo (ep 3), Yuzo Aoki (eps 11, 23) |
| Editing | Kazuo Inoue |
| In-between Animation | Akio Yoshihara (eps 13, 17, 20), Haruna Mizuki (ep 3), Hiroko Kikuchi (ep 3), Hiroshi Fukutomi (eps 5, 23), Hisatoshi Motoki (eps 5, 9), Junzaburo Takahata (eps 4, 6), Kazuyoshi Minato (8 episodes), Kazuyoshi Shimada (ep 8), Kenji Haruki (ep 5), Kōji Nagayama (ep 3), Mariko Nomura (5 episodes), Mariko Suzuki (ep 22), Masako Chiba (5 episodes), Masayuki Ishida (7 episodes), Megumi Mizuta (ep 10), Megumi Ueno (eps 5, 9), Michiyo Yamada (ep 11), Minoru Maeda (eps 1, 7-8), Mitsue Takekoshi (ep 6), Miwao Suetsugu (ep 22), Neomi Kawamoto (ep 3), Noriko Kusayanagi (5 episodes), Nozomi Saito (ep 10), Saburō Kibata (4 episodes), Satoshi Oshima (8 episodes), Seiji Arihara (6 episodes), Takao Horie (ep 11), Tamayo Hirata (5 episodes), Terue Takekoshi (ep 22), Yasuhiro Yamaguchi (ep 11), Yasuko Ogata (ep 6), Yoshitaka Gojo (eps 7, 18), Yuko Ōno (eps 2, 12, 19) |
| Producer | TMS Entertainment |
| Music | Takeo Yamashita |
| Art Supervision | Hideo Chiba (eps 1-6), Masato Itou (eps 7-23), |
References
External Links
Community content is available under
CC-BY-SA
unless otherwise noted.