Masashi Ando (安藤 雅司 , Andō Masashi, born January 17, 1969) is a Japanese director, animation director, painting supervisor, illustrator and character designer.
He is best known as the animation director of Princess Mononoke, Spirited Away and Your Name. He later left Ghibli to work freelance, collaborating with Satoshi Kon on Tokyo Godfathers, Paranoia Agent and Paprika. In 2011, he worked with Hiroyuki Okiura on A Letter to Momo, before working on When Marnie Was There and The Tale of the Princess Kaguya.
In 2021, he directed his first feature-length animated film Shika no Ō (鹿の王, lit. The Deer King), based on the hit Japanese fantasy novel series written by Nahoko Uehashi and produced by Production I.G.[1]
History
Early Career

Born in Hiroshima, Japan. Ando's interest in animation began when he accidentally read the mange of Nausicaä of the Valley of the Wind. He soon began publishing illustrations of Nausicaa of the Valley of the Wind and Castle in the Sky on Animage magazine. He has been quoted saying, "If Nausicaa didn't exist, I might have been prematurely finished from animation... But because of such a work, I realized that there is no way I could leave animation."[2]
In 1990, while attending Nihon University College of Art, he participated in a Studio Ghibli recruitment drive and was accepted. He joined the company shortly after as a second-year student. He worked alongside fellow newcomers Kenichi Yoshida and Shinsaku Sasaki as an assistant animator on Only Yesterday. In 1991, he was moved to as an animator on Porco Rosso and later, Pom Poko. Recognizing his talent, Hayao Miyazaki selected Ando as animation director for the animated music video On Your Mark for the musical duo Chage and Aska.
Princess Mononoke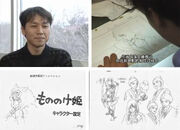 Following that, he was chosen as animation director of Princess Mononoke, a huge feat as he was only 25-years old at that point. In the film's behind-the-scenes documentary How Princess Mononoke Was Born, Ando was said to have worked until 4AM daily. He spoke highly about Miyazaki in an interview saying, "Although I have worked for Mr. Miyazaki for a long time, it was during this production process that I really realized Miyazaki's incredible skill. As an animator, Hayao is so great. His drawing skills are already impeccable, but besides that, he also knows how to make every scene the best to make animation come to life. I think he was born an animator."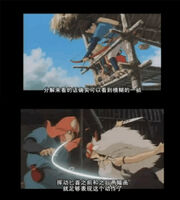 He was particularly amazed by how Miyazaki choreographed a shot where Ashitaka prepares to fire an archery shot, as the elder director proposed drawing a double image to the bow, which would produce "a sense of a tremor" in the movement. Ando obeyed Miyazaki's opinions most of the time, not because he was his boss, but out of great admiration. This doesn't mean Ando always defers to Miyazaki, on the contrary, during the scene when San swipes after Lady Eboshi with her knife, he defied the director and removed an animation cel to give an illusion of faster, more dynamic movement. Miyazaki was pleased at his initiative and instinct.
Whenever Miyazaki rested during the grueling production, he would confer with Ando on the film's story. Late during development, Ando would ask how Miyazaki planned to develop the story. The original draft of Mononoke only described the war between the forest and the people of Tatara at Irontown. Miyazaki then came up with the idea that during the battle between the forest and the Tatara people, he would add a powerful samurai organization into the conflict, who destroyed and pillaged everything they could find. Ando then asked, 'shouldn't they add hints of the existence of this organization in the beginning of the film?' To which Miyazaki replied, 'This is not necessary. The real world is like this.'
But in fact, Miyazaki did listen to Ando's suggestion. New scenes and flashbacks were added to introduce the samurai organization in the beginning.
Going Freelance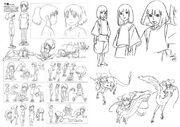 His final work at Ghibli was working as the animation director for Spirited Away. According to Ando on The Art of Spirited Away, "The work I did as supervising animator was essentially the same as my work on Princess Mononoke. Mr. Miyazaki would do rough corrections of the submitted key animator, which Iw ould touch up. However, I was responsible for the final overall character design. For example, M.r Miyazaki would constantly flatten Lin's chest line, making her look boyish. Given her masculine personality, I thought it would be more interesting if she had a woman's body, so I increased her chest line. So this time I emphasized my own approach instead of seeking out Mr. Miyazaki's intentions."
According to interviews in the Spirited Away Roman Album, Ando wanted to make Chihiro "a new type of Miyazaki heroine". In particular, he wanted to show Chihiro's thinking, her uncertainty and hesitation before she does something frightening or difficult, so children could relate to her and feel encouraged when she triumphs. Ando argued, Miyazaki was denying the uncertainties felt by the happiest child... It seems logical that Ando's Chihiro is evident in (Spirited Away's) early scenes, precisely because they require an abnormal Miyazaki protagonist, listless, passive and scared. Unfortunately, Ando's Chihiro was largely redrawn by Miyazaki in the final film.[3]
"Painting supervision is the work of expressing ideas in paintings. The ideas in these works are those of Miyazaki, not mine." Perhaps not coincidentally, Ando left Ghibli to work freelance after Spirited Away. His Ghibli experience has been described thusly,
Masashi Ando, ​​who was born in Ghibli, has always restrained himself with the old Ghibli industry ethics and conveyed the persistence of old artists to newcomers in the industry. Not only that, he himself is constantly breaking through the original animation shackles and accepting the changes of animation.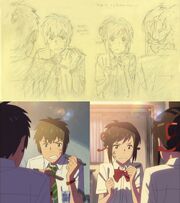 Since 2003, he worked as animation director for Satoshi Kon on Tokyo Godfathers, Paranoia Agent and Paprika. He enjoyed working with the late director Kon, as he would not say simply, "Draw me a lovely girl." Instead, he would give abstract requests such as, "I want girls who want that feeling~", and so on.
After Kon passed away in 2010, he worked with Hiroyuki Okiura as animation director and character designer in A Letter to Momo. He recorded an audio commentary with director Okiura and deputy animation director Toshiyuki Inoue.[5] In 2012, he also worked on Evangelion: 3.0 You Can (Not) Redo.
In 2013, he returned to Studio Ghibli to help Isao Takahata work on The Tale of the Princess Kaguya and as character designer and animation director on When Marnie Was There. He did not hold back his feelings upon his return to Ghibli, "My previous experience with Ghibli has always been under Miyazaki's control of the overall situation, and this time he is no longer involved, that is the main reason for my return to Ghibli."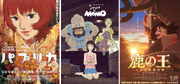 In 2016, he worked with Makoto Shinkai as character design and animation director for Your Name. He was introduced by a former Ghibli colleague who worked at CoMix Wave Films. He initially worried that as an "old man" of the industry, he would not be able to adapt himself to the film's style. However, the support of Ando received from Shinkai was indispensable. He kept reminding himself that the production would only take "a year", but as production slowly ramped up, he realized a year would not be sufficient. Accordingly, as an animation supervisor, Ando's work has matured overall, and he kept an open mind to learning and experimentation. He taught the younger production staff through actions, "To make a real movie, we must do our best from the beginning, otherwise the desired results will not be achieved." Your Name's box office revenue topped nearly 200 billion yen.
In 2021, he worked as character designer and animation director on Shika no Ō (鹿の王, lit. The Deer King), produced by Production I.G. Based on the hit Japanese fantasy novel series written by Nahoko Uehashi.[6] He is joined by Masayuki Miyaji, who served as a co-director of Spirited Away, and wrote the screenplay for Haikyu!!, Silver Spoon, and Erased.
Character
Ando greatly admired the late Yoshifumi Kondō, a senior animation director at Studio Ghibli. He was greatly influenced by Kondō's attitude towards animation and how he perceives and animates people. Ando became responsible for editing Ghibli's in-office magazine Yoshifumi Kondo's work-what can be expressed in videos- (近藤喜文の仕事-動画で表現できること-) and an audio guide for This man supported Ghibli.
Cartoonist of Fumiko Takano (高野 文子) is a fan of his work on Spirited Away, and made attempts to incorporate his depiction of human characters to her style.
Trivia
Of the top five highest box office earning films in Japan which include Spirited Away, Your Name, Howl's Moving Castle, Bayside Shakedown, and Bayside Shakedown 2, Ando was the animation director for three of the five films.[7]
He was only 25 years old when he was selected as animation director of Princess Mononoke. On top of that, he was also in charge of character setting design.
Works
Character Design
Animated Works
Only Yesterday (1991) (In-Between Animation)
Porco Rosso (1992) (Key Animation)
Ocean Waves (1993) (Key Animation)
Pom Poko (1994) (Key Animation)
Whisper of the Heart (1995) (Key Animation)
My Neighbors the Yamadas (1999) (Key Animation)
Overman King Gainer (2002) (Key Animation)
Tokyo Godfathers (2003) (Animation Director and Key Animation)
The Animatrix (2003) (on the Kid's Story segment) (Key Animation)
Ghost in the Shell 2: Innocence (2004) (Key Animation)
Ghost in the Shell: Stand Alone Complex 2nd GIG (2004) (Key Animation)
Tekkonkinkreet (2006) (Key Animation)
Denno Coil (2007) (Key Animation)
Bunny Drop (2011) (Key Animation)
The Tale of the Princess Kaguya (2013) (Animation)
Your Name (2016) (Animation Director)
References
External Links