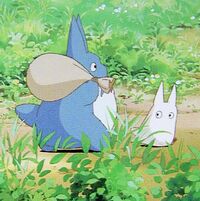 Totoro's Servants are friends of Totoro's in My Neighbor Totoro.
Story
When Mei chases the Mini Totoros she had seen under the house, she ends up in the Totoro's nest and later sees them again when the girls are helping to grow the giant tree.
Blue Totoro has a burglar-like bag filled with acorns. His name is Chu Totoro.
White Totoro is a Mouse-like little brother to Blue Totoro. His name is Chibi Totoro.
Gallery