Nasu: Summer in Andalusia (茄子 アンダルシアの夏 , Nasu: Andarushia no Natsu) is an anime film by Madhouse, directed by Kitarō Kōsaka, the animation supervisor of Spirited Away and Princess Mononoke and long-time collaborator of Studio Ghibli. It was adapted from a short 3-tankōbon manga by Iou Kuroda, entitled Nasu, which was serialized in the Afternoon manga magazine.
It was released on July 26, 2003, at Shochiku and Tokyu movie theaters nationwide (distributed by Asmik Ace). Since the film's runtime is only 47-minutes (half of a regular movie), tickets were sold at half price.
It is the first Japanese anime film ever to be selected for the Cannes International Film Festival. It won Best Picture Award for a motion picture at the Tokyo International Anime Fair 2004. It was followed up with a sequel, Nasu: A Migratory Bird with Suitcase in 2007.
Plot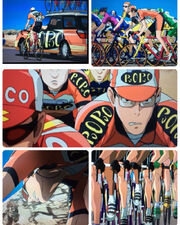 Nasu: Summer in Andalusia follows the story of a professional Spanish cyclist, Pepe Benengeli, as he competes in the Vuelta a España road bicycle race through his home town in the Iberian region of Andalusia.
As the story progresses, Pepe is faced with frustrating consequences, with him facing pressure from his sponsors and the wedding of his former girlfriend, Carmen, to his elder brother, Ángel, coinciding on the same day of the penultimate stage of the bicycle race. Originally is meant to be a backup racer (domestique) whose job is to assist his more prominent teammate to win the race.
However he accidentally overhears a conversation in his sponsor's van through his radio com-link which had been negligently left open, in which he finds out, to his shock, that his sponsor intends to fire him after the race. Realizing that he may not find another team for the next season and that he has nothing left to lose, he disregards his instructions and sets out to win the race for himself.
Characters
Pepe Benengeli (ペペ・ベネンヘリ)

A cyclist hailing from Andalusia, Spain. He belongs to Team Pao Pao Beer. He looks up to his brother Angel, who was once an amateur cyclist. He also holds some resentment towards him as he married his former lover, Carmen while he was away for military service.
Carmen Pascual Dominguez (カルメン・パスカルドミンゲス)

Pepe's brother Angel's wife. She was originally Pepe's lover, but fell in love with Angel while Pepe was away for military service.
Angel Benengeli (アンヘル・ベネンヘリ)

Pepe's brother. He was an amateur cyclist who won several awards in the past.
Hernandez (エルナンデス)

An elderly man who runs a bar along the Andalusian highway. He loves Andalusia from the bottom of his heart and gives Pepe a hard time for leaving their hometown to travel the world. Despite this, he supports Pepe's ambitions.
Frankie (フランキー)

Pepe's best friend. He's always had a desire to leave Andalusia, but couldn't leave his hometown for one reason or another. He lives his dreams vicariously through Pepe's success as a professional cyclist. He's the complete opposite of Pepe in some ways. His character only exists in the film and not in the original manga.
Uncle Ribera (リベラおじさん)

Uncle of the Angel and Pepe. His enthusiasm for bicycles and cycling inspired both Angel and Pepe. He's paralyzed the waist down and moves around in a wheelchair.
Gilmour (ギルモア)

A cyclist who belongs to Team Pao Pao Beer.
Behind the Scenes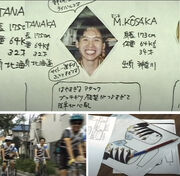 Since 1997 Studio Ghibli has been holding in-house cycling racing events and Kitarō Kōsaka, an animation supervisor of Spirited Away, Ocean Waves and Princess Mononoke, has won consecutively in Studio Ghibli-organized bicycle races since it began in 1997. Kosaka himself is known as one of the leading cyclists in the Japanese animation world. He became interested in adapting the work after Miyazaki, also a fan of cycling, recommended Iou Kuroda's manga Nasu to Kōsaka.[1]
In an interview he suggested to Hayao Miyazaki to create a film about bicycle races, "How about an an animation film about cycling?" Because I know he's also very fond of bicycle racing. So I suggested it. But he said a cycling film wouldn't be a hit." He responded, "I don't want to do it, but go ahead."
Several companies that previously collaborated with Ghibli joined Kōsaka's production committee. Kōsaka turned to Madhouse producer Masao Maruyama, who gave his approval and became in charge of animation and production of the film. The film became a passion project for Kōsaka, who even traveled to Spain for a research trip. He explains, "I'm involved in a hands-on way in the writing and the concept development. I delegate aspects like backgrounds and CGI to those departments. For the character animation I keep a close eye on continuity and likenesses."
Some liberties were taken to the setting, as the actual Andalusian region is far more lush and cooler than depicted on film. Kōsaka chose to make the setting appear like a desert, making the conditions far more difficult for the characters in the film. An elaborate dance sequence during a wedding and scenes of local delicacies being served are also shown in detail, which helps sell the Spanish setting. Despite Studio Ghibli lack of direct involvement, many rental video stores have this film under the Ghibli anime section.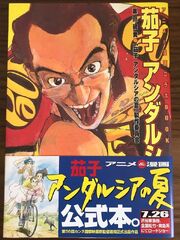 The lead voice actor, Yo Oizumi, was chosen due to his appearance in the variety TV program How Do You Like Wednesday on Hokkaido Television Broadcasting (HTB). The show was popular among the Ghibli staff, and Oizumi was chosen as the main character, Pepe. Oizumi himself has previously voice characters in other Ghibli works such as the Foreman in Spirited Away, Turnip Head in Howl's Moving Castle and Doctor Yamashita in When Marnie Was There. Nippon TV announcer Shinichi Hatori provided the play-by-play-commentary of the race. Masatoshi Ichikawa, a pioneering Japanese professional racing cyclist who became the first Japanese to ride professionally in Europe also participated in the film.[2]
The film soon went on to become the first Japanese anime film ever to be selected for the 56th Cannes International Film Festival. It was selected by The Director's Fortnight, an independent section held in parallel to the Cannes Film Festival. It also won Best Picture Award for a motion picture at the Tokyo International Anime Fair 2004.
Release
Nasu: Summer in Andalusia has been translated and dubbed into English by the anime television network Animax, which has broadcast the film in Southeast Asia, the Indian subcontinent, and other regions. It was also translated into French, under the title Nasu – Un été andalou, and Italian, under the title Melanzane – Estate Andalusa. The German version was released as Nasu – Sommer in Andalusien.
Ending Theme
The ending theme Bicycle Show Song is a parody of Auto Show Song, originally performed by Akira Kobayashi in 1964. Rock musician Kiyoshiro Imawano, known for his love of cycling, sung the new theme, which was arranged by Yoshino. The lyrics were written by Tetsuro Hoshino, who also wrote the original. Auto Show Song was chosen because it was featured on the TV variety show How Do You Like Wednesday, a favorite of director Kitarō Kōsaka and the Ghibli staff.
Source Material
Hayao Miyazaki is such a big fan of the original manga Nasu[3] by Iou Kuroda that he wrote a personal recommendation promoting the book.[4] Ghibli staff were also fans and invited mangaka Iou Kuroda to Studio Ghibli.[5]
Picked eggplant issue
The "pickled eggplant" depicted in the film as specialty of the region is by all accounts not real. No such regional cuisine exists in Andalusia. The original author admits the closest one near Andalusia that has pickled eggplants would be the town of Almagro in the La Mancha region. The recipe for "Pickled eggplant in Asadillo" is given at the end of the first volume of the original manga Nasu.
Sequel
A sequel, Nasu: A Migratory Bird with Suitcase, set in Japan on the Japan Cup Cycle Road Race, was released in 2007. Directed by Kitarō Kōsaka, it featured Ken'ichi Yoshida, another long-time collaborator of Studio Ghibli, who has worked on several Studio Ghibli films such as Princess Mononoke and Porco Rosso, as animation director.
In 2008, Nasu: A Migratory Bird with Suitcase won the best Original Video Animation award at the seventh annual Tokyo Anime Awards, held at the 2008 Tokyo International Anime Fair.
Credits
| Credit | Staff |
| --- | --- |
| Director, Storyboard | Kitarō Kōsaka |
| Unit Director | Atsushi Takahashi |
| Screenplay | Kitarō Kōsaka |
| Director of Photography | Hisao Shirai, Katsuyoshi Kishi |
| Character Design | Kitarō Kōsaka |
| Art Director | Naoya Tanaka |
| Animation Director | Kitarō Kōsaka |
| Key Animation | Atsuko Otani, Atsushi Tamura, Harumi Shida, Hideaki Yoshio, Hiroomi Yamakawa, Hiroshi Takaguchi, Iou Kuroda, Kazuhiro Soeta, Kazuyoshi Takeuchi, Kenji Hachizaki, Kunihiko Sakurai, Mamoru Sasaki, Mariko Matsuo, Masaaki Endou, Megumi Kagawa, Michio Mihara, Motonobu Hori, Naoyuki Onda, Nobumasa Shinkawa, Nobuyuki Takeuchi, Satoru Nakamura, Takuo Noda, Yoshiharu Ashino, |
| Digital Paint | Azusa Sasaki, Bo-Ra Choi, Chikako Kamata, Dong Wook Baek, Eiko Inoue, Fumie Hayashi, Harue Ono, Hyeon Ok Choi, Hyun Ji An, Hyun-Woo Lee, Jeong Ah Park, Jeong Ah Yim, Jeong Eun Lee, Jeong Sook Jeon, Jung Eun Kim, Kaori Seki, Ken Hashimoto, Kiyomi Yamazaki, Masako Torikata, Noriko Kikui, Rie Fujiwara, Su-Ra Choi, Yoshinori Horikawa, Youn Suk Na, Yumi Koshikawa, Yuriko Kadomoto, Yuya Nishida |
| Background Artists | Masako Nagata, Mitsuo Yoshino, Naomi Kasugai, Sayaka Hirahara, Shin Ok Chul, Takashi Omori, Youichi Watanabe |
| Music | Toshiyuki Honda |
| Color Design | Osamu Mikasa |
| Sound Director | Masafumi Mima |
| Art Director | Takeshi Iwata, Yuki Mizoguchi |
| Animation Producer | Michiko Takahisa, Tsuyoshi Kobayashi |
References
External Links