Natsuzora (なつぞら) is a Japanese television drama series and the 100th Memorial Asadora (朝ドラ, Morning Drama) series, following Manpuku. Tomoaki Iso and Toshitake Fukuoko supervised the production and Sumio Ōmori handled the screenplay. The series' directors included Takafumi Kimura and Masahiko Tanaka. It premiered on April 1, 2019, and concluded on September 28, 2019.
The series stars 19-year-old actress Suzu Hirose as Natsu Okuhara, and is loosely based on the life of animator Reiko Okuyama. It was followed by two spinoff series, Toyo's Tokyo Story (とよさんの東京物語 , Toyo-san no Tōkyō Monogatari) and Tokachi Boy Shouts Love! (十勝男児、愛を叫ぶ! , Tokachi Danji, Ai o Sakebu!)
The series has been a major economic benefit for Hokkaido, with a reported earning of 9.5 billion yen by the Bank of Japan Kushiro Branch and the Obihiro Office to the region. As many as fifty tie-in products were produced by twenty companies, many of which used produce from Tokachi, Hokkaido, where the series was initially filmed.
Plot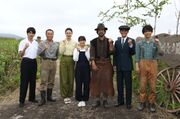 A nine-year-old girl named Natsu Okuhara survived air raids but lost both of her parents and is separated from her siblings. In the summer of 1946, she was raised by her father's old friend Takeo Shibata in Tokachi, Hokkaido. The Shibatas are dairy farmers who settled from the Hokuriku region. Takeo's father-in-law Taiju, a first-generation immigrant to Hokkaido, is known to be a crusty old man. Although he calls Natsu a burden, he feels sorry for her deep down. Natsu girds herself and helps in caring for the cows and horses and milking. Moved by her hard work, Taiju begins to drill the spirit of the settlers and the importance of life into her. As Natsu helps out with dairy farming, she regains her cheerfulness.[1] Natsu learns a lot from him and he has a great influence on her life.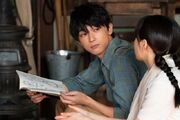 When Natsu enters elementary school, she meets Tenyo Yamada and is immediately captivated by his drawings. Yamada schools her on the world of animation and Natsu catches her friend's passion to the point of dreaming of moving to Tokyo to work in the animation industry; but her adoptive father had planned for her to marry and inherit the family business.
Natsu rejects this and moves to Tokyo to be an animator for Tōyō Animation. She gets to see the greats of Japanese animation as they fight their way out of poverty and indifference – early Tokyo sequences include her shocked discovery of a colleague moonlighting as a sandwich-board man to pay the bills. She has to deal with harsh taskmasters like "Mr. Idohara" (based on the senior key animator Akira Daikuhara) and "Mr. Shimoyama" (based on Yasuo Ōtsuka), and the scowling genius "Tsutomu Naka" (based on legendary animator Yasuji Mori). And then there are the young geniuses, the troubled director-to-be Kazuhisa Sakaba (based on Isao Takahata) and his angry-young-man protégé Kamiji Koya (based on the one and only Hayao Miyazaki).
As Natsu learns on the job at Tōyō, long sequences of Natsuzora demonstrate the nuts and bolts of working in animation studio. As the series is based on the real-life history of Japanese animation in the 20th century, feature animation / manga movies would eventually struggle against the newer, cheaper, "limited" animation being created for television in the 1960s, and the studio that made The Tale of the White Serpent would become the center of a bitter labor dispute that led to lock-outs and purges.[2]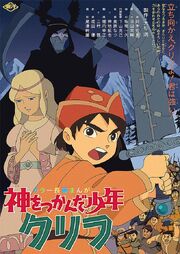 By 1965, Natsu moves from the TV division to work on feature films. She collaborates with key animator Kazuhisa Sakaba on Tsukanda Shōnen Kurifu (をつかんだ少年クリフ) (a film meant to mirror Horus: Prince of the Sun). Sakaba suggests that if the film were to succeed, he would propose for Natsu's hand in marriage. Unfortunately, the film ends in commercial failure. Sakaba resigns after being held responsible for its failure in the box office by Noboru Hara, the director of the movie department. Despite these circumstances, Sakaba proposed to Natsu, which she eagerly accepts.
Natsu returns to Tokaichi to announce her engagement to her family. The wedding reception is held soon after. In 1968. Asako Osawa, a former employee of Tōyō Video that left nine years prior, visits Natsu where she discusses starting a new animation production company. Natsu discover she is pregnant, and states she refuses to quit her position at Tōyō. Her husband Kazuhisa agrees on the condition that she have a one-year grace period. Soon, Natsu gives birth to a daughter and names her Yu.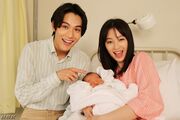 After the turn of the new year, Natsu's maternity leave expires. Akana, another former employee of Tōyō who quit after facing terrible conditions as a contract employee and eventually married Mr. Shimoyama, offered to babysit Yu. Natsu then goes on to become the animation director of Kick Jaguar (キックジャガー , Kikku Jagā), and her husband Kazuhisa joins her in Asako's new company called Mako Production.
Years later, Yu is now five-years old, and Natsu, frustrated with her the industry, decides to leave the company for the sake of her family. However, Kazuhisa pushes her on to work, and in 1974, she leaves the company for a fresh start. She moves to a new company that is about to produce a series called "Laura, the Prairie Girl" (a series that mirrors Heidi, Girl of the Alps), which is based on Little House on the Prairie. Natsu, along with her new crew, then travel to Hokkaido for location research. She reunites with many friends and family during her trip, and sees places she had not seen in a while.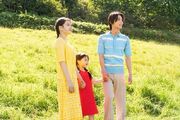 The production of Laura, the Prairie Girl proceeds at a steady pace, with Natsu incorporating her childhood memories to the story. When the series was aired, the audience rating disappointed the network executives who began threatening discontinuing its broadcast. Suddenly, fan letters flooded the network and the studio, which energized the animators. Soon, the TV stations realized the series was a hit.
In August 1975, after Laura had finished airing, Natsu returns to the Shibata family farm during their summer break. That night, Tokachi lost power due to a storm. The life of the family cow was at stake, but thankfully, the whole family units and saves it. After the storm, Natsu and Kazuhisa talk about their hopes and dreams while in Tokachi.
Eight years later, an animated movie called Natsuzora was made based on Natsu's experience during the war (which parallels Grave of the Fireflies).
Characters
Natsu Okuhara (奥原 なつ(おくはら なつ)/ 坂場 なつ(さかば なつ

Suzu Hirose (Adult) / Sari Awano (Childhood)
Born August 15, 1937. Her parents died in the war and she was separated from her siblings. Born August 15, 1937, her father's comrade in arms Takeo Shibata adopted her and she migrated to Tokachi in Hokkaido. As she helps out at the Shibatas dairy farm under Takeo's father-in-law Taiju, she regains her cheerfulness. After graduating from high school, she goes to Tokyo and takes a plunge into the world of animation during the early days. As an animator, she demonstrates fresh sensitivity influenced by the great outdoors that she grew up in.
Tenyo Yamada (山田 天陽(やまだ てんよう))
Ryo Yoshizawa (Adult) / Taketo Arai (Childhood)
Although he has a flair for art, he has to help out in farming and cannot further his education because his family is poor. In between farm work, he would draw on plywood. He is good at drawing horses with a sensitivity that expressed bold dynamism. He teaches Natsu, who aspires to be an animator, artistic taste and has a great influence on her life.
Saitaro Okuhara (奥原 咲太郎(おくはら さいたろう))
Masaki Okada (Adult) / Ao Watanabe (Childhood)
Natsu Okuhara's jovial older brother. He loves singing and tap dancing. Even after their parents died and he became a surrogate parent to their younger sister Chiharu, he never stopped smiling and did his best to bring her up. After Natsu is entrusted to the Shibatas and Chiharu to relatives, he spends some time at an orphanage but later runs away and goes missing. He is reunited with Natsu in Shinjuku after nine years.
Taiju Shibata (柴田 泰樹(しばた たいじゅ))

Masao Kusakari
He settled in Tokachi alone at the age of 18 in 1902. He cleared the wilderness and tried rice cultivation but it would not take root so he began dairy farming. After his wife died of illness, he raised their daughter Fujiko on his own. He is eccentric and obstinate but is a man with deep affection. He instills in Natsu the skills to get through life.
Takeo Shibata (柴田 泰樹(しばた たいじゅ))

Naohito Fujiki
He married into the Shibata family. He and Okuhara Natsu's father who was a comrade in arms made a promise to take care of each other's family if either of them died. To make good of his word, he takes Natsu to Tokachi. He is a loyal and kind man but is always mindful of his father-in-law and is no match for him.
Fujiko Shibata (柴田 富士子(しばた ふじこ))

Nanako Matsushima
Shibata Takeo's wife. A woman with great fortitude, she gets her kindness and toughness from her father Taiju. She is the only one in the family who is able to speak to her father as equals. Although she does not know what to make of her relationship with Okuhara Natsu, she tries her best to raise Natsu like her own child. She has a cheerful and positive personality, and is good at cooking and making confections using milk and butter.
Shibata Teruo (柴田 照男(しばた てるお))

Kiyohara Sho (Adult) / Okajima Ryotaro (Childhood)
An earnest young man with a strong sense of responsibility like his father Takeo. As the heir, he is being groomed by his grandfather Taiju and Takeo in raising cattle. But he is always bested by Natsu Okuhara because he is inept. Although his marriage with Natsu is encouraged by Taiju, he secretly wishes it will happen.
Yumiko Shibata (柴田 夕見子(しばた ゆみこ)/ 小畑 夕見子(おばた ゆみこ))

Momoko Fukuchi (Adult) /Momoko Arakawa (Childhood)
The Shibatas' eldest daughter who is the same age as Natsu Okuhara. At first, she has something against Natsu. But as they start living together, they grow to become like real sisters who confide in each other. She used to detest milk but is able to drink it thanks to Natsu.
Yukijiro Obata (小畑 雪次郎(おばた ゆきじろう))

Yuki Yamada (Adult) /Shotaro Yoshinari (Childhood)
Okuhara Natsu's classmate in agricultural high school. He is a frivolous attention seeker. When they were in high school, he was crazy about the drama club and asked Natsu to the club's activities. After graduation, he went with Natsu to Tokyo to train to become a confectioner. He is her good friend and she brightens up when they are together.
Koko Maejima (前島 光子(まえじま こうこ) / 奥原 光子(おくはら こうこ))

Manami Higa
The owner of Kawamuraya, a bakery and cafe in Shinjuku since the pre-war period. She has an air of mystery and is called "madam" by the people around her. She has in-depth knowledge of the arts and supports talented young people. She ends up taking care of Natsu Okuhara for some reason.
Ayami Kishikawa (岸川 亜矢美(きしかわ あやみ))

Tomoko Yamaguchi
She was very popular as a dancer at the legendary theatre Moulin Rouge Shinjukuza. After she retired, she opened an oden shop in a back alley of Shinjuku. Many regulars visit her shop, drawn to her bold and bright personality.
Tsutomu Naka (仲 努(なか つとむ))

Arata Iura
The leader of Toyo Animation's animators. He is the director of Japan's first feature-length animation. He has a gentle manner and is popular. He is good at cute character design and delicate expressions. Everyone looks up to him as a mentor.
Asako Osawa (大沢 麻子(おおさわ あさこ))

Shihori Kanjiya
A remarkable animator who joined Toyo Animation after graduating from an art college. She supports animation director Naka Tsutomu and settles things on set. She seems cool but is passionate deep down. She has alienated herself within the company because of her fearless personality.
Behind the Scenes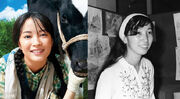 Natsuzora is the 100th Morning Television Drama (連続テレビ小説 , Renzoku Terebi Shōsetsu, literally serial TV novel) produced by NHK. The series is inspired by Reiko Okuyama (from Sendai City, Miyagi Prefecture), an accomplished animator and wife of animator and character designer Yōichi Kotabe. The series begins in 1937 and stars Suzu Hirose as Natsu Okuhara, an orphan who hails from the wilderness of Tokachi, Hokkaido. Eventually, Natsu will take on the challenge of the world of animation, which was still called "manga movie" at that time, making use of the rich imagination and pioneering spirit nurtured in Tokachi. She grows up with the desire to draw a frog-like "heroine who can withstand difficulties". Kotabe served as a consultant.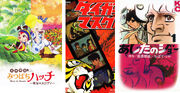 Despite Japanese animation's continued popularity around the world, little is known about its origins and the many individuals who brought it up. The series serves as a tribute to the many animators who toiled behind-the-scenes and the notable directors who shaped the medium to what it is today. Classics such as Tiger Mask (1969), The Adventures of Hutch the Honeybee (1970) and Ashita no Joe (1968) reflect the era Natsuzora is set in as all their main protagonists are orphans. The popular sentiment at the time was, "Let's encourage children who were injured in the war." and Natsuzora was produced with the intention of saying, "There was a war behind the birth of anime in Japan," as its heroine was herself orphaned due to the war. The series also depicts how modern animation was borne through trial and error, and draws from the deep well of history and technological advancements of its time.
Writer Sumio Omori, who previously wrote Teruteru Family (てるてる家族, Teruteru Kazoku) says, "I want to convey that each accumulation becomes a big form." As for depicting the heroine as a war orphan, he says that she is not a "heroine who lives through her will" but "a heroine who finds life in encounters and relationships while being carried away by people's hearts." Although the series' isn't based on any previously existing source material, Kotabe and Omori have publicly stated many of the characters and motifs are based on real people, organizations and works.
Planning began in Fall 2017, with production being overseen by Tomoaki Iso and screenplay by Omori. The name "Natsuzora" was conceived by combining the words for a clear summer sky, although "Nacchan" and "Dosanko" were also considered. Production formally began in April 2018.
Production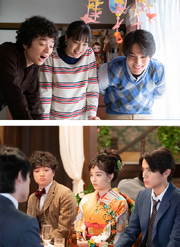 The production and the main cast were first announced on November 20, 2017. Casting directors searched for a heroine for a "far-reaching story", whose role embodied three keywords: "war-damaged orphan", "Hokkaido", and "animation". Suzu Hirose was later cast for the role. Shooting would take place in summer at Hokkaido, although the filming crew had to rush as the season only lasted three to four months. NHK had to reform their working style as they were used to longer production cycles, following their last morning drama Manpuku.
Auditions for the rest of the cast began in February 2018, and Ryo Yoshizawa, Yuki Yamada, Teruo Shibata, Yukijiro Obata were chosen from among 2,500 male and female applicants. In the second episode, Sanae Kitabayashi, the heroine of NHK's first morning drama Daughter and I (娘と私 , Musume to Watashi), makes an appearance. Several other heroines from past NHK dramas also make an appearnce, such as Ayako Kobayashi (Oshin), Tomoko Yamaguchi (Jun-chan's cheering song), Nanako Matsushima (Himawari), Hiromi Iwasaki (Futarikko), Manami Higa (Dondo Hare), Shihori Kanjiya (Chiritotechin), Hideko Hara (Today is Also Sunny), Mana Mikura (Futarikko, Dandan), Mihoko Fujita (Hatoko no Umi), Yuko Tanaka (Oshin), Ema Fujisawa (Tenka), Sakura Ando (Manpuku), Yoko Asaji (Cloud Nojutan), Naho Toda (Eenyobo). This was done to show "respect" to the past 99 morning dramas that came before. In addition, TEAM NACS, a Hokkaido-based artist group who also made an appearance in When Marnie Was There were also cast. They were hired as the producers wanted to please audiences in Hokkaido.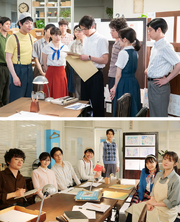 Later in the series (Week 8 onwards), Sometani Shota is cast as Kamiji Koya, a character modeled after Hayao Miyazaki and serves as Natsu's Kouhai. Nakagawa Taishi plays Kazuhisa Sakaba, modeled after Isao Takahata and happens to be Natsu's husband. Arata Iura plays Tsutomu Naka, who is based on Yasuji Mori, the "God of Japanese Animation" who worked at Toei animation and served as Miyazaki and Takahata's mentor. Shinya Kote plays Idohara Noboru, who is based on senior key animator Akira Daikuhara who worked on The Tale of the White Serpent (1958). Kawashima Akira is cast as Shimoyama Katsumi, who is based Lupin III veteran Yasuo Ōtsuka. Akemi Ota, the animator who would give up a promising career to become Mrs. Hayao Miyazaki, appears here as "Akane Mimura". Michiyo Yasuda, the colorist who would become an integral component of the success of Studio Ghibli, is depicted onscreen by Ihara Rikka as "Momoyo Morita".
Together with Natsu, they worked at Tōyō Animation, an amalgamation of Toei Animation that produced feature films and television series that are clearly based on Horus:Prince of the Sun and Laura, the Prairie Girl, Heidi, Girl of the Alps. Sprinkled throughout the series are animation sequences, with one being a bombing scene reminiscent of Grave of the Fireflies.
Principal photography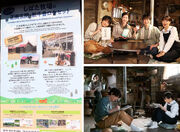 Filming began on June 8, 2018, in the Tokachi Subprefecture of ​​Hokkaido, with a focus on towns of Rikubetsu and Shintoku. In January 2019, filming faced challenges due to the severe cold during the winter season. Filming continued until April to July of the same year after the series began broadcasting in a third and fourth location in Tokachi. The Obihiro Tourism Convention Association assisted with location hunting, and provided accommodations for the cast and staff, along with transportation arrangements to the shooting location. They also helped in the recruitment of extras and maintenance of sets during the winter season. They also provided a contact point for each town and village to support long-term photography.
Local agencies also helped provide perspective of Tokachi dairy farmers and producers in the 1920s and 30's of the Showa era, where the goal was to make audiences aware of the hardships people faced and to connect them with local agriculture and regional development.
Music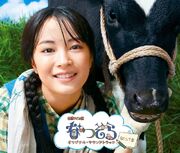 For the series' score, the producers wanted to "make a fresh and comfortable melody like a refreshing summer breeze that runs through Tokachi Hill". They hired Yukari Hashimoto, who previously worked on several television series such as Osomatsu-san (2015) and March Comes In Like Lion (2017). Spitz, a rock band, was hired to produce the series' theme song Yasashii Anoko.
On February 19, 2019, the producers announced that the theme song would be Spitz's Yasashii Anoko, and Iso, the production manager, recounted that he came to this decision when he first landed at Tokachi's Obihiro Airport and saw the overwhelming blue sky of the Tokachi Plain. He recalls his experience at the time, "The melody of Spitz came down from the sky, as if it had been revealed to me." Spitz member Masamune Kusano traveled several times to Tokachi though, "Even during summer, I can't help but think of the long winter leading up to that summer." He interpreted Natsuzora as the "Summer sky that everyone has been waiting for after a harsh winter".
Animation sequences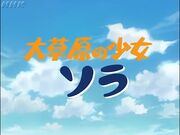 Given its status as NHK's 100th Memorial Asadora series, the opening sequence completely done in traditional animation, a first in the history of Asadora. Former Studio Ghibli animator Hitomi Tateno was designated as animation supervisor and producer for the series. Tateno first joined Ghibli in 1987 and performed animation checks on many Ghibli titles from My Neighbor Totoro onward. She left Ghibli in 2014 and is now a manager at the Sasayuri Café, a café in Nishi-Ogikubo which frequently hosts animation-related talk shows and exhibits.
Tateno was assisted by 23-year old key animator and character designer named Hitomi Kariya. Production was handled by Tateno's studio "Sasayuri", along with Toei Animation and animation veterans from Shin-Ei Animation, Studio Color, CoMix Wave Film, Oh  Production, and Studio Pablo. Kariya herself illustrated many of the series' promotional art. The Kariya would later hold her first ever exhibition from May 30 to August 19, 2019, at Sasayuri Cafe in Nishiogikita, Tokyo. In this solo exhibition, Kariya's original illustrations and script over artwork for "Natsuzora" will be on display along with animation materials for Blade Smash mobile game.[3]

The 90-second opening animation was drawn with over 2,100 animation frames (sakuga), aping the style of showa-era anime. It features a girl playing with a deer and foxes amidst a meadows and flower fields, reminiscent of Japanese World Masterpiece Theater animations from the 1960s to 1970s, particularly Heidi, Girl of the Alps and A Dog of Flanders.[4]
The opening sequence was omitted for the 114th episode, broadcast on August 10, as well as its final episode, which was broadcast on September 28.
Promotions
Events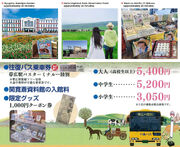 Prior to the series' broadcast, Yuki Yamada, a popular actor who played Yukijiro Obata, held a live talk event at the Obihiro Ice Festival held at Obihiro City in February 2019. Series' protagonist Suzu Hirose also participated as a special guest at the opening ceremony of the 70th Sapporo Snow Festival held in Sapporo during the same month, and a snow sculpture of the heroine Natsu was exhibited. Takuma Otoo, who played Kikusuke Tomura, and Momoko Fukuchi, who played Yumiko Shibata, also participated in the Energetic Hokkaido feat. Natsuzora Talk Show promotional event.
On August 31, 2019, a month before the end of the series' broadcast, the Natsuzora Fan Festival in Tokachi was held at the Makubetsucho 100th Anniversary Hall in the Tokachi. Special guests included Suzu Hirose, Yuki Yamada, Sho Kiyohara, Mayu Watanabe, and Rikka Ihara and the TV special was aired on September 14 at the NHK Hokkaido affiliate, and broadcast nationally on September 21 on BS Premium.
Tie-in products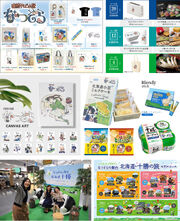 Several limited edition promotional stamps were released by the Japan Post, which used photographs of famous places and landscapes of each municipality that cooperated with the shooting in the Tokachi region in Hokkaido. The series also partnered with the Ministry of Agriculture, Forestry and Fisheries Production Bureau Livestock Department to promote Hokkaido's dairy farming industry. A total of twenty companies have produced fifty tie-in products, including Calbee releasing potato chips that used potatoes from Tokachi and a special packaging containing the series' logo and photographs of students from the Hokkaido Shihoro High School. Meiji was used Tokachi milk for their yogurt tie-in products and Yamazaki Baking used Tokachi red beans and milk for theirs. Tower Records released a number of tie-in goods such as keychains, tote bags, t-shirts, mugs and pins.
Tourism
The series has had a major economic benefit for Hokkaido, with a reported earning of 9.5 billion yen by the Bank of Japan Kushiro Branch and the Obihiro Office to the region. A 4-meter signboard was installed at Obihiro Station to promote the series with the message, "Welcome to Natsuzora's Stage Tokachi". The Tokachi tourist office of Obihiro City plastered posters all over local tourist attractions, transportation paths, etc. During the series broadcast, tie-in products and life-size cutouts of the cast were featured throughout Obihiro City.
Japan Airlines, which has continuously supported the reconstruction following the Hokkaido Eastern Iburi Earthquake in 2018, applied a special decal promoting the series on several of its Boeing 737-800 aircraft. The PR event was done "for the purpose of stimulating tourism in Hokkaido." and that several "Specially coated aircraft" would be deployed for domestic flights. At the same time, JR Hokkaido operated a limited express "Super Tokachi" line with a Natsuzora visual decal, and the tourist railway's Furusato Galaxy Line Rikubetsu Railway also operated a "Natsuzora" themed line. PR pamphlets called "Tokachi by JR" were distributed to visitors.
Within a month of the series airing, tourism in the region had nearly doubled over the previous year.
Reception
NHK announced the average "time shift audience rating" and" total audience rating" for all 156 episodes of the drama series Natsuzora which ended on September 28. The Kanto area had a real-time audience rating of 21.0%, a time-shift audience rating of 7.5% and a total audience rating of 26.8%. In the Kansai area, the real-time audience rating was 18.3%, the time-shift audience rating was 8.2% and the total audience rating was 25.3%.
The previous NHK morning drama series Manpuku had a realtime audience rating of 21.4%, a time-shift audience rating of 7.2% and a total audience rating of 27.0% in the Kanto area.  While in the Kansai area, the real-time audience rating was 19.5%, a time-shift audience rating of 8.9% and a total audience rating of 26.9%.[6]
Life of Reiko Okuyama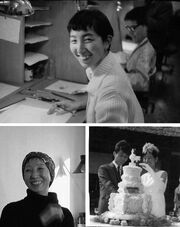 Reiko Okuyama was born in 1930. She was a sickly child, having spent long periods of time in bed, which gave her the opportunity to read a lot, from William Shakespeare, Jean-Paul Sartre and Simone de Beauvoir. She would often write plays and enjoyed designing costumes. She was transferred to a missionary school where she soon earned the label of a "rebel" because she asked too many pointed questions.
She became a pioneer female animator who started at Toei Doga in 1957, after running away from her hometown. She joined Toei entirely by accident, after misinterpreting the company's name and assuming they'd specialize in illustrations for children but powering through the trial of completing the animation of a child hitting a pole with a mallet anyway. She developed exceptional skills after working extensively under Yasuji Mori and Akira Daikuhara. She eventually married Yoichi Kōtabe in 1963, and managed to continue her work. Her credits at the time include Horus:Prince of the Sun, Puss in Boots, 3000 Leagues in Search of Mother, Chie the Brat and Grave of the Fireflies. Her outspoken attitude would also greatly help in the fight for animator's collective rights that have unfortunately never been able to replicate ever since. Okuyama faced the corporative pushback that also punished her comrades with an extra layer of sexism, a situation that only got more extreme after she gave birth and made it a point to fight for the right of women not to renounce to neither work nor family matters.[7]
At the end of the 1970s, Okuyama gradually abandoned the world of commercial animation and began to illustrate children's books. From 1985 onward, she became an animation teacher at the Tokyo Designer Academy and became interested in copper engraving, which allowed her to collaborate with Tadanari Okamoto in the Chuumon no Ooi Ryouriten project (The Restaurant of Many Orders, 1991), an animated short film inspired by the story by Kenji Miyazawa.[8]
She passed away in 2007, and her last work was in Winter Days (2003) by the late director Isao Takahata.
Related Products
Novelization
Sumio Oomori (Writer), Fuyu Kimata (Novelization) "NHK TV Asadora Natsuzora I" (March 25, 2019, NHK Publishing, ISBN 978-4-14-005701-8)
Sumio Oomori (Writer), Fuyu Kimata (Novelization) "NHK TV Asadora Natsuzora II" (August 29, 2019, NHK Publishing, ISBN 978-4-14-005702-5)
Related books
Soundtrack
NHK serial TV novel "Natsuzora" original soundtrack [Hokkaido edition] (delivered on May 15, 2019, KING RECORD, NOPA-2107)
NHK serial TV novel "Natsuzora" original soundtrack [Tokyo edition] (delivered on July 24, 2019, KING RECORD, NOPA-2108)
NHK serial TV novel "Natsuzora" original soundtrack [Final edition] (delivered on August 23, 2019, KING RECORD, NOPA-2109)
NHK serial TV novel "Natsuzora" original soundtrack [BEST version] (released on August 23, 2019, KING RECORD, KICS-3826 -3828)
References
External links
Official
Information