Never-Ending Man: Hayao Miyazaki (終わらない人 宮﨑駿 , Owaranai Hito Miyazaki) is a documentary film written and directed by Kaku Arakawa and released on November 13, 2016. It was broadcast on NHK BS1 on January 29, 2017.
It follows Hayao Miyazaki for 700 days on the production of the short film Boro the Caterpillar and on his work with 3D, until his decision to return to the feature film. The film is narrated by Chika Sakamoto, the voice of Mei in My Neighbor Totoro and Mei and the Kittenbus.
Synopsis
Coming Out of Retirement
In 2013, film director and animator Hayao Miyazaki suddenly announced his retirement at the age of 72. In 2015, following his shocking announcement and the dismantling of Studio Ghibli's production department, Miyazaki couldn't shake his burning desire to create. He admitted he could no longer work on a full-length animated film, and had kept himself busy working on image boards for the special exhibitions for the Ghibli Museum. "This studio eats people up. I'm done with it. I have no regrets."
After an encounter with young CGI animators, Miyazaki embarked on a new endeavor, his first project ever to utilize CGI. "The team was interesting. I could feel their youth." He pored through sketches and old concepts of the once-abandoned Boro the Caterpillar film he had considered working before such films as Princess Mononoke (1997). But the artist, who had been adamant about hand-drawn animation, confronted many challenges. The film even faces the danger of being cancelled. Can an old master who thinks he's past his prime shine once again? Suzuki advised Miyazaki, "Now that you are retired, you can create whatever you want by taking your time."
Animation Tests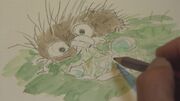 Animation tests are made showing the Boro being made in 3D. It's interesting," Miyazaki comments. He is told Boro hairs are not animated manually and that their movements and friction are calculated by the computer. Miyazaki responds, "I don't want the legs to move at the same time as the eyes." Miyazaki recalls his many encounters with John Lasseter, including a memorable trip to Pixar in California (events that could be seen in the DVD special, Lasseter-san, Arigato!). He expressed worry about being found out, "If he finds out Miyazaki is using 3D, I'm sure Lasseter will come see me. And he will certainly think, "How? Are you still at this level? "I don't want to create something that isn't showable."
Miyazaki began working on the storyboards in earnest. "This short film will not be released in theaters but will be shown at the Ghibli Museum. The budget is therefore limited and will be financed only by the studio." Miyazaki worried that at 75 and with a heart problem, he feels his body is weakening day by day.
In August 2015, Yuhei Sakuragi, director of Digital Animation arrived and was presented the storyboards of the film. Miyazaki said he wanted to take his time with the production, but was assured by Sakuragi, "Once production starts, I think it will be quick. There aren't a lot of characters." Miyazaki then draws more detailed  than his storyboards as Sakuragi's team begin working on Boro's movements. By October, Miyazaki mused, "Yesterday I went for a test to renew my driver's license and I was surprised to find myself among people my age. I wondered if I was really that grandpa?"
More animation tests are show, with Boro emerging from his egg. "The way he looks is a bit too adult. If you look at Satsuki (the daughter of one of the Ghibli staff), she doesn't look like that. Since he has just been born, he is not able to move quickly. It must of course be a little slow. It is the first time that he has observed the world. The purity of a newborn baby is not felt in this animation." It was then that Miyazaki received a phone call that an important animation figure had died. "These are people who could live longer than me who are disappearing. I wonder what am I still doing here?"
In December 2015, Miyazaki met with Suzuki. "I saw the work of the animators and it won't go as planned. We have to decide whether to continue or not and I think it is better to stop." Suzuki tells Miyazaki whether that was what he wanted. Miyazaki thinks it through, "I want to start over until it is satisfactory for the audience. If we work in this direction, maybe we can continue." Miyazaki returns to the production area, and is shown further animation tests. When Boro breaks his shell, there are some hairs coming out. Miyazaki thinks the idea is there, but it's not yet convincing. Sakuragi looks weary, but presses on. A week later, Miyazaki and the team travel to watch the latest Star Wars, "The Force Awakens", which had come out in theaters to study its VFX. "For my part, I travel in a world totally different from that of Star Wars. I, too, want to work on Star Wars and not on a caterpillar... Don't worry, just kidding."
Breakthrough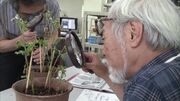 On Christmas Eve, Miyazaki has a breakthrough. "I finally understood the mystery" explains Hayao Miyazaki. "We don't feel the living, animal side of the scene. You have to add "evening fish" (a term coined by Miyazaki) to change the dynamism of the opening scene. The important thing is that it does not look miserable when the film is finished. I prefer that we put all our efforts even if it is not good." "If we see that it's a fish, it won't be interesting. It is better if they are imprecise forms. I would like to make a film in which we can discover that the world is beautiful. We don't always realize it, but the world is beautiful. I would like to find things like that. What do you think if this fish splits into several small fish?"
Months later, in May 2016, Miyazaki is furiously working on his drawing board. He says, "If I make a movie now, what am I going to do? I'm sure there is something we wish to see these days. However, it is not an easy thing to create a feature film. If I embark on a project now and it lasts five years, I will be 80 years old. I can't get started on a project just out of curiosity. I wanted to do this, but if I do, I'm going to take a lot of people with me and make them suffer." Soon, Miyazaki and his Director of Photography, Atsushi Okui watch the raw animation and are impressed.
Insult to Life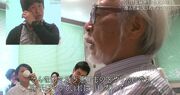 Soon, a new team arrives ready to present AI-generated animation developers. Dwango head Nobuo Kawakami leads the presentation, "You've probably heard of computer-generated animation? Today we would like to introduce our technology to you. This character has been taught to move quickly (a 3D character crawls on his back in a grotesque way on screen). You will find that it moves with its head. He doesn't feel pain. The head is not of particular importance and therefore uses it as if it were his feet. These unhealthy movements could well apply to a zombie game for example. AI thus makes it possible to generate grotesque and unimaginable movements for the human mind. This is what we are developing."
Horrified at what he had seen, Miyazaki responds, "You know I have a friend (Osamu Sagawa) with a disability that I run into almost every morning. Even clapping my hand became a real ordeal for him with his stiffened muscles. It made me think of him. When I see your images, I find it distressing. The people who created this did it without any soul and without thinking about pain. It is extremely unpleasant. You are free to create such horrors, but I have no desire for them to be associated with our work. I strongly feel this is an insult to life itself." The AI animation team responds meekly, "Well, we would like machines to be able to reproduce the same animations as a human."
Miyazaki makes an aside, "I have the feeling that the end of the world is near. Human beings no longer have confidence in themselves... "
Conclusion
In October 2016, Michiyo Yasuda, head colorist at Studio Ghibli and longtime collaborator of Hayao Miyazaki, passed away at the age of 77. Miyazaki mourns her loss and recalls what he used to tell her, "She died suddenly. Yacchin used to say to me: "You're going to do another one." I replied: "I will do it if Yacchin is involved."
The film closes with Chika Sakamoto concluding, "It is not yet certain whether or not Hayao Miyazaki's new feature film will actually receive a green light, but Miyazaki came to realize that the purpose of his life is to make films."
Release
The film was released on November 13, 2016, and broadcast on NHK BS1 on January 29, 2017. The film was later distributed by GKIDS and released on April 30, 2019. the film also received a brief run on select theaters, sponsored by GKIDS and Fathom Events on December 13 and 18, 2018.
Trivia
IndieWire notes Miyazaki's final line in the film, "All important things in the world are a hassle," he sighs, taking a deep breath that will have to sustain him until the film is done. The moment calls to mind another great Japanese director, Akira Kurosawa, who made his last feature at the age of 83. It's called "Madadayo," which translates to "Not Yet," and it tells the story of an aging professor, and the students who celebrate his birthday every year by asking if he's ready to die. The professor's reply is always the same: "Madadayo!" Not yet.[1]
References
External Links