Noboru Yoshida (吉田 昇, Yoshida Noboru, born 1964) is a Japanese animation art director and film production designer for Studio Ghibli. He often shared art directing duties with Yoji Takeshige.
He's contributed to the panorama box exhibits[1] and painted special postcards[2] for the Ghibli Museum, Mitaka. In 2008, his work was featured in the Understanding the Secrets of Takahata / Miyazaki Animation. Studio Ghibli Layout Exhibition at the Museum of Contemporary Art Tokyo.
On January 27, 2019, he painted Puromin no Hikari (Promine's Light, the medicine used to treat leprosy) in honor of one of Hayao Miyazaki's closest friends, Osamu Sagawa, who suffered from leprosy. Sagawa would later be referenced in the Never-Ending Man: Hayao Miyazaki during Miyazaki's meeting with the CG team.
History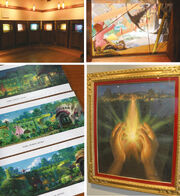 Born in Matsue City, Shimane Prefecture. He joined Design Office MECAMAN (デザインオフィス メカマン) and was in charge of art direction. Following that, he went freelance until in 1997, he joined Studio Ghibli as an art director of Princess Mononoke and has worked on nearly every major Ghibli release until the studio's retirement and revival in 2018.
Yoshida notably worked on the detailed interiors of the Borrowers home in The Secret World of Arrietty. He's also made numerous contributions to the Ghibli Museum, from painting special postcards of the exteriors of the museum, to painting multi-layered background art for the panorama box exhibit, to painting the 2016 New Year celebration art.[3]
On January 27, 2019, Hayao Miyazaki paid an emotional tribute to one of his late close friends, Osamu Sagawa, with leprosy (also known as Hansen's Disease), at the National Museum of Disease Hansen in Higashi-Murayama, Tokyo. He gave the museum a signed painting by Yoshida entitled Puromin no Hikari (Promin's Light, the medicine used to treat leprosy) which represented a ray of hope emanating from medicine held in both hands. This light is so bright it reaches a city depicted in the distance.[4]
Works
Movies
OVA
Crying Freeman (Art Director)
New Dominion Tank Police (Art Director)
New Hurricane Polymar (Art Director)
Soreyuki! Space Battleship Yoko Yamamoto (STAGE2 Art Director)
References
External links