Ocean Waves (海がきこえる, Umi ga Kikoeru, lit. "I Can Hear the Sea") is an anime television film directed by Tomomi Mochizuki and written by Kaori Nakamura. It was animated by Studio Ghibli for Tokuma Shoten and the Nippon Television Network and premiered as part of the network's 40th anniversary on May 5, 1993. After being broadcast on NTV, it was aired on several NTV affiliates.
It is based on the same-named novel by Saeko Himuro. Set in Tosa and Kōchi (city) in Shikoku, it concerns a love triangle that develops between two good friends and a new girl who transfers to their high school from Tokyo. It was produced as part of the Japan Arts Council Grant Program and was an attempt by Studio Ghibli to allow their younger staff members to make a film reasonably cheaply following the release of Porco Rosso. However, it ended up going both over budget and over schedule.
It won the Encouragement Award at the 31st (1993) Galaxy Award (Japan). In December 2016, GKIDS remastered the film for a limited theatrical release, with a home video release in Spring 2017.
Its poster's catchphrase is, "Kochi / Summer / 17-year-old me and Satoko's prologue." (高知・夏・17歳 僕と里伽子のプロローグ。)
The original novel was followed by a sequel, I Can Hear the Sea II: Because There Is An Eye (海がきこえるII〜アイがあるから〜 , Umi ga Kikoeru II Ai ga Arukara) written by Saeko Himuro and published by Tokuma Shoten on April 1, 1995.
Overview
The film is based on a novel by Saeko Himuro, which was serialized 23 times in Tokuma Shoten's Animage magazine from February 1990 to January 1992 and later published as a book. Katsuya Kondō, character designer and animation director of Kiki's Delivery Service (1989), provided character illustrations based Himuro's notes, and Himuro himself was inspired by Kondō's illustrations. The novels were fairly popular among the youth at the time, thanks to how it depicted a feeling of nostalgia in its story.
The reason why it was serialized on an anime magazine was that the editorial department of Animage wanted to "publish the work of a major non-anime writer." Sanae Mitsugi, the editor of Tokuma Shoten, commissioned writer Saeko Himuro to write a book and with visuals provided by Studio Ghibli. At that time, Himuro was a popular writer of Chiyoda-based publisher Shueisha and a leading figure in the paperback label Cobalt Bunko for girls. Himuro was skeptical of taking the job, but Mitsugi convinced him by saying that Ghibli would be involved. In July 1989, Himuro was invited to the premiere of Kiki's Delivery Service and decided he "wanted to write an ending similar to this movie.".
The serialized chapters were compiled into a book in 1993, edited by Himuro himself with some chapters omitted. In the same year, Studio Ghibli was developing a television movie project with character designs by Kondo.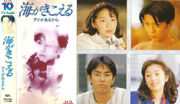 In April 1, 1995, the sequel, I Can Hear the Sea II: Because There Is An Eye was published, with Katsuya Kondō providing illustrations once again. In December 1995, saw a TV drama based was also released, starring Shinji Takeda.[1]
In 1999, I Can Hear the Sea and I Can Hear the Sea II: Because There Is An Eye were compiled into a single paperback book published by Tokuma Bunko. This latest edition was updated to account for the passage of time, thus minor corrections were made such as what hit songs appeared in the novel (such as "Wink" by Namie Amuro). Shinji Miyadai, a sociologist, provided commentary for this new paperback edition, and Yoshikazu Okada, the scriptwriter for the TV live-action drama version, was in charge of its sequel.
Plot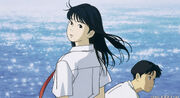 At Kichijōji Station, Tokyo, Taku Morisaki glimpses a familiar woman on the platform opposite. Later, as his flight to Kōchi Prefecture takes off, he narrates the events that brought her into his life. The story is told in flashback.
In Kōchi, two years prior, Taku receives a call from his friend, Yutaka Matsuno, asking to meet at their high school. He finds Yutaka at a window, watching an attractive female transfer student whom Yutaka was asked to show around. The boys discuss their upcoming school trip to Hawaii. At the school gates, Taku is introduced to the new girl, Rikako Muto. She thanks Yutaka for providing directions to a bookstore. Taku teases Yutaka about his infatuation.
Rikako is academically gifted and good at sports, but also arrogant. Taku believes she is unhappy about leaving Tokyo. His mother learns from gossip that a divorce brought Rikako's mother to Kōchi. In a phone conversation with Yutaka, he discovers that Rikako is living away from the family house.
The school year ends, heralding the Hawaii trip. Taku, suffering from an upset stomach, is stopped in the hotel lobby by Rikako. She explains that she has lost her money and asks to borrow some. As Taku has a part-time job, he lends her ¥60,000. Promising to repay him, she warns not to tell anyone. As she departs, Taku sees a stern Yutaka and feels compelled to explain. Later, Rikako admonishes him for telling Yutaka about the money, saying that he also loaned her ¥20,000.
Back in Kōchi, the third year begins with Rikako making a friend, Yumi Kohama. Rikako hasn't returned Taku's money and he wonders if she has forgotten. Out of the blue, a distressed Yumi calls Taku, explaining that Rikako had tricked her into coming to the airport on the pretence of a concert trip, only to discover that their real destination is Tokyo, tickets paid for with Taku's money. He races to the airport, sending Yumi home, saying that he will accompany Rikako.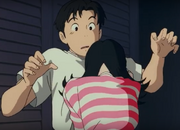 Upon arrival, it appears that Rikako has not forewarned her father, interrupting his planned trip with a girlfriend. Her father thanks Taku, repays the loan and arranges a room at the Hyatt Regency hotel. Later, Rikako explains that when her parents were fighting, she'd always sided with her father, but had now discovered he wasn't on her side. Comforting her, Taku offers his bed and attempts to sleep in the bathtub. The next morning, Rikako seems back to her normal self and kicks Taku out so that she can change clothes to meet a friend for lunch. Taku wanders around the city. After catching up on sleep at the hotel, Taku receives a call from Rikako asking to be rescued from former boyfriend, Okada, who is not as she remembered him.
Returning home, Rikako ignores Taku, but doesn't hide from others that they spent a night together. Taku discovers this from Yutaka, who had earlier confronted Rikako to confess his feelings toward her, but had been rebuffed. Taku confronts Rikako in class for hurting his best friend, calling her "The worst!". She responds by slapping him and he slaps her in return.
The autumn school cultural festival arrives and Rikako, who has been avoiding Yosakoi dance rehearsals, becomes more distant from the other girls, many of whom openly dislike her. Confronting her behind the school, Rikako stands firm as one girl, believing that Rikako was flirting with her boyfriend, attempts to strike her but is held back. Taku, who has seen all, approaches Rikako and comments that he is impressed with the way she handled herself. She slaps him. Yutaka confronts a somewhat stunned Taku, who tries to explain. Yutaka punches him to the ground and walks away. They do not talk for the rest of the year.
In the present, Taku's plane lands and he is offered a lift home by Yutaka, who explains he punched him because he'd realized Taku had held back his feelings for his sake. At a class reunion, former student president Shimizu mentions she had met Rikako earlier. She explains that as Rikako was attending Kōchi University, she had flown to Tokyo for her school break, missing the reunion. Taku realizes that Rikako was the woman he'd seen at the station. Walking home, Yumi tells Taku that she too had met Rikako, explaining she couldn't make it to the reunion and that she wanted to meet someone, but wouldn't say who... just that he slept in bathtubs.
In Tokyo, Taku again sees Rikako across the platforms, but this time runs to find her. As the train pulls away, he finds Rikako and realizes that he had always been in love with her.
Characters
Supporting Characters
Behind the Scenes
Planning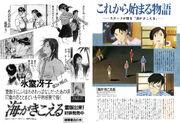 The first discussions concerning the process of adapting Saeko Himuro's novel I Can Hear the Sea into animation took place in June 1992, when Porco Rosso was being dubbed. Hayao Miyazaki, who could not think of an idea for ​​his next film project, felt the younger staff trained in Takahata's Only Yesterday and Porco Rosso needed to take charge of this new production.
Himuro's novel was first serialized in October 1989 andpublished on the February 1990 issue of Animage magazine (owned by Studio Ghibli's parent company Tokuma Shoten, with illustrations by Katsuya Kondō. The monthly instalments were collected in a hard cover book published in February 1993. The novel, which targeted adolescents, seemed in line with the young generation of creators who would be better able to identify the first feelings of love of this age of life on the screen.
Kondō, having worked on the novel, served as the character designer and animation director for the adaptation. The studio requested Kondô work on the film's production while the novel was still being published in Animage.
Suzuki turned to Tomomi Mochizuki, who was 34 years old at the time, to direct due to his experience working on Creamy Mami, the Magic Angel (1983) Maison Ikkoku (1986) and Kimagure Orange Road (1987), all of which were series that dealt with adolescence. At the time, Mochizuki was already fan of Himuro's work and had been wanting to adapt one of his novels into animation.
Production

Production of Ocean Waves was controlled by Studio Ghibli, but much of the animation was produced with the assistance of J.C. Staff, Madhouse Studios, and Oh! Production, who had worked with Ghibli on past projects. This film is the first Ghibli anime meant for television and directed by someone other than Hayao Miyazaki or Isao Takahata. Additionally, this is the first work produced at Studio Ghibli's new office building at Higashi-Koganei.
The motto for the production of the TV movie was "fast, cheap and of high quality". For his role as director, Mochizuki paid particular attention to the realism of the characters. The character description was the most important point for him, his favorite character being Rikako. Meanwhile, background artist Kazuo Oga and Art Director Naoya Tanaka stepped in to oversee the young staff.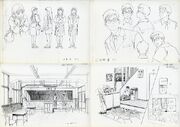 The director wondered if the film would have been better off done in live-action rather than animation. For example, in a scene where there are just two characters played by actors chatting, the viewer can easily follow their state of mind on their faces. Transcribing this state of mind in animation requires a lot of work and precision on the part of the animators and is more difficult.
But the advantage of animation over actual shooting is that the audience can identify with the characters and their feelings more easily, with the simplification of facial features, more anonymous, helping. Animation is all the more an advantage when dealing with such a delicate subject of love, which can easily plunge the viewer into embarrassment with real actors.[2]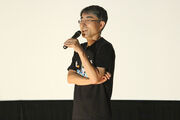 In the end, the production schedule and budget went far beyond what was had been initially planned. Production began on September 24, 1992, but while Studio Ghibli wanted all the drawings to be completed by the end of 1992, they were finally completed in February 1993 and the TV movie, meanwhile, would not be ready until March 18. 1993. Numerous changes had to be made from its original source novel, as several chapters were left out by the director. They had to decide how much time would be spent with the characters while they were high school versus at the university.
As a result of several discussions with Animation director Kondo, production producer Nozomu Takahashi, and scriptwriter Kaori Nakamura, the story was mainly focused in high school. This resulted in the narrative cutting back and forth between the past and the present. The character's acting and emotional expression were also intentionally subdued compared to other Ghibli works. To ease the burden for the animation team, Kondo drew a second storyboard with more a detailed layout as reference. In addition, photos taken during location scouting were enlarged and copied to be used as background images for several shots to simplify the background work.
Despite being made for television, the film was made in 16:9 aspect ratio, versus the 4:3 which was the norm at the time. The production side recognized the film as a "film" and not a television special.
Mochizuki, who had been working on Here Is Greenwood at the same time as this production, developed Peptic ulcer because of stress. By the end of October 1992, he collapsed due to anemia and bleeding and was hospitalized. He returned to Ghibli's offices to celebrate the completed production after being on an intravenous drip at the hospital. Production began on August 11, 1992, and ended on April 10, 1993, and roughly 25,530 drawings were produced.
Whisper of the Heart, which was written and produced by Hayao Miyazaki and released in 1995, was inspired by Ocean Waves. In addition, Yoshifumi Kondō, the director of Whisper of the Heart, animated a dining scene at Taku Morisaki's house in beginning of Ocean Waves.
Dubbing
Casting for majority of the cast was decided via tape auditions sent by veteran voice actors. Only the role of Satoko and Yoko Sakamoto, who was separately active in a small theater company, were selected by a different method. Among all other Studio Ghibli works, this is the only production where a male full-time voice actor (Nobuo Tobita) plays the voice of the main character. It is unusual for a Ghibli work to be voice by full-time voice actors.
Among the participating voice actors, Sumi Shimamoto and Takeshi Watabe from Kochi Prefecture served as dialect teachers.
It is the only Ghibli film that does not have an English dub, as Only Yesterday didn't have a dub until 2016.
Reception
The website Animé Café gave the film 4/5 stars, noting this to be "A graceful and mature offering from Ghibli's younger generation".
Otaku USA gave the film a mediocre review. kVin from the Sakuga Blog noted that this early attempt by Studio Ghibli at finding a successor for the studio ended in failure. "Much like other renowned directors like Mamoru Hosoda and Hiromasa Yonebayashi, Tomomi Mochizuki failed to become the successor to the titans who founded the studio." Although the author did not that even Takahata struggled living up to the Ghibli name. "In the end I would argue that Ghibli's brand asphyxiated even Takahata, whose works were heavily penalized in the box office by his desire to stray away from their established identity, so I wouldn't blame anyone for failing to sit on a throne that had become Hayao Miyazaki's alone."
"This isn't to say Mochizuki's work was without fault, of course. The movie is admittedly clumsy, starting from the patchwork narrative framing device that struggled to cover both past and present even after a sizable length increase. The management of the project in general didn't fare much better; what was intended as a cheaper, quick TV project ended up costing well beyond expectations, and for all their intent to give Ghibli's own youth the main role, they had to rely on other studios to save the production from doom. The stress piled up to the point that Mochizuki himself passed out, while he tried juggle his responsibilities with other productions he'd accepted beforehand. But the fact that he enjoys reminiscing about the project, including detailed retellings of the incident that sent him to the hospital, proves it was in its own way a worthwhile experience."[3]
The review aggregator website Rotten Tomatoes gave it a rating of 87%, based on 15 critical reviews, with an average score of 6/10. On another aggregator Metacritic, it has a score of 73 out of 100, based on four critics, indicating "generally favorable reviews".
Distribution
Disney originally had the rights of distribution of Ocean Waves in United States. but they never released the film onto any Home Media platform. In 2016, GKIDS announced that they are going to release Ocean Waves in North American theaters starting on December 28 of that year and expanding during early 2017. In 2008, distribution company Wild Bunch announced that it had licensed the film to a number of European releasing companies, including Optimum. It was released in the UK under the title Ocean Waves on January 25, 2010, shortly before the planned theatrical release of Ponyo, as part of the Studio Ghibli Collection. As with the film Only Yesterday (until 2016), it was released with subtitles only.
In Spain, the film is distributed by Aurum and was released on DVD in November 2008. The DVD includes Japanese and Spanish audio tracks and Spanish subtitles. It was titled as Puedo escuchar el mar (in English translation I Can Hear the Sea).
In Australia, the film is distributed by Madman Entertainment as a subtitle-only DVD.
A Blu-ray remastered version was released on July 17, 2015, in Japan by Walt Disney Studios Japan.
In December 2016, GKIDS announced that the film will be remastered for a limited theatrical release, beginning on December 28, 2016, with a home video release in Spring 2017.
Music
Ocean Waves (Original Soundtrack) (海がきこえる ,Umi ga Kikoeru) was first released by Animage Records and Tokuma Japan Communications on May 1, 1993, and re-issued on April 21, 1997. The soundtrack, composed by Shigeru Nagata and features performances by Yoko Sakamoto, is in the tone of the TV movie, that is to say calm and soothing. The pieces, most often on the piano, alternate between comic and seriousness, enthusiasm and sadness. Some are harmless, others play more on the emotions. As with the film, the whole is coherent and balanced.
Locations
Kōchi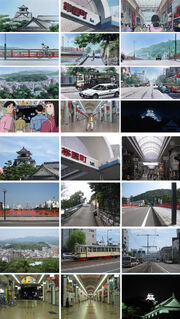 Unless otherwise specified, all are situated in Kōchi city.
High School The high school that Taku and his friends appear in the original is modeled after Kōchi's private Tosa High School, but the appearance of the anime school building is modeled after Kōchi Tano High School.
Tenjin Ohashi The bridge that Taku crosses after Matsuno calls him from school. It spans the Kagami River. The name of the bridge is derived from Ushioetenmangu, which is located in the southwest.
Obiyamachi An arcade town in Kōchi City that often appeared in anime. It is also the main road of the Yosakoi Festival .
Godaiyama The area where Taku's parents' home is located. The Gokoku Shrine and Chikurinji Temple are nearby.
Kōchi Castle In the original novel, Taku and Satoko look up at Kōchi Castle, and in the anime, Taku and his friends are drunk.
Kōchi Airport (Nankoku City): The airport used by Taku and Satoko when they left for Tokyo. Also where Taku is reunited with Matsuno after returning home. The circular sofa was removed in June 2002, and the airport name was nicknamed "Kōchi Ryoma Airport" in November 2003.
Kure Port (Takaoka-gun Nakatosa Kure) Only appears in the anime. The place where Taku and Matsuno relax after they reunite at Kōchi Airport and before their reunion with other high-school alumni. In fact, the tip of the embankment wants the mountain side, and the setting sun is setting on that mountain side.
Shin-Aoyagi Bridge In the anime, Taku and his friends cross if from the embankment of Kure Port, but it is actually located in the Godaisan area.
Shimanto River (Shimanto City, etc.) In the Animage serialized version, Taku and Satoko, Matsuno and Chisa swim, and in the live-action drama, Taku and Satoko, Tasaka and Chisa play in the river and have a date at the Katsuma subsidence bridge over the river.
Katsurahama It appeared frequently in various parts of the drama, and the last scene was also shot in Katsurahama. All five main characters of the drama visited.
Tokyo
Shakujii Park (Nerima Ward) After Taku enters university, the apartment he was staying at is located near the park. The original building has since been demolished. Appeared in the original and the anime.
Haneda Airport (Ota Ward) An empty gateway that Taku used when he returned to Kōchi to attend the alumni meet-up and when Taku and Satoko traveled to Tokyo. The new domestic terminal building (1st passenger terminal building) was completed in September 1993 after the anime was broadcast. In December 2004, the former Haneda Airport building was completely removed.
Hamamatsucho Station (Minato Ward):A connecting station between the Tokyo Monorail and the JR Yamanote Line .
Seijo (Setagaya Ward) The town where Satoko originally lived. Immediately after leaving the north exit, there is an existing condominium where Satoko's father lives.
Seijo Gakuenmae Station (Setagaya Ward): The station where Taku and Satoko get off when they went to the apartment where Satoko's father lived. At the time of the anime's broadcast, it was known as the Hashigami station building, but from March to June 2002, both the upper and lower lines were relocated underground, and the remnants of that time are completely gone.
Hotel Century Hyatt Tokyo (currently Hyatt Regency Tokyo) (Shinjuku Ward): In the anime, the hotel where Taku and Satoko stayed in Tokyo. On the first floor, there was a tea room called Boulogne, which was modeled on the anime, but since then, was completely renovated as COFFE in April 2009.
Kichijoji Station (Musashino City) Appears only at the beginning and end of the anime. The station where Taku reunited with Satoko. Taku was at homes 1 and 2, and Satoko was at homes 3 and 4. Due to the improvement work carried out for about four years from March 2010, the vestiges of that time have now faded.The station building "Kichijoji Ronron since its opening as well", for the first time full-scale renovation, 2010, April 1, in the "Atre was reopened as Kichijoji"
Credits
| Credit | Staff |
| --- | --- |
| Director | Tomomi Mochizuki |
| Screenplay | Keiko Niwa |
| Character Design, Animation Director | Katsuya Kondō |
| Key Animation | Atsuko Otani, Hideaki Yoshio, Hiroomi Yamakawa, Hiroshi Shimizu, Katsuichi Nakayama, Kenichi Konishi, Kenichi Yoshida, Masaaki Endou, Masako Shinohara, Masashi Ando, Mayumi Hirota, Mitsuo Iso, Noriko Moritomo, Shougo Furuya, Takao Yoshino, Takeshi Inamura, Toshio Kawaguchi, Yoshifumi Kondō |
| In-between Animation | Akihiko Adachi, Akiko Matsushima, Akiko Teshima, Emiko Iwayanagi, Eriko Shibata, Hiroyuki Inoue, Hisako Matsuda, Katsutoshi Nakamura, Kazuko Shibata, Kazumi Yokoyama, Kazuyoshi Onoda, Kenichi Yamada, Kiyoko Makita, Kumi Horii, Kumiko Ohta, Masako Sakano, Masaru Matsuse, Masaya Saito, Mayumi Ohmura, Michiko Okada, Nobuko Sato, Reiko Mano, Ritsuko Shiina, Seiko Azuma, Shinsaku Sasaki, Takehiro Noda, Tsuyoshi Konakawa, Yōko Nagashima, Yukari Yamaura, Yumiko Kitajima |
| Paint | Chiyomi Morisawa (Studio Killy), Fumie Mukai (Studio Killy), Kanako Moriya, Masayo Iseki, Naomi Mori, Noriko Ogawa, Teruyo Tateyama, Tokiko Yoshida (Studio Killy), Tomomi Nakazato (Studio Killy), Tsunetaka Arai (Studio Killy), Yukie Kitsukezawa, Yuriko Kudo (Studio Killy), |
| Art Director | Naoya Tanaka |
| Animation Check | Hitomi Tateno, Rie Fujimura, Rie Nakagome |
| Background Artist | Akira Yamakawa, Katsu Hisamura, Kiyomi Oota, Kyōko Naganawa, Masaki Yoshizaki, Masaru Ohta, Ryoko Ina, Satoshi Kuroda, Seiki Tamura, Youji Takeshige |
| Producer | Toshio Suzuki |
| Planning | Seiji Okuda, Toshio Suzuki |
| Music | Shigeru Nagata |
| Production | Studio Ghibli |
References
External Links
Official Sites
Information
Encyclopedia