Only Yesterday (おもひでぽろぽろ , Omoide Poro Poro, Memories Come Tumbling Down) is a 1991 Japanese animated drama film written and directed by Isao Takahata. It was animated by Studio Ghibli for Tokuma Shoten, Nippon Television Network and Hakuhodo, and distributed by Toho. It was released on July 20, 1991.
Based on the manga of the same title by Hotaru Okamoto and Yuko Tone, which was serialized from March 19, 1987, to the September 10, 1987. The film explores a genre traditionally thought to be outside the realm of animated subjects: a realistic drama written for adults, particularly women. It was a surprise box office success, attracting a large adult audience and becoming the highest-grossing Japanese film of 1991 in the country. The ending theme song Ai wa Hana, Kimi wa sono Tane (愛は花、君はその種子, "Love is a flower, you are the seed") is a Japanese translation of Amanda McBroom's composition The Rose.
The theatrical poster's advertising catchphrase is "Go on a journey with me." (私はワタシと旅に出る)
To celebrate the film's 25th anniversary, GKIDS released the film for the first time in an English-language format on February 26, 2016, featuring the voices of Daisy Ridley, Dev Patel, Alison Fernandez, Laura Bailey and Ashley Eckstein.
On August 31, 2020, it was announced a live-action special based on the manga will air on NHK's subchannels BS Premium and BS4K in January 2021. The special will be about a 64-year-old Taeko and her daughter and granddaughter.
Synopsis
In 1982, Taeko is 27 years old, unmarried, has lived her whole life in Tokyo and now works at a company there. She decides to take another trip to visit the family of the elder brother of her brother-in-law in the rural countryside to help with the safflower harvest and get away from city life. While traveling at night on a sleeper train to Yamagata, she begins to recall memories of herself as a schoolgirl in 1966, and her intense desire to go on holiday like her classmates, all of whom have family outside of the big city.
At the arrival train station, she is surprised to find out that her brother in law's second cousin Toshio, whom she barely knows, is the one who came to pick her up. During her stay in Yamagata, she finds herself increasingly nostalgic and wistful for her childhood self, while simultaneously wrestling with adult issues of career and love. The trip dredges up forgotten memories (not all of them good ones) — the first stirrings of childish romance, puberty and growing up, the frustrations of math and boys.
In lyrical switches between the present and the past, Taeko wonders if she has been true to the dreams of her childhood self. In doing so, she begins to realize that Toshio has helped her along the way. Finally, Taeko faces her own true self, how she views the world and the people around her. Taeko chooses to stay in the countryside instead of returning to Tokyo. It is implied that she and Toshio begin a relationship.
Source Material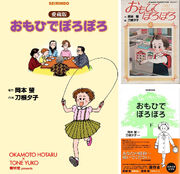 Omoide Poro Poro was originally adapted from a manga written by Hotaru Okamoto and Yûko Tone. It was classified as a general distribution comic, making it very popular with the general public. According to Ghibli fansite Buta Connection, far from the clichés and stereotypes of manga, these slice-of-life comics are usually told through first person. The long-running manga series Chibi Maruko-chan, Crayon Shin-chan, Sazae-san and in this case, Omohide Poro Poro, speak of the intimacy of Japanese life, perhaps by setting aside realism to keep only an ironic but insightful representation of daily life. These titles are often adapted for the small screen and are often very successful.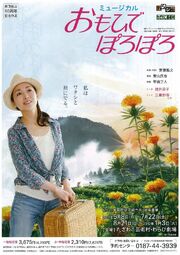 The manga is a shojo, a comic strip "intended for girls" and features ten-year old protagonist, Taeko Okajima, the youngest among two older sisters in her family. It is filled with nostalgic feelings, with the evocation of many songs, movies, TV shows, fashions and idols of the time. The plot centers around a pivotal year in Taeko's life, where she first learns about menstrual cycles, her career as an actress shattered by her father's authority, her difficulties in arithmetic, her first amorous emotions and so on.
Set in 1966, Okamoto wrote his work intending to tap into a nostalgic vein, as it featured a generation who lived through the transformation phase of the economic boom which led to the dizzying opulence of the bubble economy in the 1980s. Omoide Poro Poro was first published in 1988 by Seirindou Shoten and then reissued two years later by Animage.
Production
Development
"It would have some value if we portrayed kids like this in film. That's all I had. But I thought, 'it won't work as a film'. So I gave it up and threw the original away, only to pick it up every now and then. However, once I knew such material, nothing else seemed interesting when you're working on kids features. But I couldn't do it. I didn't have the skills. And the only person that seemed to have such skills was Takahata."

—Hayao Miyazaki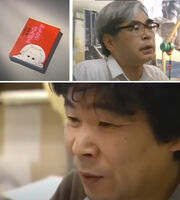 Hayao Miyazaki was intrigued by the original Omoide Poro Poro manga, feeling there was value in making a film of the type of story about childhood it told. However, he felt he did not have the talent to adapt it into a feature-length film as the episodic format was not easily adaptable, but sat on the idea for a few years while working on children's films like My Neighbor Totoro and Kiki's Delivery Service.
Following the box office success of Kiki, Miyazaki decided to bring the concept to Takahata. Takahata initially refused, stating that the manga was unsuitable for adaptation and that he was already working on another project. When his initial project fell through, he reconsidered.[2] Takahata's solution to solving the adaptation problem was to invent the framing narrative wherein the adult Taeko journeys to the countryside and reminisces about her childhood, eventually leading her to meet and fall in love with Toshio.
Production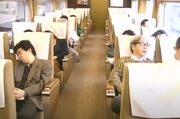 The executives behind Studio Ghibli were initially reluctant in having Takahata on board as director. Takahata already faced scrutiny after his previous film Grave of the Fireflies faced numerous production delays.
"If Miyazaki hadn't been a producer, we wouldn't have been able to make the film," said Isao Takahata. "The plot is too complicated compared to the usual films. People are wary of this kind of story. The heroine is 27-years old and it is not a dramatic story. These are not the classic elements of an animated film. Normally, no financier would accept. They would all be too scared. But producer Miyazaki reassured them with aplomb. They thought the idea must be good since it came from him. This is how it went. When we go over budget, they think they will get their funds back otherwise. Who influences them? Hayao Miyazaki, without a doubt."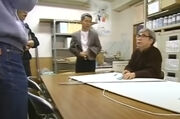 The pair barely spoke with one another during production. "We know each other perfectly. We always have a lot of criticism to do with each other," admitted Hayao Miyazaki. "But if someone dares to criticize him and I don't like it, I stand up for him!"
During the long and grueling production of the feature film, several major changes had taken place within the studio. In November 1990, an annual recruitment was put in place, which included an animation training program. Miyazaki also successfully lobbied to have animators salaries doubled, which inevitably led to higher production costs. Soon after these changes were made, serious attention was made in how Ghibli's films would be promoted in order to maximize box office revenue.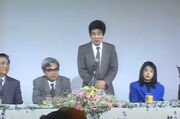 Unlike the typical Japanese character animation style, the characters have more realistic facial muscles and expressions due to the dialogue being recorded first (the tradition in Japan is to record it after the animation is completed) and the animators fit the animation to the spoken dialogue. Additionally, Takahata had some of the voice actors record their dialogue at the same session and filmed their performances, which allowed him to more accurately capture the vocal ticks and habits of the Yamagata dialect in Toshirō Yanagiba's (Toshio) performance. Only Taeko's childhood past (which has a more typical anime style) was animated before the voices were recorded.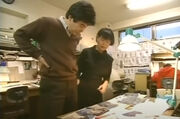 There is a repetitive Eastern European theme in the film, particularly in the soundtrack reflecting the peasant lifestyle still present in the area and the parallels this draws with Japanese rural life. Folk songs from the area repeatedly occur in the film. For example, "Frunzuliță Lemn Adus Cântec De Nuntă" (Fluttering Green Leaves Wedding Song) is a Romanian folk song written by Gheorghe Zamfir and occurs in the film repeatedly during the landscape shots, for example arriving at the farm. Instruments used include the prominent nai played by Zamfir himself, cimbalom and violins.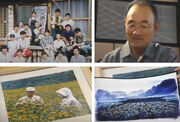 There is also Hungarian music in the film, using pieces of music such as Brahms Hungarian Dance No. 5 in a scene where Taeko is eating lunch, and making references to Hungarian musicians when she is in the car with Toshio (Teremtés performed by Sebestyén Márta & Muzsikás. Adaptation from a Hungarian traditional folk song). The music of Márta Sebestyén with Muzsikás is used in several scenes as well. Bulgarian folklore music is also used in the soundtrack. When Taeko is on the field, one can first hear Dilmano, Dilbero, followed by Malka Moma Dvori Mete. These are typical Bulgarian folklore songs and the lyrics of both are connected to topics mentioned in the film – the life of farmers and marriage.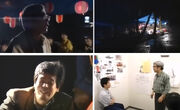 True to form, Takahata's formalistic mania caused delays in the film's production. The film was set to be completed by the end of 1990, however its release was postponed until the summer of 1991. Miyazaki found himself having to explain the six-month delay to the film's financier backers instead of Takahata.
"I don't like to see drawings from someone else's film. Takahata works two or three times slower than me. I would like to have this time to finish my films. It exhausts everyone."
"But he and I are very close. Sometimes I get mad at him. This is the one that annoys me the most. My wife, next door, it's nothing. When I'm pissed off, I curse it all night! It happens to make me like that. But at the same time, I trust him when it comes to the content of the films or his way of thinking. I can speak with him with confidence."
Release
| Country | Release Date | Format | Publisher |
| --- | --- | --- | --- |
| Japan | July 20, 1991 | Theater | Toho |
| Japan | January 1, 1997 | VHS | Tokuma Shoten |
| USA | 1999 | VHS | Disney |
| USA | 2003 | DVD | Disney |
| USA | 2006 | DVD Re-Issue | Optimum |
| Sweden | September 4, 2015 | Theater | N/A |
| USA | January 1, 2016 | DVD | GKIDS |
Released in 1991, Omoide Poro Poro set new box office records (2.2 million tickets sold in less than three months) for Studio Ghibli. Similar to Kiki's Delivery Service, the film remained number one at the box office for the year. The financial results exceeded the expectations of Isao Takahata and Hayao Miyazaki, and reinforced the policy of Ghibli's general manager at the time Toru Hara, who saw the studio representing three Gs, that is to say: Big expenses, Big risks and Big fallouts.
English Dub
Although Disney's purchase of distribution rights to the entire Ghibli catalog in the 1990s included Only Yesterday, the film was never dubbed or even distributed in the United States. This was likely due to concerns over its marketability to children, with Ghibli's Geoffrey Wexler speculating that the extended sequence regarding periods may have been deemed inappropriate by North American standards. The film was only shown once in the United States, in a 2006 airing of a subtitled version on Turner Classic Movies. When the dubbing rights reverted to Ghibli, Wexler campaigned for an official American release.
On January 1, 2016, an English version was released by GKIDS at the IFC Center in New York, and expanded to other theaters nationwide starting February 26.
Reception
Only Yesterday was the highest grossing Japanese film on the domestic market in 1991, earning ¥1.87 billion ($18,846,700) in distribution income. The 2016 English-language release later earned $525,958, including $453,243 in the United States.
The film received critical acclaim among critics and audiences. On Rotten Tomatoes, the film has a rating of 100%, based on 50 reviews, with an average rating of 8.4/10. The critical consensus states "Only Yesterday's long-delayed U.S. debut fills a frustrating gap for American Ghibli fans while offering further proof of the studio's incredibly consistent commitment to quality."It has a score 90 out of 100 on Metacritic, based on 19 reviews, indicating "universal acclaim".
Nicolas Rapold, of The New York Times, gave the film a positive review, saying, "Mr. Takahata's psychologically acute film, which was based on a manga, seems to grow in impact, too, as the adult Taeko comes to a richer understanding of what she wants and how she wants to live." Kaikyaku, of The Nihon Review, stated: "This film knows what it strives to be and executes it well. Though it won't be for everyone, it represents the quality and artistry that Studio Ghibli is known for."
Trivia
The story takes place within the Takase district of Yamagata City, Yamagata Prefecture. The Takase Station (and also Yamadera Station) of the JNR (currently JR East) Senzan Line is featured prominently; though it has since been rebuilt, the scenery remains mostly unchanged. During the course of the film, characters visit prominent locales, including the resort destination of Mount Zaō.
Taeko Okajima, the main character of this film, is played by Miki Imai, who interestingly enough was well known in 1982, when much of this film occurs. She debuted acting in television dramas, but became famous for acting in makeup commercials and such, and later would become a popular actress and singer, whose career is still doing well today.
In the film, Taeko's mother invites her to watch Tsuru no Ongaeshi, a 1966 theatrical puppet-animation film. It is not mentioned in the original Omoide Poro Poro manga, so it is probably mentioned here as a tribute by Director Isao Takahata. The 17-minute short film featured the legendary Osamu Tezuka's first theatrical release of Jungle Taitei (Jungle Emperor/Kimba the White Lion) and two other shorts. The film itself is of a classic Japanese folk tale about a kind peasant who frees a crane from a trap, and is repaid in a supernatural fashion for his kindness--but later his curiosity gets the better of him, and by breaking a promise, his reward turns forfeit.
Taeko's cassette tapes include Billy Joel: Flowers in the Attic, Dan Siegel, Southern All Stars (Tiny Bubbles), Yuming II (

Yumi Matsutouya

, who sang the theme music for Kiki's Delivery Service), Hall & Oates, and the Pointer Sisters.
When Nanako advises Taeko to take a proper vacation at a rental cottage, she wishes her to have a "delicious life". "Delicious life" (Oishii seikatsu) is a catch-line from a commercial for the department store "Seibu". It was written by the famous copywriter

Shigesato Itoi

, who wrote the copy for ads for many commercials including for all of Miyazaki's films as well as this film, and was the voice of the father in My Neighbor Totoro. This commercial's copy was inspired by a Fellini film, and the commercial starred Woody Allen. This commercial popularized the use of "oishii" (delicious) as a slang word used to describe things besides food.
When Taeko recalls her disastrous bathhouse trip with her sisters, the music in the background is "Raideen" by Yellow Magic Orchestra from their hit Technopolice single. With their innovative uses of synthesizer music integrated with computer programs, they were one of the key groups in establishing the "Technopop" genre of music. Keyboardist Ryuichi Sakamoto went on to fame for winning an Academy Award for creating the soundtrack of The Last Emperor. More significantly to anime fans, he created the soundtrack of Gainax's first film and highest budget anime film ever, Wings of Honneamise, released in 1987.
Tsuneko and Taeko encounter a skirt-peeper in 1966: this practice was apparently a fad at the time. Lifting skirts and looking up them when going past girls was a new fad among young boys in the mid-sixties - in response, many girls wore their gym shorts under their skirts. This detail was also noted in the manga.
While Taeko and Toshio converse in his car, they pass by a large sign that states "Benibana no Yamagataji" ("The Yamagata Road of Benibana"). This is part of Yamagata's self-promotion. While benibana was popular in the Edo period, it was overshadowed by imported foreign chemical dyes in the Meiji period. The recent trend towards all-natural products, however, has brought about a revival of the use of benibana, and Yamagata has cashed in on this with several new benibana products including benibana noodles, benibana tea, benibana candy, and even benibana paper.
Toshio's Subaru R-2 subcompact, is described as an economical "road and leisure" car first manufactured by Fujijuko in 1970 in the shadow of the more famous R-360. It sports a 2-cylinder engine, and reportedly is able to do 115 kph at top speed. In researching the car, the movie staff took a full binder of reference photos and 8mm videos.
Taeko's father is rarely with the family after work. This is typical behavior for a father in a Japanese family like this. Rather than eat with the family, he first winds down with a newspaper and cup of sake, and then only when he is ready does he expect to be served. He seems to lead a life mostly separate from the family. These days, it is common for them to even miss the family dinner altogether due to being out drinking with co-workers, a mandatory ritual of the workplace.
Taeko recalls playing a village child in the play Kobutori Jii-san, a folk story common worldwide in many variations. This one is about two old men who have lumps on the sides of their faces. One man, a kind person, accidentally encounters "Oni" (man-eating devil-ogres) engaged in a dance. To save his life, he dances with them, impressing them with his grace. In return, they remove the lump and let him leave. The other man, a bad one, hears this story, and tried the same, but his disruption and vulgar dancing anger the oni, who add the first man's lump to the second one's face, doubling his problem. Versions of this story abound elsewhere, including an Irish Celtic tale of two hunchbacks and singing fairy folk.
Taeko recalls her childhood favorite puppet show Hyokkori Hyotan Jima (ひょっこりひょうたん島 , Floating Gourd Island), which was a real show that aired every weekday on NHK from 1964 to 1969.
Voice Cast
Main cast
Young Taeko's classmates
Taeko's family in Tokyo
Taeko's farm relatives in Yamagata
Other Characters
Additional Voices
Uncredited
Credits
Credit
Staff
Director, Screenplay
Isao Takahata
Animation Director
Katsuya Kondō, Yoshifumi Kondō,

Yoshiharu Satō

Art Director
Kazuo Oga
Visual Design
Yoshiyuki Momose
Key Animation
Atsuko Otani, Hiroomi Yamakawa, Hiroshi Shimizu, Junko Ikeda, Kenichi Yoshida, Kuniyuki Ishii, Mahiro Maeda, Makiko Futaki, Masaaki Endou, Masahiro Neriki, Masako Shinohara, Megumi Kagawa, Mitsuo Iso, Natsuyo Yasuda, Noriko Moritomo, Osamu Tanabe, Sachiko Sugino, Shinji Morohashi, Shinji Otsuka, Shinya Ohira, Toshiyuki Inoue, Yukiyoshi Hane
In-Between Animation
Akiko Teshima, Atsuko Matsushita, Eimi Koori, Emiko Iwayanagi, Eriko Shibata, Etsuko Ishiwari, Hanako Yanagikawa, Hideki Ito, Hiroko Tezuka, Hiromi Namioka, Hiroyuki Inoue, Hisako Matsuda, Katsutoshi Nakamura, Kazuko Shibata, Kazumi Okabe, Kazutaka Ozaki, Ken'ichi Rokusha, Kenichi Konishi, Kenichi Yamada, Kenichi Yoshida, Kiyoko Makita, Koichi Asano, Kouji Shinozaki, Kumi Horii, Kumiko Ohta, Masahiko Adachi, Masanori Komatsu, Masashi Ando, Masaya Saito, Masayuki Shibuya, Mayumi Ohmura, Nobuko Sato, Reiko Mano, Rie Aratome, Rie Fujimura, Ritsuko Shiina, Sadami Maemura, Seiko Higashi, Shinsaku Sasaki, Sumie Nishido, Takao Maki, Takehiro Noda, Tsuyoshi Konakawa, Yoko Kida, Yōko Nagashima, Yukari Yamaura, Yukiko Okada, Yumiko Kitajima
Ink & Paint
Chiyomi Morisawa (Studio Killy), Eiko Fukuma (IM Studio), Fumiko Ito (Trace Studio M), Fumiko Watanabe (Trace Studio M), Hiromi Takatani (Kyoto Animation), Hisayo Fujiwara (IM Studio), Ikuyo Kimura, Izumi Maeno (Trace Studio M), Junko Mizuno (Studio Killy), Junko Yoshikawa, Katsuo Negishi (IM Studio), Keiko Goto (Studio Killy), Keiko Suzuki (Domusha), Mariko Konuma (IM Studio), Mayumi Watanabe (Studio Killy), Michiko Ota (Studio Killy), Michiko Shibata (IM Studio), Michiyo Iseda (IM Studio), Mihoko Eda (Kyoto Animation), Mika Tanifuji (Trace Studio M), Minako Oshiro, Naomi Ikegaya (IM Studio), Naomi Takahashi (Studio Killy), Nobuko Watanabe (Studio Killy), Noriko Ogawa, Reiko Godai (Trace Studio M), Takako Sakai (Trace Studio M), Teruyo Tateyama, Yasuko Furuhashi (Domusha), Yasuko Suenaga (IM Studio), Yoko Tanida (IM Studio), Yukari Tajima (IM Studio), Yuki Hisada, Yukiko Itou (Trace Studio M), Yuriko Katayama
Background Artists
Akira Yamakawa, Katsufumi Hariu (Studio Fuga), Kazuo Nagai (Studio Fuga), Kiyomi Oota, Kyōko Naganawa, Naoko Sakimoto, Naoya Tanaka, Nizo Yamamoto, Satoshi Kuroda (Studio Fuga), Youji Takeshige
Animation Check
Hitomi Tateno, Rie Nakagome, Yasuko Tachiki
Photography
Hiroshi Itō, Hiroshi Noguchi, Katsuji Suzuki, Katsunori Maehara, Kazumi Iketani, Mitsuko Nanba, Motoaki Ikegami,

Naohisa Haijima, Noriko Suzuki, Shinji Ikegami, Tetsuo Oofuji, Tetsuya Anjo, Yoichi Kuroda

Planning
Hideo Ogata, Shigeharu Shiba, Tatsumi Yamashita
Producer
Toru Hara, Toshio Suzuki
Insert Song Performers
Arihiro Fujimura ("Kokekokko no Uta"), Chieko Baisho ("Sayonara wa Dance no Ato ni"), Harumi Miyako ("Suki ni Natta Hito"), Hitoshi Ueki ("Damatte Ore ni Tsuite Koi"), Kazuo Kumakura ("Poor Boy"), Sachiko Nishida ("Tokyo Blues"), The Wild Ones ("Omoide no Nagisa"), YMO ("Raideen"), Yoko Maekawa ("Hyokkori Hyoutan-jima"),
Music
Joe Hisaishi, Yumi Kimura, Shuntaro Tanigawa
Sound Effects
Akihiro Ishigami, Katsumi Ishida, Kazuhiko Ikai, Michihiro Ito, Motoi Watanabe, Takahisa Ishino, Toshiaki Abe
Editor
Takeshi Seyama
Titles
Kaoru Mano, Akira Michikawa
See Also
References
External Links
Official Sites
Information