World Journey of My Memory or Journey of the Heart (世界わが心の旅 , Sekai Waga Kokoro no Tabi) was a travel program that was broadcast on NHK BS2 Television from 1993 to 2003. The series featured celebrities from various fields visiting places that shaped who they are as individuals. More than 300 celebrities have appeared in the show's 10-year broadcast, and more than 70 countries have been visited.
The show featured Studio Ghibli cofounders Isao Takahata and Hayao Miyazaki. In the first program, Miyazaki visits France and the Sahara Desert to follow the footsteps of the famous early French aviator, poet, and author Antoine de Saint-Expéry. The second episode centers around Takahata's visit to Canada to meet the late Frédéric Back, the Oscar award-winning animation film maker of The Man Who Planted Trees.
Miyazaki's episode, Saint Exupery: A Dream for the Sky - From Southern France to Sahara (世界・わが心の旅 〜 旅人 アニメーション監督 宮崎 駿) aired on May 9, 1998, while Takahata's Dialogue with a Man Who Planted a Canadian Tree (世界・わが心の旅 〜 旅人 アニメーション映画監督 高畑 勲) aired in 1999. Both episodes were released on a single DVD on July 24, 2004, but has since gone out of print.[1]
Aside from filming this special, Hideaki Anno accompanied Miyazaki to the Sahara Desert to film another TV special featuring the two directors having a conversation regarding their recent work. The details of this meeting can be found in the Hayao Miyazaki and Hideaki Anno Animage Roman Album, published by Tokuma Shoten and released on June 1, 1998.
Overview
Miyazaki Episode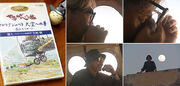 Journey of the Heart, Hayao Miyazaki, is also known as Saint Exupery Journey - From Southern France to Sahara (世界・わが心の旅 〜 旅人 アニメーション監督 宮崎 駿) opens with Hayao Miyazaki expressing great admiration for the French aviator, poet, and author Antoine de Saint-Expéry. He recounts reading his works repeatedly when he was a student, and says that while most people love The Little Prince, he was especially fond of Saint-Expéry's autobiography.
In his autobiography, Wind, Sand and Stars, Saint-Expéry recounted his time delivering the post aboard an airmail carrier, the Aéropostale. He flew treacherous mail routes across the African Sahara and the South American Andes. The central incident he wrote of detailed his 1935 plane crash in the Sahara Desert between Benghazi and Cairo, which he barely survived along with his mechanic-navigator, André Prévot.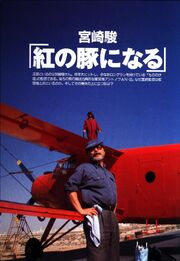 Hayao Miyazaki, who was 57-years old at the time of the program, hoped to recreate the postal route of his beloved author and aviator to immerse himself of what it was like to fly at that time. He had just released Princess Mononoke (1997) and had been searching for inspiration after announcing his early retirement in 1997. Miyazaki flew on a bright red Antonov An-2 biplane to a journey that spanned 4,000 kilometers. During the flight, he expressed mild disappointment, "The scenery that Saint-Expéry saw, whether we can really see it has changed. The building have changed. It's not just that the car has increased. It's no longer possible to fly with the same tension. So I have to give it up.. For example, in our society, it's very common... It is generally said that you should live your life in a mediocre way, after all it is not enough. I have to overdo it and make full use of my ability to live. I can't do much."
The trip from Paris to Toulouse proved grueling, but when they finally reached Cape Juby airfield in the Sahara Desert, Miyazaki was in awe. What used to be in the world in books appeared before him in reality. Miyazaki is then seen touching the buildings and feeling the ground. He described it as a trip to his inner self. After his trip to the Sahara, he tells Toshio Suzuki that his feelings towards "Princess Mononoke has finally been settled."
Following his return, Miyazaki drew a new cover for Wind, Sand and Stars, which was reprinted when the episode aired, and included a postscript by Miyazaki. The cover was also used for this episode and its home release.
Takahata Episode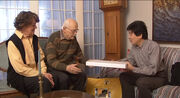 Journey of the Heart, Isao Takahata, also known as Dialogue with a Man Who Planted a Canadian Tree (世界・わが心の旅 〜 旅人 アニメーション映画監督 高畑 勲), features Isao Takahata traveling to Canada to meet Frédéric Back, the animation film maker of The Man Who Planted Trees. Back had also been known for planting trees for decades, and took great interest in the culture of indigenous Canadians.
The first leg of Takahata's trip takes him to Prince Edward Island, Canada, a place he hasn't been to in twenty-one years. He first visited there for a research trip while creating the series Anne of Green Gables. Takahata visits the "bubbling spring" and recalls how they used that location for Anne.
Following his recollections of Anne, he proceeds to Montréal to meet Frédéric Back. Back's work features theme of coexistence between nature and humans, something that Takahata shares in his own films. "The animation is wonderful, the way he expresses movement. He's one of the animators whom I respect the most." At Back's home, Takahata offers him a gift, an Ainu (indigenous people of Japan) robe and headband. Back had previously visited Takahata in Japan a few years prior, and the two have kept in touch ever since. The film then goes into Back's background as an immigrant who moved to Canada. His work, notably the 1988 Oscar winning short Crac is described as having a "unique and gentle style to portray man and nature". Takahata admired Back as he worked on his work as the sole animator. Following that, Takahata and Back have long discussions regarding the fading agricultural lifestyle in Canada. "It's very fulfilling to live in contact with nature. But unfortunately, there are fewer farmers these days. But if we preserve traditional agriculture, we can regain that beautiful environment.", Back muses.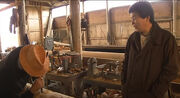 Upon Back's recommendation, Takahata's travels southwest of Montréal to visit Upper Canada Village, a recreation of a 19th-century village. A guide shows Takahata life what life in rural Canada was once like. The village has 130 inhabitants recreating daily life in that era, which includes families baking, attending church and working the stables. Takahata immerses himself with the sights and local cuisine. The animal powered contraptions fascinates Takahata as he sees how it is possible for man to live in harmony with nature. Canada is described as a young nation, which is why heritage was cherished. In the dry goods store, Takahata is amused at seeing small chalkboards used for note keeping and recalls how they were also used in Anne of Green Gables (Although in Anne, she uses it to hit her friend Gilbert on the head). For him, the entire experience was far more interesting than any theme park. "It was even more enjoyable than I expected. We need something like this in Japan. It would be valuable for adults as well as children. People can really touch and understand the ways of life of their forebears in concrete ways," he exclaims. Takahata then reiterates how Back's work touches on these themes and emphasizes their importance.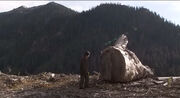 Takahata's then travels to Queen Charlotte Islands, an area five times larger than Tokyo. A fourth of their population is composed of indigenous Haida. Back was fascinated by the Haida, that after seeing Pom Poko, he sent Takahata a letter saying the Haida had beliefs about the coexistence of humans and animals. Pom Poko compelled him to make an animated film of the Haida. To pay tribute to Back, Takahata visited the island to see their way of life. He tags along on a fishing expedition. He then meets a young tribal leader named Christian whose family makes souvenirs. He is invited for lunch and partakes in smoked salmon, a traditional Haida food. Takahata then observes a workshop that produces totem poles and boats and is amazed at their size and scale. Following that, he vists a Haida language class for children. The Haida language was in danger of extinction, but a movement helped spur interest in reviving it. "Preserving one's language is most important in preserving folklore." Takahata observes. That evening, Takahata is treated to a traditional Haida dance. The ritual is about thanking the gods for their blessings. At one point, Takahata himself puts on a robe and begins dancing with the people.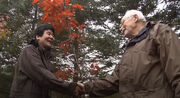 The final leg of the trip has Takahata taking flight to observe the Canadian forests below. He observes the devastating effects of logging, which has only accelerated as exports expand. The trip disturbs him, as he sees the vast denuded areas. It yet again recalls the plot of his film, Pom Poko, which is about animals defending their land against unchecked human development. Takahata returns to Back's home, and they begin chatting about his work and life. Towards the finale, Takahata and Back take a walk in the woods that Back had help plant. They stop by a plot and begin planting a new tree. "I'm so happy we are able to plant a tree together." Takahata says. Back responds, "Isao, this is your tree."
Trivia
During the time of filming, Hayao Miyazaki had left Studio Ghibli after it merged with its parent company, Tokuma Shoten, as well as suffering some creative burnout.
Frédéric Back returned to Japan in July 2011 to attend the Frédéric Back Exhibition, which had been organized by Isao Takahata and Studio Ghibli. The exhibition was held in the Museum of Contemporary Art Tokyo in Koto Ward, Tokyo, around the same time as the premiere of From Up on Poppy Hill. Back attended the event, now in a wheelchair, and gave a speech, "It is moving and honored to be able to share this exhibition with everyone while the damage from the Great East Japan Earthquake remains." It's an incredible look. We thank Director Isao Takahata of Studio Ghibli, who sits next to us, saying, "Because of your words and decisions, the realization (of the exhibition) has begun." He offered a yell to Japan, saying, "I pray that this world, where beautiful and fragile life lives, will be reborn."[2]
Miyazaki and Anno in the Sahara Desert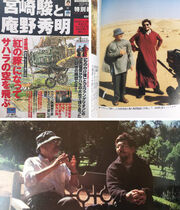 Hayao Miyazaki was accompanied by his longtime friend and collaborator, Hideaki Anno during his trip to the Sahara Desert. At the time, Anno had recently completed his work on the anime series Evangelion whose broadcast ended in March 1996, while Miyazaki had finished his work on Princess Mononoke in 1997.
A promotional film was released showing Anno disguised under a red robe and walking across the desert to meet Hayao Miyazaki. Anno reveals himself to the shock of Miyazaki. This gets a laugh out of Toshio Suzuki who was standing beside the film crew. The narrator explains, this was "the kind of fooling around that might spur Ghibli's imagination." From there, the program switches to Anno and Miyazaki having a chat in a luxury hotel, as they view the Atlas Mountains towards the east. The talk amongst themselves, reminiscing about their work and what they've achieved since then. Anno mentions how his troubles go away while his mind is at work. Their awkward conversation continues until Miyazaki remarks, "It's all luck. If you make it, they will come. You can draw in the children and make them smile. Whether they genuinely enjoy it is the real battle. When I think about how I haven't reached some people, I feel empty. I have to start from square one and study, but ah, I don't want to. I just have to try." Miyazaki then asks Anno, Don't these words sound like a man who might retract his retirement?"
The details of this entire trip was documented in the Hayao Miyazaki and Hideaki Anno Roman Album Animage MOOK Special published by Tokuma Shoten on June 1, 1998.[3]
References
External Links
Information
Reviews
Online Shopping