Sherlock Hound (名探偵ホームズ , Meitantei Hōmuzu, lit. Famous Detective Holmes) is a 26 episode Italian-Japanese animated television series produced by RAI and Tokyo Movie Shinsha, airing from November 6, 1984 to May 20, 1985.
It is based on Arthur Conan Doyle's Sherlock Holmes series where almost all the characters are depicted as anthropomorphic dogs. The show featured regular appearances of Jules Verne-steampunk style technology, adding a 19th-century science-fiction atmosphere to the series.
Hayao Miyazaki directed episodes 3-5 and 9-10, while simultaneously working on the manga and subsequent film adaptation of Nausicaä of the Valley of the Wind in 1984. These episodes were written by screenwriter Sunao Katabuchi, director of films such as In This Corner of the World (2017). Future Studio Ghibli collaborators Seiji Okuda, Yoshifumi Kondō, Nizou Yamamoto, Kazuhide Tomonaga, Atsuko Tanaka were also involved in the production.
Two compilation movies, The Adventure of the Blue Carbuncle and Treasure Under the Sea containing re-recorded music and dialogue were released simultaneously as Nausicaä of the Valley of the Wind on March 11, 1984. It was also screened with Castle in the Sky in 1986. The series was heavily promoted by future Ghibli parent company Tokuma Shoten's Animage magazine, where Toshio Suzuki was Editor-in-Chief at the time.
Overview
Despite borrowing characters from the original novel by Arthur Conan Doyle, the story for Sherlock Hound is almost entirely original. The cast has been replaced with anthropomorphic dogs, and the dynamic between characters is simplified for children. Professor Moriarty and his subordinates Todd and Smiley are the central villains, whose schemes are thwarted by Holmes and his assistant Dr. Watson. The detective elements are light and instead replaced with the Watson's strange inventions. The added police and chase sequences keep the tone light and fun. Most of the plot in each episode revolves are cases of theft and not murders (although there are depictions of attempted murder in The Little Martha's Great Case and The Adventure of the Speckled Strings).
Premise
In the foggy city of London, detective Sherlock Hound resides in Baker Street. Together with his assistant Doctor Watson and the ever reliable Mrs. Hudson, they thwart the evil genius Professor Moriarty and his elaborate schemes. Meanwhile, Scotland Yard's Inspector Lestrade is also on the case, although always a step behind.
Characters
Sherlock Hound (ホームズ, Hōmuzu)


Taichirō Hirokawa (Japanese), Larry Moss (English), Elio Pandolfi (Italian)

Just like his original incarnation, he has a genius intellect and is extremely knowledgeable in multiple fields. He keeps a cool and logical head despite the situation. Unlike his original incarnation, however, his only drug habit is smoking a tobacco pipe. He keeps his apartment a mess and is regularly conducting chemical experiments that lead to clouds of noxious fumes. He also seems to have feelings for Mrs. Hudson, as does the rest of the male cast.
He drives a Benz Velo. He is a Pembroke Welsh Corgi.
Doctor Watson (ワトソン, Watoson)


Kōsei Tomita (Japanese), Lewis Arquette (English), Riccardo Garrone (Italian)

Hound's loyal companion, he is a trained doctor who returned to England shortly before meeting Hound. He tries his best to help Hound as he can, but has difficulty at times keeping up with Hound, both mentally and physically, being a bit overweight.
Watson is a Scottish terrier.
Mrs. Hudson (ハドソン夫人, Hadoson-fujin)


Yōko Asagami (Japanese), Patricia Parris (English), Cristina Grado (Italian)

Hound and Watson's landlady. In most adaptations, Holmes's long-suffering landlady is shown as middle-aged or older, but in this version she is a comely widow in her 20s and a love interest of many, including Holmes, Watson, and Moriarty (mostly Holmes), and given the first name Marie (マリー, Marī).
Her late husband Jim was a pilot and Hound finds her contacts in the world of aviation useful; many of the local aviators are also former buddies of Mrs. Hudson's late husband and/or have strong romantic feelings for the caring gentle-natured Mrs. Hudson herself, and so they are always eager to assist in any way she asks. Mrs. Hudson displays a serenely-dignified and level-headed personality comparable to Hound's; she can also be quite quick and resourceful herself when need be, plus she appears to be both an experienced high-speed driver and a crack shot with a revolver.
Miyazaki actually wanted to present her as the real brains of Baker Street, running rings around both Hound and his enemy Moriarty, but he was overruled. Like many people in Hound's world, Mrs. Hudson is a golden retriever.
Professor Moriarty (モリアーティ教授, Moriāti-kyōju)


Chikao Ōtsuka (Japanese), Hamilton Camp (English), Mauro Bosco (Italian)

Hound's archenemy, Unlike the rarely appearing mafia donnish Moriarty in the books, this Moriarty is portrayed as working personally on his plans without any sort of support network and frequently encountering Hound and his allies, being the main antagonist in the majority of the episodes. Still an intellectual, he is a master inventor, often the one responsible for the steam punk technology seen in the show, including his personal "steam car", a tractor and tank combination rather than a car.
His plans can occasionally be very complex or outlandish that rely on one questioning or linking together unusual acts, which is often how Hound figures out what Moriarty is up to. Sometimes he acts as a mercenary to other criminals who are after what he normally wouldn't steal.
In this version, Moriarty resembles a gray wolf.
Behind the Scenes
Planning
The series was a joint project between Japan's Tokyo Movie Shinsha and the Italian public broadcasting corporation RAI and its production arm REVER. It came at a time when Tokyo Movie Shinsha was having difficulty producing a TV series for the domestic Japanese market, and were trying to find ways create content for the overseas market. They tried to recoup production cost by selling the rights to Holmes to the three major networks in the United States. Telecom Animation became in charge of animation production.
Following the release of The Castle of Cagliostro and its poor box office performance, Hayao Miyazaki and Yasuo Ōtsuka went back to work on this series (Ōtsuka remains uncredited despite his involvement). Miyazaki himself was said to have been suffering insomnia while working on the mange for Nausicaa of the Valley of the Wind, which was serialized in Animage magazine.
Production
Future Studio Ghibli regulars were also involved in the production, including character designer Yoshifumi Kondō and art director Nizou Yamamoto. Yamamoto, who painted beautiful background art, was so committed that he changed the color of the bricks one by one in day and night transition scenes.
Another person who was deeply involved in the work was screenwriter Sunao Katabuchi. Katabuchi, aside from working on three episodes where Miyazaki was involved, he was also assigned as assistant director. Miyazaki himself was invited by his teacher Hiroshi Ikeda (a veteran animator at Toei) while attending the film department of Nihon University College of Art. There were rumors among the writers of anime magazines at that time that "Sunao Katabuchi" is probably the pen name of Hayao Miyazaki."[1]
Future Studio Ghibli regulars include animation director Kazuhide Tomonaga, and Atsuko Tanaka (who would later work on Your Name (2016). Moriarty's lackey Smiley's appearance is actually based on Kondō, while Todd is based on Tomonaga. Tomonaga was asked about this in an interview, "It seems that story is spreading (laughs). Mr. Miyazaki often incorporated the people around him into his character. For example, in The Castle of Cagliostro, the waitress who attends to Lupin III and his friends as they eat spaghetti, that person also has a model. When I was in Holmes, I was a little more fat, so I think it was interesting for Miyazaki-san to compare the characters."
Tomonaga, the animation director of the second half of "Sherlock Hound (who previously worked on Anne of Green Gables, the Lupin III series and later Castle in the Sky, The Cat Returns) citing how Holmes was a good blend of manga-style action and realism. That despite characters doing over-the-top cartoony actions, the animation grounds it in its own realism. "There is a feeling that the character is moving with his feet on the ground. I was conscious of that part at that time as well."
He also recalls the atmosphere at the time, "The production originally began in Italy (at REVER), however, the designs they sent over were a flatly designed, similar to "Pink Panther". Mr. Miyazaki didn't like it. I wanted to draw characters in a realistic space rather than a flat surface with a cartoon movie-like pattern." Referring to the Italian co-producers RAI and REVER, "We had a lot of trouble with the other party (laughs)."
Thanking Miyazaki's early image boards conceptualizing the character and the scenario, Tomonaga remarks, "So I started working by borrowing the design and drawing an image board while watching Miyazaki-san and Kondo (Yoshifumi) discuss with each other about creating the character."
"I couldn't get a picture of London at that time, so I went to the British Council (a public international exchange agency in the UK) and copied various materials. While looking at such materials for inspiration, I imagined that it would be interesting to have such a scene and drew various things. I drew it with Mr. Miyazaki, Mr. Kondo, Mr. Tomizawa (Nobuo), Mr. Tannai (Tsuji), and myself. In the original, there are scenes where Holmes uses drugs. The animation was a little more serious at first, and there was also a direction to incorporate the light and shadow of England at that time, including the difference between rich and poor. I was preparing while thinking that it would be nice to have such a part. In the end, it felt more brilliant."
Tomonaga also praised Kondō's character designs, saying he was very good at drawing gag-like poses, and he had "a wide range of drawing styles... On the other hand, he was also interested in children's literature and social issues. Mr. Kondo's art did not have many lines, but it had a very realistic feeling. Even if you look at the character designs, you can feel the weight in their proportions. There is a presence there. It's not just about the skill of painting. There is something there. I don't know what that is, but I don't think it can be done by anyone else."
Miyazaki tried have Mrs. Hudson, the landlord of Sherlock's boarding house, be human, and that Holmes could not be understood while in the presence of human characters, but the idea was rejected by the Italian producers, thinking it seemed unnatural.[2]
He recalls in an interview, "I was doing Holmes in my late 20s, I think it was my most fulfilling time as an animator. While working with Mr. Otsuka, Mr. Miyazaki, the people of A pro, and various other people, I was able to realize the fun of animation again. Because of that, I'm still working as an animator."[3]
Copyright issues
Six episodes were directed by Miyazaki in 1981 until problems with Sir Arthur Conan Doyle's estate led to a suspension in production. According to Koji Takeuchi, producer and president of Telecom Animation Film (TMS Entertainment), they had properly acquired the copyright. Unfortunately, the Italian side of the production, which was entrusted with negotiating the Doyle estate, worked too slowly, prompting the Japanese side to rush into production. Production was further delayed as Telecom decided to produce the animation movie Nemo. During the suspension, Tokuma Shoten became involved in helping restart its production.
Sunao Katabuchi, then a writer for the episodes directed by Miyazaki, clarified that the reason for the suspension was due to the funds from the Italian sponsors had been cut off. Due to the ongoing copyright issue at the time, the series credits features the disclaimer, "This work is a different work from the Sherlock Holmes series." Arthur Conan Doyle's name subsequently appears in the credits after the dispute was settled.
With the decision to release certain episodes on a movie theater, an advertising agency started to acquire TV sponsors around February 1984, and production resumed. It has also been decided that TV Asahi will broadcast.
By the time the issues were resolved Miyazaki had turned to other projects, and thus the remaining episodes were directed by Kyosuke Mikuriya. Tokyo Movie Shinsha had appointed Mikuriya, had previously directed Lupin the Third Part II. Studio Gallop, which was founded in 1978 by former Mushi Pro members, also played a central role in the production and were subcontracted to produce two to three episodes a month.
The series took advantage of its setting of England in the 1900s by including the appearance of a Natsume Sōseki (a Japanese novelist and best known for his novels Kokoro, Botchan, I Am a Cat, as well as being a scholar of British literature) who was studying in England and the appearance of a mail plane. The later compilation movies were to include modest fan service from the original novel, Hound of the Baskervilles, but this was rejected by the RAI who wanted the series to remain targeted towards children. This resulted with the eerie atmosphere being toned down.
The show was finally aired in 1984. The same year a film version edited together of two of the episodes directed by Miyazaki (The Adventure of the Blue Carbuncle and Treasure Under the Sea) was released alongside Nausicaä of the Valley of the Wind in Japanese theaters, entitled Meitantei Hōmuzu Gekijouban.
RAI and TMS Entertainment would later work together again on Montana Jones, a comedy adventure anime television series which was broadcast in Japan on NHK from April 2, 1994 through April 8, 1995. Montana Jones shared a similar atmosphere to Sherlock Hound.
Music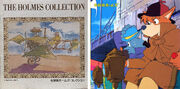 Two pieces of theme music are used for the Japanese version: The opening theme is Sora Kara Koboreta Story (Story Spilled From the Sky) and the ending theme is "Thames Gawa no Dance" (lit. "Dance of the Thames River"), both performed by the Japanese duo, Da Capo. The series' international versions had a single piece of theme music for the opening and ending credits. The frequent soloists are Joe Farrell on soprano, tenor and alto saxophones and flute (in his final recording) and Milt Jackson on vibes. This English theme does not exist on the UK DVD's from Manga, instead instrumentals of both the Japanese opening and ending themes were used.
Release
In 2002, Pioneer Entertainment released the series on DVD (Region 1, NTSC format). 6 volumes or Case Files were released. Each disk was double sided with the Japanese version on one side and the English dubbed version on the other side.
On 1 February 2010, Manga Entertainment released the complete series on DVD (Region 2, PAL format) in the United Kingdom as a HMV exclusive set. It has since become available in other outlets. It only contains the English dubbed version. This release also lacks the episode title cards, though the episodes are listed on the DVD case and menus.
Discotek Media released the series in a complete, unabridged DVD box set with English and Japanese versions on September 30, 2014.
On 21 November 2014, Bandai Visual released the restored complete series on Blu-ray (Region A, Japanese language only) in Japan as a 4-disc set. The restored edition features more vivid color reproduction. Its retail price is 25,000 yen (excluding tax).
Voice Cast
Additional Voices
Original: Kazuyo Aoki, Mika Doi, Yuzuru Fujimoto, Nobuyuki Furuta, Daisuke Gouri, Kyōko Hamura, Sho Hayami, Masashi Hirose, Ryo Horikawa, Atsushi II, Masao Imanishi, Takkou Ishimori, Akira Kamiya, Tomie Kataoka, Masayuki Katō, Osamu Katō, Takurō Kitagawa, Kōichi Kitamura, Naoko Matsui, Yoshiko Matsuo, Eken Mine, Akemi Mukaidono, Asami Mukaidono, Yasuo Muramatsu, Ichirō Nagai, Keiichi Nanba, Rokurō Naya, Hiroko Nishi, Ikuo Nishikawa, Masako Nozawa, Kenichi Ogata, Takao Ohyama, Hitomi Oikawa, Masayuki Omoro, Run Sasaki, Bin Shimada, Yutaka Shimaka, Kazuyuki Sogabe, Takashi Taguchi, Miki Takahashi, Gara Takashima, Junpei Takiguchi, Kumiko Takizawa, Sakiko Tamagawa, Mayumi Tanaka, Mahito Tsujimura, Masaaki Tsukada, Noriko Tsukase, Toshiya Ueda, Eiko Yamada, Kazuko Yanaga, Mari Yokoo, Keiko Yokozawa
English: Lewis Arquette, Hamilton Camp, Patricia Parris
Credits
| Credit | Staff |
| --- | --- |
| Chief Director | Hayao Miyazaki (eps 3-5, 9-11), Kyōsuke Mikuriya (20 episodes |
| Series Compsition | Keishi Yamazaki, Mayumi Shimazaki |
| Writer | Gi Pagot, Hayao Miyazaki (ep 3), Hayao Yamadori (eps 18, 26), Marco Pagot, Sunao Katabuchi (eps 4-5, 9-10), Toshirou Ishidou (ep 19), Toshiya Ito (ep 11), Tsunehisa Itō (4 episodes), Yoshihisa Araki (13 episodes, |
| Storyboard | Hayao Miyazaki (eps 3-5, 9-10), Keiji Hayakawa (6 episodes), Kunihiko Yuyama (ep 17), Nobuo Tomizawa (ep 11), Seiji Okuda (7 episodes), Shingo Araki (ep 6), Sumio Tokoro (ep 12), Takaya Mizutani (eps 20-21), Tameo Kohanawa (eps 14, 24) |
| Episode Director | Hayao Miyazaki (eps 3-5, 9-10), Keiji Hayakawa (10 episodes), Nobuo Tomizawa (ep 11), Seiji Okuda (4 episodes), Sumio Tokoro (eps 6, 12), Takashi Tanazawa (ep 24), Takaya Mizutani (eps 20-22) |
| Character Design | Gi Pagot, Marco Pagot, Tsukasa Tannai (eps 14-26), Yoshifumi Kondō (eps 1-13) |
| Animation Director | Heihachirō Tanaka (eps 6, 12, 16), Kazuhide Tomonaga (ep 10), Kazuyuki Kobayashi (ep 24), Kitaro Kousaka (ep 20), Shoji Furuta (eps 13, 19), Shojuro Yamauchi (6 episodes), Takeo Kitahara (5 episodes), Tamotsu Tanaka (4 episodes), Tatsuo Yanagino (ep 6), Tsukasa Tannai (eps 1, 9), Yoshifumi Kondō (eps 3-5, 11), Yoshinobu Michihata (ep 21) |
| Key Animation | Akira Kasahara (ep 18), Atsuko Tanaka (eps 3, 10-11), Chie Uratani (eps 4, 9, 21), Emiko Kataoka (ep 24), Fusako Oume (ep 6), Hatsuki Tsuji (6 episodes), Heihachirō Tanaka (eps 12, 16, 22), Hideaki Matsuoka (4 episodes), Hidekazu Ohara (ep 24), Hiroshi Shimizu (eps 20, 22), Hitoshi Ueda (ep 21), Jirō Tanaka (4 episodes), Junko Ikeda (ep 20), Junko Tsutsumi (ep 9), Kazuhide Tomonaga (eps 3, 5, 9, 11), Kazuko Shibata (ep 18), Kazuyuki Kobayashi (ep 24), Keiko Tomizawa (ep 21), Koichi Maruyama (eps 3, 10-11), Kozo Masanobu (ep 18), Kyoko Sugiyama (ep 18), Makiko Futaki (eps 5, 10-11), Mariko Takano (eps 6, 12, 16), Masaaki Endou (eps 5, 10), Masahiro Yoshida (ep 24), Masako Shinohara (eps 3-4, 9-11), Masanori Ono (ep 4), Naoki Oohira (eps 13, 19), Nobuo Tomizawa (ep 3), Norihiro Matsubara (eps 14, 17), Satoshi Ichishimo (eps 1, 17), Sayuri Matsumoto (5 episodes), Shinsuke Kasahara (ep 2), Shoji Furuta (eps 6, 13, 19), Shojuro Yamauchi (ep 5), Takahiro Iida (eps 13, 19), Takashi Watanabe (ep 24), Tetsuro Aoki (eps 13, 19), Tetsuya Yamamoto (ep 8), Tomomi Mizuta (ep 24), Toru Sato (ep 8), Toshi Noma (ep 15), Tsukasa Abe (ep 8), Tsukasa Tannai (eps 3-4, 7), Yasuhiro Seo (eps 20, 22), Yoko Konishi (6 episodes), Yoko Sakurai (5 episodes), Yoko Tsukada (ep 9), Yoshiaki Matsuda (ep 25), Yoshihiro Owada (6 episodes), Yoshinobu Michihata (eps 4-5, 9), Yuzo Sato (eps 1, 14) |
| Paint | Ayako Kobayashi (eps 6, 13, 20), Chiharu Mizuma (ep 24), Chiyoshi Tanaka (11 episodes), Eiko Fukuma (eps 10, 19), Eiko Horikiri (4 episodes), Etsuko Yanagihara (eps 6, 13, 20), Fukuo Suzuki (ep 24), Hatsumi Kondo (eps 3, 5, 9, 11), Hiromi Nagamine (ep 24), Junko Koizumi (11 episodes), Kayoko Gotsu (4 episodes), Kazue Hiranuma (4 episodes), Kiyomi Yahiro (eps 3, 9), Kumi Udagawa (eps 6, 13, 20), Kunitoshi Okajima (eps 5, 11), Makiko Yamauchi (ep 24), Mari Miyashita (eps 3, 9), Masaki Miura (11 episodes), Miwako Shibata (eps 6, 13, 20), Motoko Uchida (4 episodes), Naoko Hashimoto (eps 3, 5, 9, 11), Nobuko Mizuta (ep 24), Norichika Iwakiri (eps 5, 11), Rieko Oki (eps 10, 19), Sayuri Sugawara (eps 3, 9), Shinichi Toyonaga (eps 5, 11), Shinichi Yoshikawa (eps 5, 11), Taeko Oumi (ep 24), Takako Matsuzaki (eps 10, 19), Tomoko Yamamoto (eps 3, 9, 21), Yoshiko Masuda (11 episodes), Yumiko Yasukouchi (eps 10, 19) |
| Background Art | Hiromi Morikawa (8 episodes), Hiroshi Washizaki (ep 17), Hiroshi Yoshikawa (8 episodes), Katsu Hisamura (eps 3, 5, 9, 11), Kazuo Okada (ep 24), Kazushige Takatoo (ep 17), Kiyomi Oota (eps 3, 5, 9, 11), Kyoko Minowa (ep 17), Mutsuo Koseki (eps 3, 5, 9, 11), Sachiko Shiromomiji (ep 25), Sadahiko Tanaka (ep 26), Satoshi Shibata (ep 26), Seiji Sugawara (ep 25), Shinji Kimura (ep 26), Shunichi Yoshida (ep 17), Tadashi Katayama (ep 26), Takeshi Waki (15 episodes), Teruhide Suzuki (ep 25), Terushige Makino (7 episodes), Tomoko Fukushima (ep 25), Toshikazu Yamaguchi (eps 14-15), Yasuyuki Chiba (15 episodes), Yoshi Kato (6 episodes), Yuko Matsuura (eps 3, 5, 9, 11) |
| Executive Producer | Shunzō Katō, Yutaka Fujioka |
| Music | Kentarō Haneda |
| Production | Telecom Animation |
References
External Links
Official
Information
Community content is available under
CC-BY-SA
unless otherwise noted.