Takeshi Inamura (稲村 武志 , Inamura Takeshi, born 1969) is a freelance Japanese animator that first joined Studio Ghibli in 1991. He's also a part-time lecturer at Tokyo Animation College.[1]
Born in Gunma Prefecture. He's worked on numerous Studio Ghibli films and even works such as Neon Genesis Evangelion, Doraemon and Haikyu!!. Following the temporary retirement of Hayao Miyazaki in 2013, he worked with Hiromasa Yonebayashi on Studio Ponoc's debut film Mary and the Witch's Flower (2017) and their follow-up anthology Modest Heroes (2018).
He won the Ōfuji Noburō Award in 2001.
Career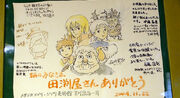 Born in Gunma Prefecture, Inamura would later graduate from Tokyo Designer Gakuin College. After working as an animator for Shin-Ei Animation, Inamura transferred to Studio Ghibli in 1991. He worked on several films directed by Hayao Miyazaki including On Your Mark, Princess Mononoke, Porco Rosso, Ponyo and The Wind Rises. He also worked with Goro Miyazaki on Tales from Earthsea and From Up on Poppy Hill
He directed Kujiratori, an exclusive animated short for the Ghibli Museum in Mitaka, and won the Ōfuji Noburō Award in 2001.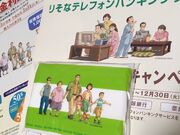 He then worked as an assistant animation director on The Cat Returns the following year. He then worked on Howl's Moving Castle as animation director, and was assisted by Akihiko Yamashita and Kitarō Kōsaka. He began work on Tales from Earthsea as a freelance animation director.[4]
He returned to Studio Ghibli as an animator to work on The Wind Rises. Following the dismantling of Studio Ghibli's production department in 2014, Inamura worked with with Hiromasa Yonebayashi on several Studio Ponoc projects.
In recent years, he participated in two consecutive Toho projects, and worked in Mamoru Hosoda's The Boy and the Beast in 2015 and Makoto Shinkai's Your Name in 2016.
Notable Animation Cuts
Princess Mononoke
Forest Spirit's passage (CUT320 / 328)
Jigo and Matagi (CUT754 ~ 758/760)
Moro and Otsu Conversation (CUT865 ・ 867 ~ 872)
Ashitaka shouting for peace on both sides (CUT1336 ~ 1351)
Appearance of the Forest Spirit (CUT1425, 1427)
Ashitaka notices something in water (CUT1430 ~ 1432) With
Ashitaka waking up under the forest Sun (CUT1651-1660) A
Ashitaka jumping across the rocks
Spirited Away
The River God rising from the water
Oshira-sama dancing after the River God has left
Works
Other Projects
1998 The New Batman Adventures
1995-96 Neon Genesis Evangelion
1996 Knockin' on Heaven's Door (1996)
References
External links