Thanking us for our work in completing the script, Mr. Miyazaki showed us a momentary sadness. "I've long thought I wanted to make an old-school adventure story, but the era we're in now, it's no longer possible." And then, "Okay, let's do it!" he raised his voice, dominating the entire studio, before throwing himself into the storyboard before him.
---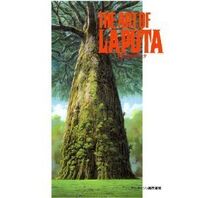 The Art of Castle in the Sky is an art and production book of Castle in the Sky with brief notes from Hayao Miyazaki. The book was originally released on 29 July 1986 in Japan, containing 100 pages.
Viz Media Publication
An English version was published by Viz Media in 2016, containing Mr. Miyazaki's original proposal for the film, an introduction and early production history by Animage editor Osamu Kameyama, and extensive interview notes from Mr. Miyazaki, as well as information on particular animation techniques used in the film. This later version also contains the full original English dub script accompanied by setting and lore information, which was expanded upon for the official dub release in 2003 but followed more closely for the 2010 DVD rerelease. It is 170 pages, excluding the script.