The Invention of Imaginary Machines of Destruction (空想の機械達の中の破壊の発明 , Kūsō no Kikaitachi no Naka no Hakai no Hatsumei) is a 2-minute and 47 seconds animated film written and directed by Hideaki Anno and produced by Studio Ghibli. It was screened in a "Film Box" during a special exhibition in the Ghibli Museum in Mitaka, Tokyo.
The film is seen as a companion piece to the animated short, Imaginary Flying Machines, and where that film was about the hopes and dreams of flight, this is about its possibility of destruction and slaughter. It was part of a special exhibition called, Laputa, The Castle in the Sky and Imaginary Science Fiction Machines, that lasted from 2002 to 2004, and can no longer be viewed.
Overview
The Invention of Imaginary Machines of Destruction is a short animated film produced for the special exhibition Laputa, The Castle in the Sky and Imaginary Science Fiction Machines at the Ghibli Museum in Mitaka, Tokyo, and could only be screened in a "Film Box" that had been installed in the exhibition hall. Since the screening of this work was discontinued at the end of the special exhibition, it can no longer be viewed by the public. The film contains only features the narration of Yoshie Taira, and is accompanied by background music (BGM) and sound effects.
The film was paired with the animated short, Imaginary Flying Machines, which presented a hopeful vision of flight. This work depicts the negative aspect of flight, which ultimately leads to slaughter and destruction. Hideaki Anno, a close friend of Hayao Miyazaki since the 1980's and is known for seminal anime titles such as, Nadia: The Secret of Blue Water and Neon Genesis Evangelion, was chosen as the screenwriter, director and storyboard artist of this work. Anno, who has a reputation for mechanical designs and modeling, beautifully depicts huge flying battleships, submarines, anti-aircraft batteries, and infantry resembling infantry-sized God Warriors (originally seen in Nausicaä of the Valley of the Wind) in its short runtime. Every weapon and vehicle seen on-screen are repeatedly destroyed, and in the end, a nuclear explosion wipes out everything. The general hopeless tone and destruction is reminiscent of Anno's previous work, Neon Genesis Evangelion.
The emotionless narration enhances the gloomy world view seen in the film, and may have been a reflection of the real world events that were happening at the time.[1]
Behind the Scenes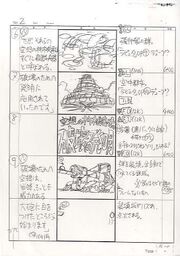 Hideaki Anno, a long-time friend and collaborator of Hayao Miyazaki, was chosen to direct this film on the condition that Miyazaki give a speech as a guest of honor at Anno's wedding reception. "I was called by Studio Ghibli and they told me to do it. At that time, I was supposed to get married (with cartoonist Moyoco Anno) and he was to give a speech as a guest of honor at the reception. He said that he would do it if I directed this film," Anno recounts.
During the ceremony, Miyazaki gave his speech saying, "I'm giving a speech like this, but Anno hasn't completed the contest yet," which drew laughter from the crowd. "He was very long... He kept on speaking," recalled Anno. Worse, Miyazaki brought up all Anno's faults as an unkempt young animator, complaining that Anno didn't bathe and slept with cockroaches.
Despite such brutal honesty, Anno was deeply moved saying, "If it weren't for such an opportunity, I wouldn't have had the opportunity to look back at my past works." He renewed his feelings, "I feel like I'm ready to make my next film again. I will continue to do my best to make interesting things."[2]
Credits
| Credit | Staff |
| --- | --- |
| Director, Screenplay | Hideaki Anno |
| Original Story | Naohisa Inoue |
| Planning | Hayao Miyazaki |
| In-between Inspector | Yasuto Murata |
| In-between Animators | Hiroaki Tomita, Yukihiro Kobayashi, Ayumi Shiraishi, Yukari Yamaura, Shinobu Saeki, Yukie Kaneko, Keisuke Shimohira, Mai Nakazato, Morihiko Nakanishi, Masami Nakanishi, Takato Sugawara, Kumiko Tanabu, Setsuya Tanabu, Kinmi Raku |
| Color Design | Osamu Mikasa |
| Color Designation Supplement | Kiyomi Yamazaki |
| Cinematographer | Kentaro Takahashi |
| Scan and Paint | Yukiko Kakita, Hiroshi Iijima, Ryuji Uchida, Yuki Yokoyama, Akiko Shimizu, Kumi Nanjo, Michiko Saito, Fumino Okura, Haruna Kiryu, Fumie Kawamata, Shihomi Miyaji |
| BG Scan / Color Adjustment | Atsushi Okui, Junji Yabuta, Wataru Takahashi, Atsushi Tamura |
| Special Effects | Toyohiko Sakakibara |
| Art Director | Yoji Takeshige |
| Animation Cooperation | Takahashi Production, T2 Studio, GAINAX, Anime TOROTORO, Nakamura Production |
| Producer | Toshio Suzuki |
| Music | Joe Hisaishi |
| Production | Studio Ghibli |
References
External Links
Community content is available under
CC-BY-SA
unless otherwise noted.