The Kingdom of Dreams and Madness (夢と狂気の王国 , Yume to Kyōki no Okoku) is a Japanese documentary film written and directed by Mami Sunada, produced by Nobuo Kawakami and released on November 16, 2013. Production was handled Dwango with Toho responsible for distribution.
The film follows the routines of those employed at Studio Ghibli, including filmmakers Hayao Miyazaki, Isao Takahata, and Toshio Suzuki as they work to release two films simultaneously, The Wind Rises and The Tale of the Princess Kaguya.
A day before the film's premiere, a special talk was held called, "The Future of Japanese Animation" at Shinjuku Wald 9. The talk featured Tomohiko Ishii of Production IG, Yuichiro Saito of Studio Chizu along with the documentary's writer Mami Sunada and producer, Nobuo Kawakami. The 20-minute live broadcast could be viewed for free.[1]
Overview
The documentary, directed and written by Mami Sunada, delves into the life of Hayao Miyazaki and the productions of the animated films The Wind Rises and The Tale of the Princess Kaguya, including various footage of said productions. The footage shown includes the choosing of Hideaki Anno as the voice actor for the character Jiro Horikoshi in The Wind Rises as well as the extensive and detailed amount of storyboarding sketched, inked, and painted by Miyazaki.
It notes Miyazaki's opinions on subjects such as the Fukushima Daiichi nuclear disaster and Mitsubishi A6M Zero, and shows his tensions with some of the other staff, including Isao Takahata, and his memories of his father. The film illustrates the importance of Miyazaki, Takahata, and Toshio Suzuki's works altogether to help Studio Ghibli be successful, and concludes with mention of Miyazaki's supposed official retirement.
Ushiko, the longtime resident cat of Studio Ghibli, also makes an appearance.
Behind the Scenes
Production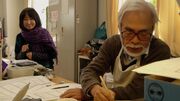 While the film heavily focused on the production of The Wind Rises, producer Nobuo Kawakami admitted the reason why production The Tale of the Princess Kaguya barely appeared was because Isao Takahata got angry while shooting the documentary. Director Mami Sunada was complimented by Studio Ghibli for her unobtrusive appearance, which allowed the Ghibli production team to continue working undisturbed.
Following the film's release on home video, she was asked what she thought of the experience, "At that time, I had been so immersed in Ghibli that it appeared in my dreams." Filming began in Fall of 2012 and continued onwards for roughly a year and a half before the theatrical release of "The Wind Rises".
In a November 21, 2013 interview on Cinema Today, she elaborated on how the film was made, "I received a request from another company other than Ghibli to take a documentary about Studio Ghibli. However, it originally wasn't going to be a full-length documentary film, and I probably wouldn't have had the opportunity to interview Director Miyazaki and Director Takahata."
"I went to consult with Toshio Suzuki with this early plan, but, the story wasn't progressing eaily. When I finally told him "I want to make a movie", Mr. Suzuki's reaction changed. While many Ghibli documentaries have been made so far, I got permission as it was the first time a documentary like this would be made into a movie... I might be able to do something new."[2] She had hoped to replicate the process from her critically and commercially acclaimed 2011 documentary Ending Note: Death of a Japanese Salesman.
She admitted she wasn't the biggest Ghibli fan, having seen only Ponyo in theaters and some of its film as a child.
Sunada commented on her ambiguous feeling towards Ghibli, and hoped discover the truth behind the studio, "At first, I was worried because there was a condition that I couldn't interview Mr. Miyazaki. I wondered if I could make do. However, I wasn't enthusiastic about watching Ghibli works, and I was wondering why the story came to me, and at the same time, I was very honored. And while I was wondering where that feeling of honor came from, and whether this was national, I wanted to unravel the mystery."
Her experience was a long and methodical one, "It was scary at first, but after getting used to it, I went to Ghibli almost every day. I started shooting from the end of last autumn until the day of Miyazaki's retirement, so I went there for about a year in total. The dreamlike image that I had for Ghibli did not change at all. It was a company that was rarely disillusioned or "the reality was like this..."
Sunada admitted being intimidated at times, "It was hard every day and I didn't get used to it until the end. Pointing the camera at a person is extremely tense in the first place. It was even more so because it was Mr. Miyazaki, Mr. Takahata, and Mr. Suzuki. I was nervous all the time."
Director's commentary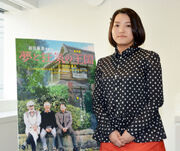 On May 20, 2014, the film saw its home release and she was asked to give her thoughts on Studio Ghibli. She paused momentarily and said, "I want to forget it soon." When pressed further, director Sunada smiled, and said, "It doesn't mean anything negative." She continued, "It was such an intense experience that I didn't think about my personal life at all during the production period, only about Ghibli every day. The situation was I couldn't get out of it even after it was released, but I thought that if I could make a break with the release of this DVD, I would be able to welcome the next one... I can't think of the future yet."
Admitting she found it difficult to break free after having been immersed in Ghibli for so long, she spoke of writing a novel in the future, "It's still a rough idea, but I'm really interested in the gender of women. Women are far more in tune with their gender awareness than men. There are many opportunities to be deeply aware of one's gender in society. I would like to write such a thing in a novel."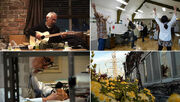 Director Sunada himself said that the fact that she became more aware of these ideas was greatly influenced by the time she spent in Studio Ghibli. "There are so many women working in Studio Ghibli, but there are strong and big people like Hayao Miyazaki, Isao Takahata, and Toshio Suzuki, and the women support them in a very healthy way. Very peaceful. I thought it was a company that had that relationship, but I think it's rare in today's society. Previously, how to deal with concrete discrimination was an issue for women. I think that, in today's society, direct harassment and discrimination are not surfaced, so the problem becomes more complicated and difficult to see."[3]
Her experience brought about a strong awareness to what was currently happening in society. "It was the time when I was most sensitive to the movements of the world in my life." Hayao Miyazaki says he doesn't watch TV or the internet. "Mr. Miyazaki always listens to the movements of the world through what he sees with his own eyes. For example," What does it mean that the number of bicycles parked in the apartment seen from the roof is increasing? Do you know if you are there? From that, I think about what is happening and detect it. Even if I do interact directly with media, I become sensitive to the movements of the world."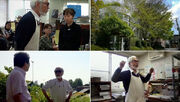 "These ideas of director Miyazaki are reflected in the movie The Wind Rises," says Sunada. The Wind Rises according to Sunada "is not a movie that Miyazaki wanted to make for a long time, but a movie that catches the disturbing footsteps of the world and is made by something invisible. If I hadn't been involved in "The Kingdom of Dreams and Madness," I wondered if (Miyazaki) would have made a movie with airplanes as much as he wanted because he usually liked airplanes. Since it was (supposedly) his last work, I might have ended up thinking that I made a movie that people other than children would watch."
Sunada comments that despite the documentary's status as a promotion for Ghibli's works at the time, it was still a very meaningful process for her. "I was allowed to shoot it and it became a movie. It feels like an overwhelming gift to remain on DVD again," "It was an important issue, and that's why I think it was so difficult, but I think it was an absolutely necessary process for the future."
Release
The film was released in theaters in Japan on November 16, 2013. A special talk was held the day before called The Future of Japanese Animation at Shinjuku Wald 9. The talk featured Tomohiko Ishii of Production IG, Yuichiro Saito of Studio Chizu along with the documentary's writer Mami Sunada and producer, Nobuo Kawakami. The 20-minute live broadcast could be viewed for free.[4] The DVD and Blu-ray with English subtitles was released in Japan on May 21, 2014.[5]
A special screening in the "Annecy International Animated Film Festival" was held on June 14, 2014. On 1 November 2014, the documentary was screened at the Hawaii International Film Festival. In March 2015, it was added to the Netflix streaming service.[6] The film was released on Blu-ray on 21 May 2014, and on DVD on 27 January 2015.[7][8]
Meaning of the title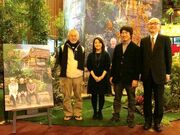 Director Mami Sunada elaborated on the meaning of the film's title. "The more I pursue my dreams, the more I think I'll hit a moment that makes people around me feel scared. The fact that Hayao Miyazaki and his colleagues have been making animations by hand for decades is also true, and I think that the kind of work that cannot be compromised in making "Wind Rises" is crazy. I don't think it's easy to understand how Isao Takahata tries to complete his work even if he delays the release, when applied to so-called general society."
"I think it's a madness, and Toshio Suzuki works happily every day, but he set up strategies that the people around him didn't expect, and he was surprised to see when he was thinking about that. When I see such a figure, I am impressed and scared that human beings can do such things. It may be awe-inspiring. I wanted to put it all together and use the word "madness" to describe it."
"I think that one of the great attractions of Ghibli is that it is not done for personal gain. At first glance, the three (Miyazaki, Takahata, Suzuki) may seem to be working for themselves, but rather than for themselves, for the work they have been given or the work they have encountered in their lives. I am facing very sincerely. I thought it was the same with the animators working in Ghibli."
"I feel that the number of people who can do that kind of work is steadily decreasing. In particular, my generation has always been told to "find something that is unique to me." As a result, I think that more and more people are unable to do their best in front of them by continuing to search for jobs that are rewarding and have dreams. Ghibli keeps the form of work with a master and a craftsman, and arrives at a completed form called 'a work'. Everyone seemed to be proud of it and working."
References
External links
]]