The Night of Taneyamagahara (種山ヶ原の夜 , Taneyamagahara no Yoru) is a short anime film written and directed by Kazuo Oga and released by Studio Ghibli. It was released on DVD in Japan on July 7, 2006.
The movie describes the daily life of mountains farmers and their struggles to keep moving while deepening their understanding of nature and the world they live in, as they encounter mysterious figures and appearances that may change their perspective on everything they have yet experienced. It is based on a 1924 short story of the same name by Kenji Miyazawa, a novelist previously had written classics such as Night on the Galactic Railroad, Matasaburo of the Wind, Gauche the Cellist.
This was a personal film for director Oga, as he cited how he was inspired after reading a collection of Miyazawa's works after working on Princess Mononoke (1997).[1] A special screening was held from February 2 to 7, 2010 during A Ghibli Artisan - Kazuo Oga Exhibition - The One Who Painted Totoro's Forest at the Tokyo Museum of Contemporary Art.
Plot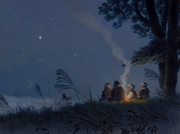 The story takes place when the Tohoku region suffered greatly from famine poverty. In a small corner of the Taneyamagahara plateau in the Kitakami Mountains of Iwate Prefecture, Ito, spends the night with three farmers awaiting dawn so they can begin cutting the grass.
Ito falls into a deep sleep and has a dream. In his dream, he spoke with the staff of the Yinglin Police Department about a place where he can earn a living cutting trees to burn charcoal.
Suddenly, the spirits of the Taneyamagahara tree rose, the rose, and the rose appear. The spirits speak with Ito over whether or not to cut down the trees in the mountains. The mountain where the trees were "komon" is full of water, and akebi and mushrooms can be picked up for Ito. The land is rich and bountiful.
However, if Ito doesn't cut down the tree and burns charcoal, he won't be able to make living. The spirits that objected to cutting the tree said, "Then there is no way to cut down the tree. But burn me a nice charcoal." This is a mysterious story about Kenji Miyazawa telling people that they do are not the only thing who live in this world.
Inspiration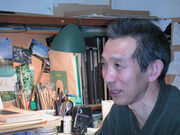 Kazuo Oga, writer and director of this film, wrote down his intentions for adapting Kenji Miyazawa's work. On Studio Ghibli's site, he gave a statement on his inspirations regarding this work.
"In Kenji Miyazawa's work, there are some stories that draw the heart. In particular, the works that depict the daily lives of people living in mountain villages and the scenery surrounding them capture my heart. Someday, I want to get into those stories and have the same experience as the characters, and reproduce the scenery as I saw there.
I've been wishing so for a long time. "The Night of Taneyamagahara" was one of the works I wanted to paint.
In the days when Kenji lived, I don't think the lives of people living in the mountains north were easy. While enduring harsh environments and labor, he must have enjoyed the blessings of the mountains and the harvest of a small amount of arable land, looked forward to seasonal events and festivals, and lived with gratitude and fear for nature. Because they were such people, they were sensitive to changes in the weather and mountains, and sometimes they heard the sound of mountains that looked mysterious, and they might have felt something by watching the movement of light and shadow for a moment.
I think it is a sense (ability) that modern people who have become insensitive due to strong stimuli and flooding of information are forgetting. While I made a living working in animation in Tokyo for many years, my thoughts were always in the mountains of Akita and Okuwa, where I was born and raised.
I have been walking around the bosons of the mountains since I was a child, and I have used the experiences I have experienced with nature as a source of nourishment necessary for my work and child-rearing. I want to leave the city as much as possible and send it in an environment as close as possible to the countryside where I was born and raised, so I have lived quietly for 20 years living in Hachioji, taking care of the mountains of Tama.
However, in this age when various information such as flashy things, huge things, and irritating things are flooded, it is difficult to live quietly by blocking the ear at all for such noise. And that's what I'm talking about. Because, when I live in a world without information, it is easier for the voice of nature and people's words to enter me, and in such a life, I feel that the power to feel something swells further by straining my eyes, listening, and interested in quiet things.
That's why I strongly yearn for this "one night" of Taneyamagahara, longing for the main character, Ito, while wanting to become Ito...
As for the music, I was originally thinking about orchestral music in a small organization, but my encounter with the Classical A Capella Group and Ensemble Planetare further expanded the world of Taneyamagahara with an ensemble with only a beautiful voice."[2]
Authors
Kenji Miyazawa
Kenji Miyazawa was born in 1896 in Hanamaki City, Iwate Prefecture. After graduating from Morioka Higher Agricultural and Forestry School (currently Iwate University Faculty of Agriculture), he completed graduate school in the same school. After working as a teacher at Hanamaki Agricultural School, he established the Rasuchijin Association and worked hard to teach agriculture while aiming for a literary career. He started writing tanka when he was a teenager, and since then has expanded his territory to poetry and fairy tales.
In 1924, he published a collection of poems Spring and Shura and a collection of fairy tales A Restaurant With Many Orders, but only these two books were published in his lifetime. After who died suffering from tuberculosis in 1933, 37 years old, such as Night on the Galactic Railroad, Matasaburo of the Wind, Gauche the Cellist, a number of works have been published.[3]
Miyazawa took much inspiration from Taneyamagahara as both of his most notable works, Matasaburo of the Wind the drama The Night of Taneyamagahara are set in that area.
Kazuo Oga
Oga was born in 1952, Akita prefecture. In 1972, he joined Kobayashi Productions, an animation background art company, and worked as a background artist for numerous animated works. While working at Studio Ghibli, he was made the art director of My Neighbor Totoro, Pom Poko and Princess Mononoke. He was also in charge of the backgrounds of Howl's Moving Castle and Tales from Earthsea.
Real-Life Location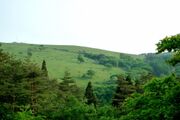 Taneyamagahara is a highland area located at an altitude of 600 to 870 m with the peak of Mount Taneyama, which straddles Oshu City, Kesen District, and Tono City, Iwate Prefecture. It is a plain-shaped mountain extending 11 km east–west and 20 km north–south in the southwestern part of the Kitakami Highlands, and is also known as Taneyama Kogen as a general term for Mt. Monomi, Mt. Omori, and Tateishi.
Due to the gentle ridgeline of the peneplain and the cool climate, it has been used as a pasture for horses since the feudal era. Known as the plateau that Kenji Miyazawa loved so much, he left behind the fairy tales Kaze no Matasaburo and Taneyamagahara and the play Taneyamagahara Night based on the scenery and weather of Taneyamagahara.
As one of the natural scenic spots of Iwate, which was the source of Kenji Miyazawa's work, Scenic Land of Ihatov, Monomiyama is also designated as a national historic site[4]
Release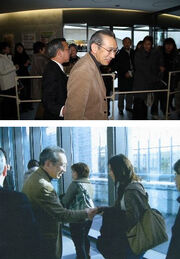 The film was released on DVD on July 7, 2006. The home release came with a small booklet containing an interview with Kazuo Oga.
A special screening was held for the film during the long running, A Ghibli Artisan - Kazuo Oga Exhibition - The One Who Painted Totoro's Forest at the Tokyo Museum of Contemporary Art. The following copy was written, "This work is not only the beauty of the images depicting the original scenery of Japan, but also the music played as an insert song.
Kenji Miyazawa's lyrics and composition Imperial and Largo-Symphony No. 9 "From the New World" (composed by A. Dvorak) liven up the story, and the clean singing voice of the ensemble planeta is also wonderful." Screenings were held from February 2 to 7, 2010.
Cast
References
External links
Official

Information
Interview