The Story of Yanagawa's Canals (柳川の運河の物語 , Yanagawa no Unga no Monogatari) is a part-animated documentary directed by Isao Takahata, originally broadcast on NHK on August 15, 1987.
An (almost) live action documentary movie, this independent movie was produced by Nibariki (Miyazaki's personal office), made with the royalties and profits from "Nausicaä of the Valley of the Wind" (1984).
It won the 42nd Mainichi Film Awards Educational Culture Film Award 1987 41st Motion Picture and Television Engineering Society Film Technology Special Award in 1987.
Overview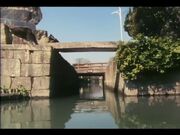 After the success of "Nausicaä of the Valley of the Wind", Yasuyoshi Tokuma wanted to produce another animated movie (of course, they wanted a Nausicaä sequel), and Miyazaki was looking for a good project. At first, it was supposed to be an animated film which took place in the town of Yanagawa.
Miyazaki visited Yanagawa, and was impressed by the beautiful town with its canals, and came up with an idea for a film about high school boys and girls in Yanagawa, and thought that Takahata, who worked as a producer for Nausicaä, should direct such a film.
However, when Takahata visited Yanagawa for research, he came to be more interested in the history of the town, especially how local people fought to preserve the canals which have been a part of the community for a long time, and how they put a great deal of effort to clean up the once polluted canals. As a result, it became a live action documentary, and Miyazaki decided to spend his own money on it. It took three years for Takahata to complete this film.
Composition
Prologue
Chapter 1 Horiwari is alive --Waterway pointillism--
Chapter 2 Water Pumping Station and Moat Edge - Characteristics and Utilization of Waterway Network-
Chapter 3 Yanagawa 3rd Year Higo March --Mechanism of Waterway-
Chapter 4 Fukuoka Prefectural Ordinance Drinking River Control Regulations-When the waterways were clean-
Chapter 5 The Age of Archipelago Remodeling-The Devastation of Waterways-
Chapter 6 Plains Created by the Sea ――The Nature of Horiwari ――
Chapter 7 "Making Water" --Completion of Water Use System--
Chapter 8 A Drop of Water Is A Drop of Blood-Yabe River Water Conflict-
Chapter 9 Direct Appeal and Decision-Toward Waterway Regeneration-
Chapter 10 Living Together by Making the Most of Nature-Shirobori Waterfall-
Chapter 11 Solidarity between Residents and Government --History of Waterway Regeneration--
External Links
Community content is available under
CC-BY-SA
unless otherwise noted.