The Work of Toshio Suzuki - I Don't Believe in Myself, I Believe in People (プロフェッショナル仕事の流儀自分は信じない人を信じるスタジオジブリ鈴木敏夫の仕事 , Purofesshonaru Shigoto No. Ryugi: Jibun wa Shinjinai Hito wo Shinjiru - Sutajio Jiburi - Suzuki Toshio no Shigoto) is a television special dedicated to the work experience of iconic Studio Ghibli producer Toshio Suzuki, initially broadcast on April 6, 2006, on NHK.
NHK aired the special as part of Professional Work Style, a documentary program that thoroughly delves into the "work" of leading professionals who are active on the front lines of various fields. This episode explores Suzuki's success as producer of Studio Ghibli and asks, 'What is behind the "Suzuki Magic"? How does this method draws out the power of 1,000 staff members?' Suzuki summarizes his philosophy, "I don't believe in myself, I believe in people," "people show their strength when they don't think of work as work."
The special was released on DVD on September 22, 2006. It was followed by Professional Work Style Special Hayao Miyazaki's Work (プロフェッショナル 仕事の流儀スペシャル 宮崎 駿の仕事 , Purofesshonaru shigoto no Ryūgi Supesharu Miyazaki Shun no Shigoto) in 2008.
Process
Mindset
"If I think of work as work, I can't do it because it's stupid." Thus, Toshio Suzuki turns "work" into a "festival" for everyone to enjoy. Underlying this is the belief that "unless you forget your job, you won't do a good job... I think that a mega-hit will be born when each staff member takes the initiative and enjoys working from the bottom of his heart."
His mindset remains the same even in business negotiations where millions of dollars are on the line. Suzuki guides the executives of potential tie-up companies to the Studio Ghibli production offices, and by daring to 'expose his hand', he before he knows it, he's involved in the "festival".
Commute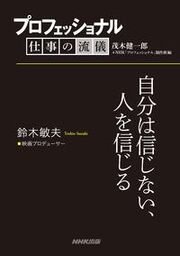 Suzuki commutes to work (his base is at Studio Ghibli but he also serves as part of the board of Tokuma Shoten) by car almost every day (once a week by train). He leaves home at 9am and heads to an animation studio in the suburbs of Tokyo (Koganei city). He explains the one-hour commuting time is "precious", as he often takes calls or listens to music.
Suzuki has a favorite route to work - A beautiful street lined with cherry blossom trees, a side road in a quiet park, a house where Totoro seems to live... Despite this seemingly benign demeanor, Suzuki is very serious. He explains that "finding a little fun in daily life is the first step to enjoy work." Suzuki often writes spontaneous ideas in a notepad while driving as he takes inspiration from all things.
Dealing with Miyazaki
For Suzuki, the opponent who has constantly tested his power as a producer is Hayao Miyazaki. However, when facing Director Miyazaki, Suzuki never passes the blame on to him. "Even if you force it, you're not guaranteed to get a good work."
Suzuki meets Miyazaki on a daily basis and listens to whatever is on his mind. He tries his best to understand what Miyazaki is thinking. Suzuki likens the relationship between a director and a producer to a criminal and a detective. The producer (criminal) tries to understand the director's (criminal) intention to do something. The two have been producing mega-hits for more than 20 years because of their strong relationship of trust.
Consuming media
Suzuki rarely reads newspapers, magazines and watches television. His main form of procuring information is from the people around him. The special takes a look at is workplace, where he explains "I like raw material," they have to be within a "radius of 3 meters." "When you hit a wall, don't just think for yourself, but ask the people around you for a solution."
For example, "How do I sell the insert song of the new movie? Even when I had this problem, I gathered the music people I knew and asked them to give me their wisdom." "How do you promote your new movie?" Suzuki constantly asks himself "why?" He asks these questions to people around him, such as which scene should be emphasized to win the hearts of customers. During these conversations, the age and title of the other party do not matter. "We will decide one direction based on the many opinions gathered in this way." Suzuki believes this is the best way to know what "one person thinks."
Professional's Tools
Setta Sandals
Suzuki always wears his setta sandals (traditional Japanese sandals) to the office. "When I go to work, I first take off my socks and take a break. It's been customary since I was a journalist, and it feels better to have a dashi stock (soup)."
Whenever he walks into the studio, everyone would hear the sound of his setta sandals, "Petapeta peta ...". Staff members immediately notice this distinct noise and will say "Ah! Mr. Suzuki has come." Moreover, he does not change his footwear even when meeting executives of other companies that visit the studio. The Setta has become Suzuki's trademark, who has always promoted this feeling of being more "natural".
Analog
Suzuki may be seen by some as an "analog" type of person, but the truth is he loves technology. He loves using the computer for all kinds of work. He uses it to see the latest storyboards and is always thinking of ways to create new promotion strategies, etc.
Suzuki writes replies to dozens of emails a day, no matter how long it takes. He has a signature mark at the end of every sentence. He does this as "I want to have an analog relationship with digital tools."
External links