Tokiko Kato (加藤 登紀子 , Katō Tokiko, real name: Tokiko Fujimoto,[1] born December 27, 1943), nicknamed Otoki-san, is a Japanese singer, composer, lyricist, actress and activist.
She was born in Harbin, Manchuria, to Japanese parents and graduated from the University of Tokyo. After working as a visiting professor at the Faculty of Tourism, Josai International University, she was a visiting professor at the Department of Symbiotic Sciences, Seisa University.[2] Her blood type O.
She voiced Gina in Porco Rosso. Hayao Miyazaki has professed to being a big fan of hers.
History
Early life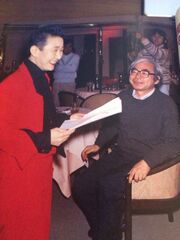 Born in Harbin, Manchuria (known as Manchukuo during the Japanese occupation) Kato was raised in Kyoto. Her father worked for the South Manchuria Railway, and after the end of Second World War, she was repatriated to Kyoto, where her mother's parents were, and went on to elementary and junior high school. She lived on 1 Tokyo Setagaya-ku and attended Sakuragi Junior High School in Setagaya Ward and Tokyo Metropolitan Komaba High School. she graduated from the Department of Western History, Faculty of Letters, University of Tokyo.[3] When she moved to Setagaya, she was shocked by the cultural difference from her home in Kyoto. She studied alongside her older brother Mikio Kato (former vice president of Sumitomo Metal Industries and Nippon Steel & Sumitomo Metal, now a Russian restaurant owner).
In 1965, while attending the University of Tokyo, she won the 2nd Japan Amateur Chanson Competition. She debuted in 1966 with Nobody Knows (誰も誰も知らない) and received the 8th Japan Record Award for New Artist for Red Balloon. In 1969, her song Sleeping Slone Lullaby (ひとり寝の子守唄) won the 11th Japan Record Awards Singing Award. She several more awards in 1971.
Marriage
After a turbulent courtship, she married Toshio Fujimoto while in prison in 1972. While many opposed their relationship, she received the approval of her mother and Yoshiko Ishii, the president of the agency Ishii Music Office. She took a short break from singing while pregnant with her eldest daughter. She later gave birth to her second daughter Yae in 1975 and third in 1980. She returned from her maternity leave in 1973.
In 1976, she worked with her collaborator guitarist Nobutaka Tsugei, from her album If you were born in this world, in several live performances. Since then, Tsugei and the Sentimental City Romance have continued to support Kato as an indispensable part of her music. She scored a hit with If you can fly in this sky, provided by Miyuki Nakajima, in 1978.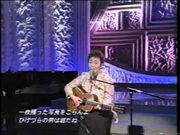 In the 1980s, she cried while performing in a concert in China, singing Shiretoko Love Song in Chinese with Japanese orphans.
In 1981, she and her husband Fujimoto established the Kamogawa Natural Kingdom, which provides agricultural assistance to Chiba Prefecture. In 1983, she starred in Izakaya Chōji and played the wife of Ken Takakura. She then starred in a 1986 television drama called Welcome to the middle of the night in and co-starred with Shinichi Chiba. In 1987, she participated in the blockbuster film Million Roses blockbuster and provided the hit songs Shipwreck for Akina Nakamori and No regrets in my life for Yujiro Ishihara.
She performed at Carnegie Hall in New York in 1988 and 1990.
In 1992, she voiced Gina in Studio Ghibli's Porco Rosso, directed by Hayao Miyazaki. She also wrote the theme song The Time of Cherries and the ending theme Once in a While, Talk of the Old Days. Also in the same year, thanks to her achievements in the arts and culture, the French government awarded her the Medal of Arts.
Hijacking of Flight 857
On June 21, 1995, she found herself caught in a hijacking at Hakodate Airport, Hokkaidō, Japan on the All Nippon Airways Flight 857. The incident was sparked after an unknown assailant brought a screwdriver and began threatening crewmembers to release the leader of notorious doomsday cult and cult leader Aum Shinrikyo. The Japanese Self-Defense Forces were placed on high alert throughout the incident.
Kato and her bandmates were on board the plane. Kato managed to slipped into a restroom on board the airplane and used her mobile phone to call in information to her mother and her husband, who then alerted police. The grueling experience lasted for sixteen hours and the hostages were released mostly unharmed. Authorities identified the hijacker a Fumio Kutsumi, 53, an employee of Toyo Trust and Banking Co. of Tokyo who is on 'temporary retirement, ' a reference to those who are actually unemployed but still on staff.[4] Her concert at Hakodate was cancelled, but she continued her performance at Tomakomai, Iburi Subprefecture in Hokkaidō and performed well despite her lack of sleep. She and her colleagues gave a press conference about the hijacking incident shortly after.
Advocacies
In 1997, she became a councilor of the Japan Committee of the World Wildlife Fund. From this year to 2000, she released a series of ten albums entitled Goodbye, My beloved 20th Century. In 2000, she was the Appointed Goodwill Ambassador for the United Nations Environment Program.
On July 31, 2002, her husband Fujimoto died of liver cancer.
She performed at FUJI ROCK FESTIVAL 06 in 2006 . She actively collaborated with several young musicians.
On September 27, 2009, she opened her own Twitter account.
On September 29, 2009, she was appointed as "Sado Toki Environmental Goodwill Ambassador" to commemorate the 2nd Toki Release of Birds, which was carried out for the return of Sado's Toki to the Wild, which is designated as a "Special Natural Monument". She is enthusiastic about environmental conservation, and visited Sado before to see the last domestically produced "Kin". Her term lasted for three years.
In 2011, following the 2011 Tōhoku earthquake and tsunami, she became involved in relief efforts and led several concerts in support for the victims. She has since released several more albums since then, and music career continues. Partly due to having lived a turbulent life, she described her philosophy in living as to be "impulsive, lighthearted, easy-to-get lost, and random life regardless of appearance".
Discography
私の中のひとり (1970), Polydor Records
この世に生まれてきたら (1974), Polydor Records
いく時代かがありまして (1975), Polydor Records
回帰船 (1976), Polydor Records
さびた車輪 (1977) Kitty Records
A Siren Dream (1983), Polydor Records
日本哀歌集 (1983), Polydor Records
La Femme qui vient de Cypango (1991), Universal
Hana (1995), Universal
Filmography
Izakaya Chōji (居酒屋兆治) (1983) as Shigeko
Hachikō Monogatari (ハチ公物語) (1987) as Tamiko
Hana no Kisetsu (悲しき天使) (1990)
Porco Rosso (紅の豚, Kurenai no buta) (1992) (voice) as Madame Gina
OPEN HOUSE (1998) as Tokiko
Ori Ume (折り梅) (2002)
Mokuyo Kumikyoku (木曜組曲) (2002) as Eiko
References
External links
Official
Information