Treasure Hunting (たからさがし, Takara-sagashi) is a 9-minute animated short film by Takeshi Inamura, with planning and composition by Hayao Miyazaki, and produced by Studio Ghibli. It premiered at the Ghibli Museum on June 4, 2011.
The shortest of the Ghibli Museum-exclusive films, the story is about a boy named Yûji and a rabbit named Gikku who find a stick at the same time, and decided to compete in games to decide who can keep the stick.[1] Considered the spiritual sequel to Whale Hunting (2001), it adapts yet another children's book The Treasure Hunt by children's author Rieko Nakagawa and illustrator Yuriko Yamawaki.
The film was released just seven months after the completion of another Ghibli Museum short, Mr. Dough and the Egg Princess (2010).
Behind the Scenes
Production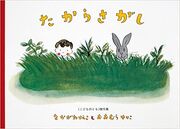 This project reunites Hayao Miyazaki with longtime friend and collaborator, Rieko Nakagawa and her illustrator Yuriko Yamawaki. Nakagawa, a nursery teacher and children's book author, has been a source of inspiration for the director and co-founder of Studio Ghibli for decades. Their professional relationship began when Nakagawa was hired as a lyricist for the opening theme to My Neighbor Totoro (1988), a TV spot produced in 1992 for Nippon TV, and a special spot for the channel's 40th anniversary.
Miyazaki decided to adapt Nakagawa and Yamawaki's book, The Treasure Hunt. According to French fansite Buta Connection, little is known about this short film's production besides Miyazaki rediscovering the original children's book. The film adopted the colorful graphic pastel look that has been used in several Ghibli films in the past, including Koro's Big Day Out and Whale Hunting and [[Ponyo]]. Takeshi Inamura took the lead as animation director.
Post Release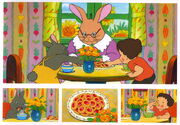 During an interview with Studio Ghibli producer Toshio Suzuki, he asked the authors how the film turned out, Nakagawa exclaimed, "For the adaptation of Treasure Hunting, my heart was pounding. But this time around, I was confident that Studio Ghibli would once again be adapting the book." Yamawaki was delighted saying, "It was fun and very natural throughout the movie. It is normal for children to get hungry while running up a hill in this manner."
They were both impressed by the attention to detail, such as the wallpaper in the interiors and the way vegetables were drawn. They noticed slight changes to their story, such as adding a hole in where the main character Yûji slips out from his home. Suzuki replied, " "For the film, you better have a city. Yûji will thus move away from her to go towards the fields. Then, at sunset, he returns home." Yamawaki, felt reassured, saying this is for the better, so as "the mother would not worry."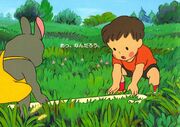 The two authors understood changes had to be made. Suzuki explained further, "There are parts that we added to the original story and others that we deleted. At the beginning, there were all these dialogues that we pruned a little. We only kept part of it. Miya-san and I proposed it. We thought it would be quite understandable just with the drawings."[2]
Suzuki said the main motivation for making this film was to be able to depict various walking and running animation. He said, "In this movie, like in the original book, there are basic movements, like walking and running. Animating walking and running is not an easy exercise. But with a talented animator, just with these two movements, we can understand if it is a man or a woman and almost his age."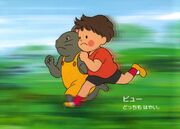 "Miya-san (Miyazaki) had been saying for a while that he wanted to create an animated film just based on the actions of walking and running. And one day he said, "There you go, this is the work that lends itself the best, Suzuki-san!" " He spoke of "Treasure Hunting".
A final aspect that the interview commented on is the addition of songs. Nakagawa worried, "Yeah, those three songs were a little too generous." to which Suzuki replied, "Miya-san was considering adding one more!"
When asked about her final thoughts on the film, Nakagawa's said, "That's why I wanted children who were all first after giving their all. In this movie, Yûji and Gikku run and do sumo with all their might. I was happy with their enthusiasm. And in the end, they are hungry and eat cookies." Yamawaki countered, "I imagine that the children who see the film will also want to go for a run in the fields."
Credits
| Staff | Name |
| --- | --- |
| Planning | Hayao Miyazaki |
| Art Director | Naomi Kasugai |
| Animation Director | Takeshi Inamura |
| Director of Photography | Atsushi Okui |
| Color Supervision | Hiromi Takahashi and Eiko Matsushima, in the collaboration with Michiyo Yasuda |
| Producer | Toshio Suzuki |
| Music | Michiru |
References
External links