Water Spider Monmon (水グモもんもん , Mizugumo Monmon) is a 15-minute animated short film written and directed by Hayao Miyazaki and produced by Studio Ghibli. It premiered in January 2006 alongside another short, Looking for a Home, and can only be seen at the Ghibli Museum in Mitaka, Tokyo.
According to Miyazaki, he took inspiration from the excitement of looking into the water and seeing various insects and creatures interact. The story is about a diving bell spider who seems to have fallen in love with a water strider. Though she is scared of him at first, the water strider soon gets used to the presence of the spider. Rio Yamase was hired as music director as she specialized in playing the Hardanger fiddle, giving the final product a unique sound.
This film was one of the few animated shorts seen outside the museum. It was at first screened at the Second Tokyo International Science Festival in Inokashira Park Zoo from September 11 to October 10, 2010, and Zankel Hall in Carnegie Hall in New York City during a special event called JapanNYC in 2011.
Plot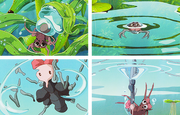 Monmon is a water spider just trying to survive his daily struggle. One day, he meets and falls in love with a wandering water strider. She approaches him cautiously, but Monmon's advances are rebuffed. Since then, Monmon, dejected, can only watch the water strider from afar. Suddenly, the water strider is attacked and nearly eaten by a fish. Monmon saves her by taking her underwater and protects her in a bubble of oxygen that he made. When the water strider awakens, she is startled at Monmon staring at her closely, and quickly leaves. As the clouds darken and rain begins to pour, Monmon swims sadly to the bottom of the lake, waiting for dawn to come.
The next day, the water strider zips across the lake and spots Monmon as he surfaces from underwater. She stares at him intently, and slowly extends her appendage towards him. Monmon, reluctant at first, taps at her appendage until they held each other closely. The water strider happily then takes Monmon across the lake, but he struggles to keep up until finally are in sync in their movements. A fish suddenly appears and tries to eat them both, but thankfully, the water strider stretches her wings and flies the both of them to safety. Monmon is content, until the water strider finally lets go and he swims away. The water strider waves goodbye, perhaps signaling they will see each other soon. We then see that life goes on in the lake.
Behind the Scenes
Concept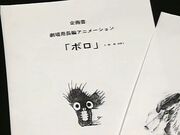 Hayao Miyazaki has always had a fascination with insects since Nausicaä of the Valley of the Wind (1984), and has always wanted to make a film based on the perspective of insects. Children's books such as Boro, the Caterpillar captivated Miyazaki, as he considered adapting it prior to working on Princess Mononoke (1997), but was convinced by Toshio Suzuki to work on the latter first.
A prototype of this concept can be seen on the first floor of the Ghibli Museum, which opened in the fall of 2001, in several displays called "panoramic boxes" in the permanent exhibition. A panoramic box gives visitors a unique perspective by dividing a box into multiple layers of images to give an illusion of depth, much like how traditional animation is laying several cels of animation on top of one another. Among these panoramic boxes are displays for Boro the Caterpillar and Water Spider Monmon.[1] Boro the Caterpillar itself would be made into a short film in 2018.
Production

The story of the film would be about Monmon and a water strider, and the love that grows between the two insects in a lake. Miyazaki understood that spiders are disliked, which made him like spiders and would be the driving force in making this film. Therefore, the main character of this work, Monmon and other characters, are drawn in a loving and charming way.
Miyazaki stated that for Water Spider Monmon, he wanted to capture the excitement of actually looking into the water. According to the film's brochure, he asked, "What does the world look like to the little creatures in the water? The bubbles of air should be more elastic than what we humans feel, and it should be like a universe with almost no weight."
This project is the culmination of various animation techniques employbed by the Ghibli Museum shorts released thus far, starting with Koro's Big Day Out (2002) with the use of "nostalgic, children's book style" paintings as backgrounds and The Day I Harvested a Star (2006) with three dimensional objects not relying CG mapping, etc. Looking for a Home, otherwise known as House Hunting, was released the same year as this film, and where that project was to express the nature of trees, grass and wind via hand-drawn animation, Water Spider Monmon was used made to create unique underwater expressions.[2] Miyazaki was adamant in expressing himself with minimal use of CG, and wanted viewers to feel a sense of awe in seeing things drawn by hand. The things learned from all these projects would eventually be used in Ponyo (2009).
Water Spider Monmon used an estimated 30,000 drawings for 15 minutes of animation.[3] Dubbing began on November 12 and was completed by December 2005. The film premiered in January 2006.[4] This short film has an aspect ratio of 1.85:1.
Music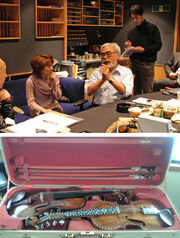 According to Rio Yamase's blog, she was contacted by Miyazaki after he expressed appreciation for her album Golden Aurora, which was released by Victor Entertainment in 2004. Miyazaki said he listened to the album constantly while creating the story about a small spider who lives underwater. Yamase was ecstatic after she was hired as music director (composer and performer) for the project.[5]
While watching the completed animation of the film, Miyazaki said he composed certain scenes using her songs featuring her violin and Hardanger fiddle as a placeholder. Seven songs of music were later completed which took advantage of each instrument. Miyazaki always praised her, saying "It's good music". She was very pleased with the results. Six songs were used for the film, although seven songs can be found on the film's soundtrack CD, which can be purchased at the Mamma Auito shop in the Ghibli Museum.
Release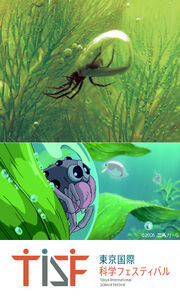 The film is screened exclusively in the Saturn Theater, located in the basement of the Ghibli Museum in Mitaka, Tokyo, although it has been shown for special events. It was screened for the "2nd Tokyo International Science Festival", held from September 11 to October 10, 2010. Water Spider Monmon was shown as part of the The World of Underwater Creatures in cooperation with the Ghibli Museum and the NPO Mitaka Network University Promotion Organization. A talk was held after about the appreciation for diving bell spiders and other underwater creatures. Shortly after, audiences could see live diving bell spiders at the Aquatic Life House in Inokashira Park Zoo. The attendees were around seventy elementary school students and parents (thirty-five Mitaka citizens). The Inokashira Park Zoo has been breeding and exhibiting diving bell spiders since July 2006, and succeeded in breeding multiple generations in 2007.[6]
On March 26, 2011, it was shown at the Zankel Hall in Carnegie Hall (881 7th Avenue, New York) in New York during JapanNYC, alongside another Ghibli short, Looking for a Home. It was screened twice from 18:30 and 20:30, but the advance tickets ($15) were nearly sold out. "It was great to see Miyazaki anime in New York, which can only be seen in Japan," according to an attendee.[7]
Credits
| Credit | Staff |
| --- | --- |
| Director, Screenplay | Hayao Miyazaki |
| Director of Photography | Atsushi Okui |
| Animation Director | Atsuko Tanaka |
| Art Director | Youichi Watanabe |
| Color Design | Michiyo Yasuda |
| Key Animation | Akihiko Yamashita, Hideaki Yoshio, Hiromasa Yonebayashi, Makiko Futaki, Makiko Suzuki, Masako Sato, Shinji Otsuka |
| In-between Animation | Akiko Teshima, Alexandra Weihrauch, Asami Ishikado, Ayumi Tsukamoto, Hiromi Nishikawa, Hisako Yaji, Kana Onodera, Kaori Fujii, Kaori Itou, Keiko Tomizawa, Kiyoko Makita, Kumiko Ohtani, Kumiko Tanihira, Kunitoshi Ishii, Mai Nakazato, Masakiyo Koyama, Masako Sakano, Masami Nakanishi, Masaya Saito, Maya Fujimori, Mayumi Ohmura, Megumi Higaki, Michiko Takegami, Minoru Ohashi, Nobuyuki Mitani, Rie Fukui, Rie Nakagome, Ritsuko Shiina, Shuko Sasagawa, Sumie Nishido, Takahito Sugawara, Tomoko Miura, Yasuko Ohtomo, Yasuo Muroi, Yayoi Toki, Yoshitake Iwakami, Yukari Yamaura, Yukie Kaneko |
| Background Artist | Naomi Kasugai, Naoya Tanaka, Noboru Yoshida, Osamu Masuyama, Ryoko Ina |
| Producer | Toshio Suzuki |
| Music | Rio Yamase |
| Production | Studio Ghibli |
References
External links