Yasuyoshi Tokuma (徳間 康快 , Tokuma Yasuyoshi, born October 25, 1925, in Kanagawa, Japan - died September 20, 2000, Tokyo, Japan) was a Japanese businessman, executive film producer and a close associate of Toshio Suzuki, Isao Takahata and Hayao Miyazaki. He was a member of the All Nippon Producers Association and Japan Magazine Publishers Association.[1]
He was the founding member of Tokuma Group, which owned Tokuma Shoten, Tokuma Japan Communications, and was the president of Daiei Film, Asagami Press Center, Studio Ghibli. He was also the director of the Tokyo Photographic Art Museum, Motion Picture Producers Association of Japan, the Recording Industry Association of Japan and a general producer of the Tokyo International Film Festival. He was also the director of Zushi Kaisei Junior and Senior High School in Kanagawa.
He has been credited as executive producer for many of Studio Ghibli's films, including My Neighbor Totoro, Castle in the Sky, Kiki's Delivery Service, Porco Rosso, Whisper of the Heart, Pom Poko, Only Yesterday, Princess Mononoke and Spirited Away. He also produced Mamoru Oshii's Angel's Egg.
His publishing arm, Tokuma Shoten, published the manga of Nausicaä of the Valley of the Wind and the popular anime magazine Animage.
Character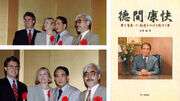 Tokuma was known for his dynamic personality, described to be a showman of sorts, and was often called "Tokuma Trumpet," following the former president of Daiei Film, Masaichi Nagata, who was called "Nagata Trumpet." After Tokuma's group acquired Daiei Film, Nagata, who had just retired, was reinstated as producer for the 1976 film Kimi yo Fundo no Kawa o Watare.
He had a deep knowledge of animation, and recognized Hayao Miyazaki, who was generally unknown at the time, as the "next big thing" (大物), and gave him the chance to produce Nausicaä of the Valley of the Wind. He then invested on reforming the recently dissolved TopCraft into Studio Ghibli and became the company's first president. He continued to support Miyazaki and Isao Takahata's works throughout his life. According to Miyazaki, when he consulted with Tokuma regarding cash flow to fund Castle in the Sky, he was advised that "There is a lot of money at the bank!". Toshio Suzuki stated that Tokuma was "really good" at borrowing money from the bank (due to his connections).
Toho was initially reluctant to distribute My Neighbor Totoro as they were concerned with the budget deficit, thus Tokuma and Suzuki proposed a double-billed feature with Grave of the Fireflies (which had the potential to be shown at schools for education purposes).[2] Suzuki and Tokuma shared the dream of venturing into the filmmaking business, which led to the release of the Japanese-Russian period film O-Roshiya-koku suimu-tan and the production of Porco Rosso. Suzuki noted that "There was also a childish side that was unleashed right before the release of Porco Rosso," as he saw the movie industry as a "game". Thanks to Miyazaki recommendation of Mamoru Oshii, calling him a "genius", Tokuma gave him a chance to produce Angel's Egg.[3]
History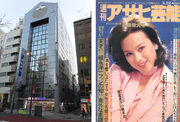 Born in Yokosuka, Kanagawa Prefecture on October 25, 1925. After graduating from Zushi Kaisei Junior High School, he studied in Waseda University Faculty of Commerce. During his adolescence, he joined Japanese Communist Party.[4] He began working for Yomiuri Shimbun (currently the Yomiuri Shimbun Tokyo Headquarters) in 1943, but left the company in 1946 due to a leadership dispute.[5] Shigeharu Matsumoto, who had retired from the news agency Dōmei Tsushin, became deputy director of the Social Affairs Department.[6]
Tokuma's friend, Tatsuhiko Nakano (son of fascist political leader Seigō Nakano), became the managing director of the publishing company, Shinzen Misha (真善美社), but it soon went bankrupt.[7] In 1950, Deputy Prime Minister Taketora Ogata became the president of Shinko printing at the age of 29. Tatsuhiko Nakano was appointed vice president of Shinko Printing. Shinko Printing was later absorbed Nippon Photo Plate Making Co., Ltd., which was owned by Tokuma. Some time after the acquisition, the company changed its name to Tokuma Press Center.

In 1953, Tokuma became the vice president of Nitto Shimbun, while his friend Hirotomo Takei, formerly from Yomiuri Shimbun, became president. The publisher's weekly tabloid Asahi Geino Shimbun (which was known for gossip, yakuza and erotic content) was suspended in February 1954 due to a slump in sales. By March 1954, Tokuma became the president of Tozai Geino Publishing and restarted publishing Asahi Geino Shimbun.[8] In 1956, due to sluggish sales of Asahi Geino Shimbun, a bank notified that the company's loan was being suspended. A modified B5-sized version of the Weekly Asahi Geino began in October 1956. In 1958, the company name was changed from Tozai Performing Arts Publishing to Asahi Performing Arts Publishing and Tokuma continued to be its president.[9] In 1961, Tokuma Shoten was established as a general publishing company, and due to a special "two-company system", it co-existed with Asahi Geino Publishing. In 1967, Tokuma Shoten and Asahi Geino Shuppan officially merged and became known simply as Tokuma Shoten.[10]
Tokuma the acquired Minoru Endo's Minoru Phone Music Industry, and after negotiating with composer Hiroshi Itsuki, he was able to make a name for himself as a hitmaker in the record industry. He changed the company's name to Tokuma Music Industry (later Tokuma Japan Communications).[11] In 1973, he began managing the newspaper Tokyo Times, which was acquired from Daiei.
He later served as director of Zushi Kaisei Junior and Senior High School, described as his mother's alma matter. He also served as the director of Zushi Kaisei Gakuen and the Tokyo Metropolitan Museum of Photography.
Since 1971, Tokuma was interested in filmmaking and film distribution, mostly due to Shigeru Okada, president at Toei. Eventually, in 1984, He along with Toshio Suzuki, Hayao Miyazaki and Isao Takahata acquired TopCraft, which had recently been dissolved, to form Studio Ghibli. The company's former president Toru Hara, was reinstated as producer. Tokuma himself was named president of the company. His publishing arm, Tokuma Shoten, handled publishing of the film's secondary works, and even provided source material for Miyazaki to adapt. Suzuki, who was a former editor-in-chief of Tokuma Shoten's Animage magazine, served as one of his confidantes, often appearing as part of his board of directors.
One of Tokuma's greatest accomplishments was facilitating the partnership between his company and The Walt Disney Company for the distribution of Ghibli's films.
He died on September 20, 2000. He was 74 years old.
Cultural Work
Tokuma requested directorship of the Tokyo Photographic Art Museum from Tokyo Governor Shintaro Ishihara on April 1, 2000. He ordered the maintenance of a rarely used hall, renovating it as a movie theater. At this point, Tokuma's health had rapidly declined, thus Yoshiharu Fukuhara, known as "Mr. Shiseido", founder of chairman of the Shiseido beauty company, was chosen as the new director.[12]
Works
Magazines
Animage (アニメージュ, Animēju)
BestGear
Chara
Chara Selection
Famimaga (ファミリーコンピュータマガジン, Family Computer Magazine)
Famimaga 64
Famimaga Weekly
Goods Press
Hyper Hobby
LoveBerry (ラブベリー, RabuBerī)
Mega Drive Fan
Mondai Shōsetsu (問題小説)
Monthly Asahi Geinō Entame (月刊アサヒ芸能エンタメ!, Gekkan Asahi Geinō Entame!)
Monthly Comic Ryū (月刊COMICリュウ, Gekkan COMIC Ryū)
Monthly Comic Zenon (月刊コミックゼノン, Gekkan Komikku Zenon)
Monthly Manga Voice (月刊マンガボーイズ, Gekkan Manga Bōizu)
Monthly Shōnen Captain (月刊少年キャプテン, Gekkan Shōnen Kyaputen)
MSX Fan
PC Engine Fan
SF Adventure (SFアドベンチャー, Esuefu Adobenchā)
SF Fantasy Ryū (SF・ファンタジー リュウ, Esuefo Fantajī Ryū)
Shokuraku (食楽)
TV Land (テレビランド, Terebi Rando)
Weekly Asahi Geinō (週刊アサヒ芸能, Shūkan Asahi Geinō)
Movies
References
External links
Information
Publications